Movie Review
Finian's Rainbow
If all you want out of a movie is a great, big, wonderful time - just follow the rainbow - whistle the songs - and join in the fun.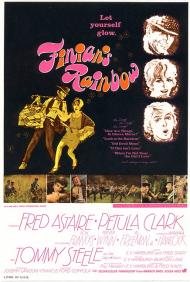 US Release Date: 10-09-1968
Directed by: Francis Ford Coppola
Starring
▸
▾
Fred Astaire

,

as

Finian McLonergan
Petula Clark

,

as

Sharon McLonergan
Tommy Steele

,

as

Og
Don Francks

,

as

Woody Mahoney
Keenan Wynn

,

as

Senator Rawkins
Al Freeman, Jr.

,

as

Howard
Barbara Hancock

,

as

Susan the Silent
Ronald Colby

,

as

Buzz Collins
Dolph Sweet

,

as

Sheriff
Wright King

,

as

District Attorney
Louil Silas

,

as

Henry
Avon Long

,

as

Passion Pilgrim Gospeleer
Roy Glenn

,

as

Passion Pilgrim Gospeleer
Jester Hairston

as

Passion Pilgrim Gospeleer
Reviewed on:
January 13th, 2013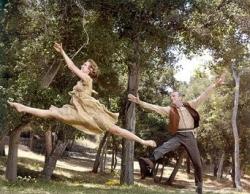 Barbara Hancock and Fred Astaire in Finian's Rainbow.
Finian's Rainbow is an odd movie. It was based on the 1947 Broadway Musical by E. Y. Harburg and Fred Saidy about a leprechaun's stolen crock-o-gold. It is also a satire on race relations in the pre-civil rights era United States. Although it has been revived several times on Broadway, the most recent being in 2009, its book hasn't aged well. Its take on race relations seems hopelessly old-fashioned (it features a white character that gets magically turned black, complete with fake-looking blackface makeup) and it includes a scientist character attempting to cross-breed tobacco and mint together in order to grow mentholated cigarettes! Neither of which are exactly popular ideas nowadays.
It was directed by a young Francis Ford Coppola (yes I said Francis Ford Coppola) and it stars Petula Clark and Fred Astaire (in his final musical role). Astaire plays the titular Finian, recently absconded from Ireland with a leprechaun's pot of gold. He arrives in the fictional state of Missitucky with his pretty daughter in tow and Og the leprechaun in hot pursuit. He buries the gold in the ground and, because of its proximity to Fort Knox, he believes it will grow and multiply. Add in a racist senator, plenty of songs and three magic wishes and the result is this lavish but uneven musical.
I have distinct memories of my dad telling me about the time he and my mom saw this movie in theaters when it was first released. He let my mom pick the movie that time and didn't expect to like it but to his surprise he found it to be hilarious. He especially enjoyed the scene where the racist senator's equally racist assistant demonstrates to a black man how to serve a mint julep to the senator. "Oh, no. Rawkins won't like that, that's no way to serve a julep. It's too fast. Get some shuffle into it. You've seen some of the new movies like 'Birth of a Nation' and 'Gone With the Wind,' haven't you? Here, like this." He then does his impression of a shuffling, indolent servant. Hilarious right? NOT! Later in this same conversation he asks the black man, whose name is Howard, "Are you educated or something?" Howard: "Well, I'm working on my Masters." "Working on your master's what?" They just don't write jokes like that anymore. Thank goodness.
Fred Astaire was 69 and looks it. But he was spry and agile still as he demonstrates in the movie's best dance number during the song, "When the Idle Poor Become the Idle Rich". He dances all around a barn including up and down a ladder. It serves as a reminder of what great talent looks like. His final scene includes a classic little jig by the dance master before he heads off, literally, into the sunset.
The movie features scenes shot in Napa Valley as well as on a soundstage and on nine acres of a backlot that were transformed into the movie's Rainbow Valley. This gives the movie a jarringly uneven quality; kind of like an old Gilligan's Island episode where it is obvious which scenes were shot on a set and which were shot outdoors.
Tommy Steele is good as the leprechaun that is becoming human due to the loss of his magic gold. Keenan Wynn is a good sport as the racist senator. Petula Clark is fine in the female lead. She gets to sing the most famous, and by far the best, song in the score, "How Are Things In Glocca Morra?" This song gets reprised twice, once by Clark in a humorous scene, and at the end by the entire cast.
Finian's Rainbow was made at the beginning of its legendary director's career and at the end of its legendary star's career. It is more of an interesting curiosity than an entertaining movie.
Photos © Copyright Warner Brothers/Seven Arts (1968)