Movie Review
The Finest Hours
Based on the incredible true story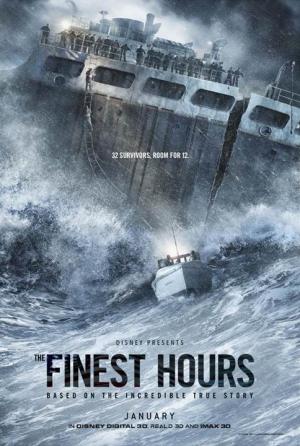 US Release Date: 01-29-2016
Directed by: Craig Gillespie
Starring
▸
▾
Chris Pine

,

as

Bernie Webber
Casey Affleck

,

as

Ray Sybert
Ben Foster

,

as

Richard Livesey
Eric Bana

,

as

Daniel Cluff
Holliday Grainger

,

as

Miriam Webber
John Ortiz

,

as

Wallace Quirey
Kyle Gallner

,

as

Andy Fitzgerald
John Magaro

,

as

Ervin Maske
Graham McTavish

,

as

Frank Fauteux
Michael Raymond-James

,

as

D.A. Brown
Beau Knapp

,

as

Mel Gouthro
Josh Stewart

,

as

Tchuda Southerland
Abraham Benrubi

,

as

George 'Tiny' Myers
Keiynan Lonsdale

,

as

Eldon Hanan
Rachel Brosnahan

,

as

Bea Hansen
Benjamin Koldyke

,

as

Donald Bangs
Matthew Maher

,

as

Carl Nickerson
Jesse Gabbard

,

as

Domingo Garcia
Alexander Cook

,

as

John Stello
Danny Connelly

,

as

Dave Ryder
Angela Hope Smith

as

Catherine Paine

Reviewed on:
February 4th, 2016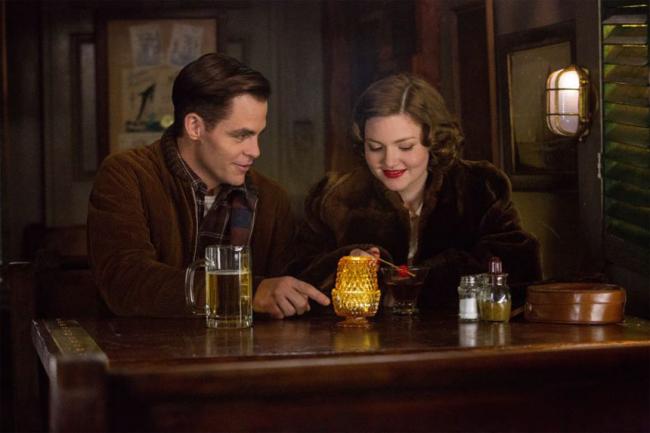 Chris Pine and Holliday Grainger in The Finest Hour
The Finest Hour is another movie based on a true story. The details of which have been slightly changed for dramatic effect but, from what I can tell, it otherwise is fairly accurate. It tells the story of the rescue of the remaining crew of a doomed oil tanker by a 36 foot Coast Guard boat during a horrible winter storm.

We are brought into this story by way of Bernie Webber (Chris Pine). He is a shy Coast Guard member going on a blind date with Miriam (Holliday Graiinger), a woman he has only talked to on the phone. It is love at first sight and the film quickly moves ahead a year, where they become engaged and a powerful storm roars off the coast of Cape Cod. We then meet the crew of an old oil tanker that gets destroyed by the storm. Ray (Casey Affleck) leads the frightened crew into doing whatever they can to keep the remaining portion of the ship afloat.

What follows are three stories being told at once. Bernie is given the order to take three men with him and head out on a boat, that has a max capacity of 12, to rescue the survivors. They must get through 70 foot waves and an angry ocean that does not discriminate. These four young men go through some exciting, yet cold and wet, action scenes that had me unconsciously squeezing my wife's hand. Meanwhile, Miriam is on shore worrying over Bernie. Her best scene is when she barges in on Bernie's boss and demands/begs, "Please call them back. Please call them back..." We also have the oil tanker crew watching their ship sinking underneath them as they do anything possible to slow the inevitable.
All of this makes for an exciting and truly gripping viewing. The fact that it is based on a true story adds another level of tension. I had not done any research on the subject ahead of time and had no idea who lived and who died. To give you any more details would be to ruin the film. Experience it for yourself. I enjoyed the CGI storm scenes while my wife was caught up in the feisty Miriam worrying if she would be having a wedding soon or attending a funeral.

All of the actors try for accents and as I am not completely familiar with the New England accents of 1952, I will leave it up to you to decide how well the actors pulled them off. Eric Bana even has a scene where he calls someone on making fun of his accent. Who struck me the most, performance wise, was Chris Pine. Gone is his Captain Kirk confidence and movie star swagger. As Bernie, he is a man of few words and holds his head down often. His Bernie is never less than brave but you always see the concern on his face.

It is no wonder Bernie and Miriam became a couple. He is quiet and reserved while she can be up front and a bit brassy. He feels compelled to ask his superior's permission to get married, when in fact it is just a pointless formality. She, on the other hand, thinks nothing of walking into the Coast Guard mess hall to get news on her fiance. When one sailor tells her she should not be there and that none of the other girls come there, she replies, "So!"

Although the CGI scenes at sea are exciting and very well done, the special effects are not perfect. It is all too obvious that the snow, featured in many scenes, is fake. Miriam gets in and out of a car that clearly has some other substance on it pretending to be snow. We never see her breath. Even when she goes outside without a coat, she never acts as if the cold is bothering her in the least. This may seem like a trifle to complain about, but I have lived through many snowy winters and when a movie takes me out of the fantasy, the movie has miss-stepped.

Another thing that bothered me was that two of the main stars never share the same frame, even though they are supposed to be standing practically next to each other at one point and exchange some dialogue. It is either a mistake by the editor or director. Perhaps it is even the mistake of the movie stars who could not get their schedules to match each others so they could film the scene together. Either way, part of the fun for audiences in watching movie stars act is seeing how well they work with each other.
Although the production was not perfect, The Finest Hour is a story that pulled me in, gripped my attention and kept me watching.
Photos © Copyright Walt Disney Pictures (2016)