Movie Review
Finding Vivian Maier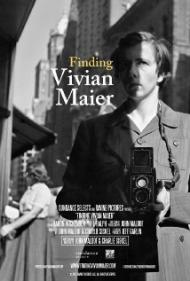 US Release Date: 03-28-2014
Directed by: John Maloof, Charlie Siskel
Starring
▸
▾
Vivian Maier

,

as

Herself (archive footage)
John Maloof

,

as

Himself - Narrator
Daniel Arnaud

,

as

Himself
Simon Amede

,

as

Himself
Maren Baylaender

,

as

Herself
Eula Biss

,

as

Herself
Bindy Bitterman

,

as

Herself
Roger Carlson

,

as

Himself
Phil Donahue

,

as

Himself
Mary Ellen Mark

,

as

Herself
Tim Roth

as

Himself

Reviewed on:
February 11th, 2015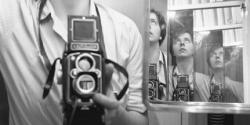 A photographic self portrait by Vivian Maier.
Finding Vivian Maier unfolds like a mystery. First we meet Chicago historian and photo collector John Maloof. In 2007 he bought several boxes of photographs at auction after the rent on the storage space where they were being kept stopped getting paid. These boxes held a secret treasure trove of street photography spanning more than half a century. Finding Vivian Maier tells the story of how Maloof became obsessed with learning as much as he could about the mysterious woman who took these pictures.
The first half of this Oscar nominated documentary shows Maloof tracking down information about Vivian Maier. It also highlights much of her work. We learn that she grew up in New York City and spent time in France. Vivian Maier never married or had children. She worked as a nanny virtually all her adult life. An occupation that afforded her many opportunities to take photos. She would often take the children she was caring for with her on long walks around Chicago. They all describe her as constantly having her camera around her neck.
The second half of the film attempts, through interviews with people who knew her, to delve into just who Vivian Maier was. One thing quickly becomes clear, this was a woman who thrived on secrecy. She was a character, that's for sure. She took many self portraits as well as 8mm home movies featuring herself. She also left behind audio taped conversations. These glimpses of the actual woman add to the film's narrative sense of discovery. Unfortunately later in life Vivian's eccentricities crossed over into full fledged mental illness. She ended her days as a colorful old lady sitting on a park bench.
She worked for a short period of time for television talk show host Phil Donahue. He speaks briefly about his memories of Vivian. Perhaps the most insightful stuff about this reclusive artist, though, comes from the kids she governed. Now middle-aged adults, some of them speak of her with anger. Some even make claims of physical abuse, while others sing her praise. But all agree she was a very strange character who presented different aspects of her personality to different people. Perhaps the most obvious example of this is her speaking voice. One French man discusses how authentic Vivian Maier's French accent was. This is immediately followed by a linguist expert who knew Vivian describing in detail how her accent was clearly fake.
Whoever Vivian Maier was in life her eye for capturing people at precise moments on film is undeniable. Her framing technique and sense of light and shadow are apparent even to my non-trained eye. This woman took nearly 150,000 photographs in her lifetime but showed her work to virtually no one. Many of her negatives were never even developed until after her death in 2009. Now her work hangs in galleries and museums around the globe and she is being heralded as one of the great street photographers of the twentieth century. Finding Vivian Maier reveals many secrets about this fascinating woman. She was unknown in life but is now being recognized as an important artist and visual chronicler of her time.

Reviewed on:
February 14th, 2015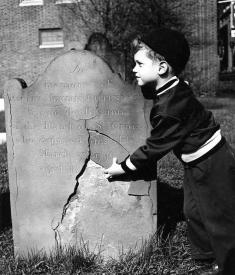 Vivian Maier capturing on film a child vandalizing a tombstone.
I was none too thrilled to watch a movie about photography but once it started I found myself quite interested in who Vivian Maier was. Patrick called her a "character" and I agree that she was eccentric. Through the interviews with the now grown children that she cared for, we learn that she was a bit of an enigma. The children each called her by different names, be it Viv, Vivian, Ms. Maier. She would give fake names or spell her name differently when signing something.
She is described as being scared of, or extremely uncomfortable with, men. As Patrick wrote, she was very secretive. None of the children were ever allowed inside her room, no matter which family she lived with. She always had locks put on her doors. She acted as if she were hiding from someone, be it an actual person or a memory. She hoarded newspapers and is referred to by more than one of her charges as being insane.
As far as her pictures go, I find photography to be an odd sort of art. With paintings or sculptures an artist creates something that never existed before. Photography is a recording of a nanosecond in time. The photographer either poses their subjects or they simply come upon something that strikes them. It is then their job to decide what angle and in what light they wish to capture that moment in time.
Although a near recluse, Maier was fascinated by people and it shows in her work. Often her subjects were characters who seemed to have a story to tell. She photographed the down trodden, the working class and the unique but they always looked very distinguished through her camera's eye. Like a good painting, you feel something when you look at her work. Her photos beg you to question what is happening in them. We want to know who these people in the photos were and who was the woman who had the artistic eye to photograph them.
Finding Vivian Maier tells the mysterious story of a lonely woman who only in death found genuine admiration. This documentary does not answer all of the questions but it does shed light on someone who otherwise would be dismissed as a bag lady. John Maloof and Charlie Siskel do for Maier what she did for the many people she immortalized. She presented them with respect.
Photos © Copyright Ravine Pictures (2014)