Movie Review
Finding Neverland
How far can your imagination take you?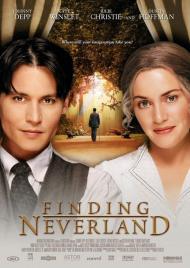 US Release Date: 11-12-2004
Directed by: Marc Forster
Starring
▸
▾
Johnny Depp

,

as

J.M. Barrie
Kate Winslet

,

as

Sylvia Llewelyn Davies
Julie Christie

,

as

Mrs. du Maurier
Nick Roud

,

as

George Llewelyn Davies
Radha Mitchell

,

as

Mary Barrie
Joe Prospero

,

as

Jack Llewelyn Davies
Freddie Highmore

,

as

Peter Llewelyn Davies
Dustin Hoffman

,

as

Charles Frohman
Angus Barnett

,

as

Nana/Mr. Reilly
Luke Spill

,

as

Michael Llewelyn Davies
Ian Hart

,

as

Arthur Conan Doyle
Kelly Macdonald

,

as

Peter Pan
Angus Barnett

,

as

Nana/Mr. Reilly
Oliver Fox

,

as

Gilbert Cannan
Mackenzie Crook

,

as

Mr. Jaspers
Toby Jones

,

as

Smee
Kate Maberly

,

as

Wendy Darling
Matt Green

,

as

John Darling
Catrin Rhys

,

as

Michael Darling
Tim Potter

,

as

Captain Hook/George Darling
Jane Booker

,

as

Mary Darling
Paul Whitehouse

as

The Stage Manager

Reviewed on:
October 31st, 2004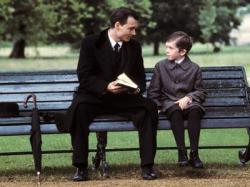 Johnny Depp and Freddie Highmore in Finding Neverland.
Finding Neverland walks the tightrope line of sentimentality without ever falling into the net of sappiness, although it does wobble at times. It tells the sweet and innocent story of the inspiration behind the creation of Peter Pan. It shows the power of imagination and, quite refreshingly, it demonstrates the importance of a strong male role model in a child's life.
Johnny Depp portrays J.M. Barrie, the playwright who brought Peter Pan to the stage. His passionless marriage to his social climbing wife drives him from his home in London each day to write in a nearby park. It is there that he makes the acquaintance of a widow (Kate Winslet) and her four sons. He develops a bond with the boys, joining them in their games and inspiring the middle boy, Peter, to try his hand at writing.
While his relationship with the widowed family is innocent enough, rumors soon begin whirling around London society about all of the attention he is paying them and his already weak marriage begins to disintegrate. By this time however, Barrie has become inspired by the family to write Peter Pan and is soon too lost in the production of the play to spend time salvaging his marriage.
Depp turns in a deft performance in the lead role. His accent is impeccable. His performance is subdued, particularly in comparison with his over the top role in last year's Pirates of the Caribbean. Winslet and the boys are also good (as is Dustin Hoffman in a minor role), but this is clearly Depp's movie.
Visually the movie is almost Gilliam-esque at times, as Barrie's imaginings come to life. Particularly nice are the shots of Neverland.
The story is fast paced and the movie clocks in at a brisk 90 minutes or so. There are times when I wished the movie revealed more of Barrie's back-story. He is obviously good with children, and yet it is never revealed why he had none of his own. Is it the result of his not so happy marriage, or were he and his wife incapable of having children of their own? The movie never reveals.
The movie begins with the caption that this story is inspired by true events. Not being a student of J.M. Barrie, I've no way of knowing how close to the truth this movie is, but certainly the film makers have captured the way we'd like to imagine a story like Peter Pan was created. And like Peter Pan, this story is about growing up, imagination, and how to get one without losing the other.

Reviewed on:
March 26th, 2005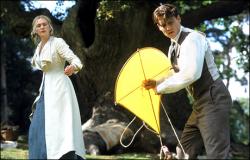 Kate Winslet and Johnny Depp in Finding Neverland.
Finding Neverland is about an adult male who plays imaginative games with some young boys. I have done this with my children more times than I can count. I have often been Joker to their Batman. I have been Blofeld to their James Bond. We have reenacted many scenarios from films and books as well as made up hundreds of our own. To give you any further detail into our play time would probably bore you, just as watching Finding Neverland did for me.
A man, who is not intimate with his wife, who spends lots of time playing with another woman's children certainly raises eyebrows. However, the movie quickly dismisses any wrong doing. It's like watching the Michael Jackson trial. Even if there is no proof of wrong doing, the insinuations alone are almost enough to be damning. The movie never explores that soap opera angle. It merely comments on it.
I, like Scott, would have enjoyed some greater characterization and background. What is left is a boring film. Yes, I was bored and nodded off twice. This film is more about how he created Peter Pan than who he actually was. He sees the cruel grandmother holding what appears to be a hook in her hand and so the movies insinuates that this is where he got the idea for Captain Hook. In another scene he sees the boys in their pajamas bouncing on their beds and he imagines them flying as in the story of Peter Pan. Yawn!
As a father of two boys who has explored imaginative worlds thousands of times with them, I found absolutely nothing new or of interest in this film. I wished I was playing with them the entire time I watched this movie. I could not wait till Finding Neverland was over.
Reviewed on:
March 8th, 2013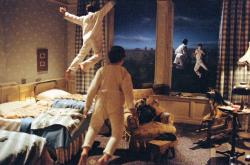 A wondrous celebration of boyhood innocence!
Finding Neverland is a wondrous celebration of boyhood innocence; to that time in life when a boy's imagination is all the ticket he requires to travel anywhere his thoughts can transport him. Eric, I'm surprised by your reaction. I figured that as the father of two sons you would be able to relate to it the most.
From your review it seems maybe you were too busy living the real thing to appreciate the gentle poetry of this movie. I guess it's easier to be nostalgic for your childhood if you aren't busy raising kids. Like Scott, I enjoyed its sweetness and simplicity as well as the visually clever manner in which the director incorporates the magical aspects of the story.
I also agree with Scott about Johnny Depp as J. M. Barrie. This is one of his least affected -and therefore best- performances I've seen him give. He tends to hide behind elaborate costumes and characters that are larger-than-life, but here his acting is nearly gimmick free. The Scottish accent being his only noticeable flourish.
The scenes he shares with Julie Christie are made memorable by the potent combination of their uniquely charismatic presences. They are both REAL Movie Stars. Her gracefully-aging, regal-beauty and his devil-may-care, handsomeness command your attention on the screen. Their final moment together provides the story with a happy -if bittersweet- ending, after the previous scene brought a wistful tear to the eye.
The final, final scene between Barrie and Peter on the park bench wasn't needed (see photo in Scott's review). The story has already ended and, for me, this is the one scene that does fall off the tightrope of sentimentality into the net of sappiness.
For more than a century Peter Pan has symbolized childhood innocence and the endless possibilities for adventure attainable by any child through the age-old art of pretending. Finding Neverland only adds to the remarkable legacy of Barrie's eternal child. Oh, and before I forget, I think it's only right to recognize the fact that Jan A.P. Kaczmarek won an Oscar for composing the film's lush score.
Photos © Copyright Miramax (2004)
Related Review