Movie Review
Finding Nemo
There Are 3.7 Trillion Fish In The Ocean*, they're looking for one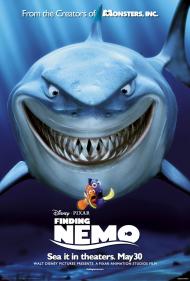 US Release Date: 05-30-2003
Directed by: Andrew Stanton, Lee Unkrich
Starring
▸
▾
Albert Brooks

,

as

Marlin
Ellen DeGeneres

,

as

Dory
Alexander Gould

,

as

Nemo
Willem Dafoe

,

as

Gill
Brad Garrett

,

as

Bloat
Geoffrey Rush

,

as

Nigel
Andrew Stanton

,

as

Crush
Elizabeth Perkins

,

as

Coral
Barry Humphries

,

as

Bruce
Eric Bana

,

as

Anchor
John Ratzenberger

,

as

Fish School
Bruce Spence

as

Chum


Reviewed on:
June 3rd, 2003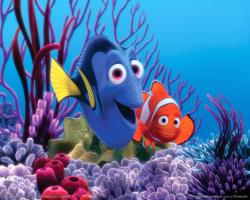 Finding Nemo.
Finding Nemo is hysterical Disney family fare with Pixar's amazing animation. As usual, Disney has a story about a single parent. However, the colorful undersea images and plethora of jokes, make this an entertaining film no matter how unoriginal the set up may be.
After losing his wife and 399 eggs to a predator, Marlin, a clown fish, becomes an overprotective father to his one surviving offspring, Nemo. Upon his first day at school, Nemo tests his boundaries by swimming up to and touching a boat. The other students in class think it's called a butt. So one of the students shouts; "He did it. He touched the Butt!"
A diver from that boat captures Nemo and puts him into his aquarium at his dentist office. Marlin tears across the ocean in desperate search for his son. He meets a blue fish named Dory, who claims to know where the boat went. Dory has a lousy memory, but a great disposition. Degeneres steals every scene as the daffy fish. Her whale talking scene had the audience rolling. Dory is the best comic relief in a Disney film since The Genie from Aladdin.
Finding Nemo is funnier than Monsters, Inc. and A Bug's Life. On their journey, Marlin and Dory meet three sharks who have sworn off eating fish. Well they have meetings and try real hard. They come across some helpful sea turtles who talk like surfer dudes.
Nemo meets an array of characters while in his new home at the dentist office. The tank is full of many fish, but the best character at the dentist office is the dentist's niece. Nemo is to be her gift. The other fish in the tank tell Nemo about the fate of the last fish the girl was given. "She shook the bag to hard." They exclaim as they point out a picture of the devilish looking girl who is holding onto a bag with a dead fish in it.
With the help of a pelican, who likes to stop by the dentist office and discuss teeth extraction with the fish in the tank, Marlin and Dory eventually find Nemo. The scene where they arrive at the office is great. The fish, the pelican and the devil child collide into a chaotic brawl.
The film pours on the sweet, sentimentality a bit too much at some points. However, the laughs more than make up for any and all sappy moments. With eye pleasing animation and more laughs than a Martin and Lewis marathon, Finding Nemo is the best Disney/Pixar movie since Toy Story 2.
Reviewed on:
June 14th, 2003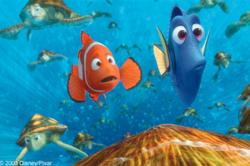 Finding Nemo.
Eric, enough with the single parent Disney conspiracy theory already. Get a grip.
Unlike my brother I found Finding Nemo to be vastly overrated in the laughs department. Sure Ellen DeGeneres provides a few chuckles but at no point did I actually guffaw. This is in no way meant as a reflection of this incredibly talented lady, merely the material she was given to work with. And the sap is WAY overdone. Near the end when Dory tells Marlin that when she is with him she feels like 'home' I nearly puked. And as anyone who knows me can testify I am usually a sucker for cheesy sentiment but these teary eyed fish were too much.
I did enjoy the visual look of the movie and the characters in the fish tank were amusing. I especially liked Willem Dafoe's Gill, who, unlike the other fish in the tank, used to swim free in the ocean and therefore feels the bitter oppression of captivity more than the rest.
Kids will probably love this movie but I wouldn't rank it as one that pleases the adults equally and in my opinion it is nowhere near as funny as Monsters, Inc..
Reviewed on:
June 14th, 2003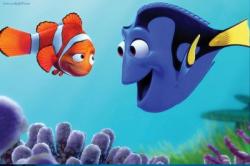 Finding Nemo.
Patrick, were you in a bad mood when you saw this movie? Cause I have to agree with Eric 100% on this one! I laughed all the way through it. And sure it's sweet and sappy, but you have to expect that in a Disney cartoon. This one was no worse and much less sappy then a great many others.
I also felt that unlike too many cartoons, and against what Patrick says, that most of these jokes aren't aimed at children, or are at least enjoyable by both adults as well as the kids. Are small children really going to understand the 12 step jokes of the sharks?
And saying that Ellen Degeneres's Dory provides a few chuckles is like saying the Holocaust was a minor tragedy! Her absent minded fish kept me laughing through out the movie. But she's not alone, I also found the Sea Gulls, the Sharks, and like Eric, the Dentist's niece, as well as the fish in the tank with Nemo, enormously comical.
As with all of Pixar's earlier efforts, the animation in this movie is superb. They just keep getting better. The beauty of the coral reef and all of its colorful inhabitants are reproduced here so fantastically as to make The Little Mermaid look like a black and white line drawing.
Child or adult, this one is enjoyable by all (except apparently, Patrick).
Photos © Copyright Disney Enterprises, Inc. / Pixar Animation Studios (2003)
Related Review