Movie Review
Finding Dory
She just kept swimming...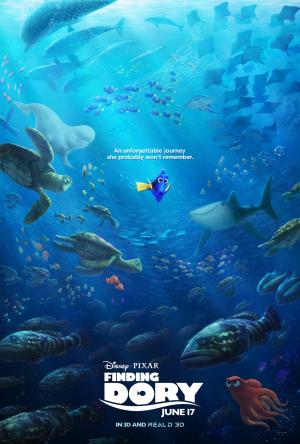 US Release Date: 06-17-2016
Directed by: Andrew Stanton, Angus MacLane
Starring
▸
▾
Ellen DeGeneres

,

as

Dory (voice)
Albert Brooks

,

as

Marlin (voice)
Ed O'Neill

,

as

Hank (voice)
Kaitlin Olson

,

as

Destiny (voice)
Hayden Rolence

,

as

Nemo (voice)
Ty Burrell

,

as

Bailey (voice)
Diane Keaton

,

as

Jenny (voice)
Eugene Levy

,

as

Charlie (voice)
Idris Elba

,

as

Fluke (voice)
Dominic West

,

as

Rudder (voice)
Bill Hader

,

as

Husband Fish (Stan) (voice)
Sigourney Weaver

,

as

Sigourney Weaver (voice)
Bennett Dammann

,

as

Squirt (voice)
John Ratzenberger

,

as

Husband Crab (Bill) (voice)
Willem Dafoe

,

as

Gill (voice)
Brad Garrett

as

Bloat (voice)


Reviewed on:
June 24th, 2016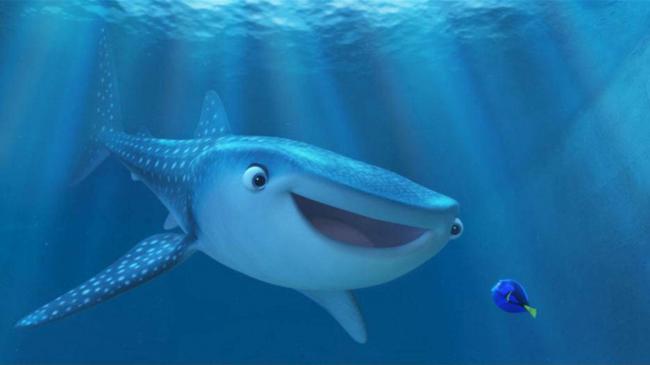 The half blind Destiny meets the forgetful Dory in Finding Dory
I completely enjoyed Finding Nemo (2003). It was a heartwarming, yet hilarious family film. The standout character was Dory, the little blue fish that suffered from short term memory loss. For some reason, it took more than a decade to get to this sequel that puts Dory center stage on a quest to find her parents. Yes, Disney finally made a "family" film that actually features both biological parents of the main character.

The story begins with Dory now living on the reef with Marlin and Nemo, who has not grown, in the least, since the first film. One day, something snaps in Dory and she suddenly remembers that she has a father and a mother somewhere in the world and decides to go in a search for them. Nemo and a reluctant Marlin go with her where they end up in an aquarium on the California coast where Dory believes she came from and hopes to find her parents there. Sigourney Weaver provides the recorded voice of the aquarium giving information about the exhibits. Dory assumes she is real. She even quotes her to her friends, "My friend, Sigourney, once said, "rescue, rehabilitate, release"".
There is some adventures along the way and some excitement but the movie works best during the jokes. My favorite moment was when Dory proves to Marlin that she really spoke whale all along. There are plenty of supporting characters that provide laughs as well, such as the two sea lions that keep barking at a third that just wants to share their rock. The film ends in a madcap race to rescue Dory that goes beyond the ocean into Smokey and the Bandit (1977) territory.

Like Finding Nemo, Finding Dory tugs at the heart. In the aquarium, she meets and gets help from an unsociable octopus named Hank. He tells Dory, "It seems like a lot of trouble to find some more fish. If I had short term memory loss, I would just swim off into the blue and forget everything." Of course, the positive, friendly Dory proves to be a good influence on him. The real emotion though, comes from Dory struggling through her memory to recall the people and the place where she truly belongs.

Pixar not only stumbled but fell flat on their face with The Good Dinosaur (2015). With Finding Dory they are back to doing the kind of hilarious, heart warming animated movies we expect from them. It makes for a perfect summer viewing.

Reviewed on:
June 25th, 2016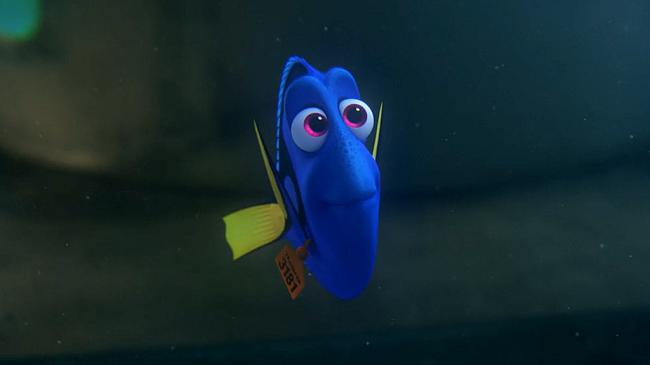 Ellen DeGeneres voices Dory in Finding Dory.
Like Eric, I loved Finding Nemo. As with all the very best Pixar films it combined heart and comedy with brilliant computer animation. Finding Dory is a worthy successor and another in an almost unbroken line of hits for the studio.

While Dory stole the show in the first film, I did wonder if they would be able to sustain an entire story around her since she was basically comic relief the first time around. The reason her story works is because the filmmakers address the tragedy of her short term memory. What happens when you can't remember the ones you love? How do you even get through your day with such a disability? While that might sound like the stuff of drama, this film counterbalances that so perfectly with the comedy, that it never gets bogged down in melodrama, but just tinges the humor with a touch of sadness that adds depth to the story and makes you feel more toward a computerized rendering of a fish than you probably ever thought possible.
Although celebrity voices in animation are often overrated and seem to be more about name recognition than any particular skill that actor might bring to the character, that is not the case with Dory and Ellen DeGeneres. It's the perfect combination of character and actress. Ellen's voice just works so well in this part that it's hard to imagine anyone else performing it. There's a childlike, innocent quality to her voice that enhances the role. Her ramblings, distractions, and sudden change of topic, are timed to perfection. And although not known for dramatic acting ability, Ellen even handles the film's sadder moments with equal aplomb.
As Eric mentioned, the end of the film ventures out of the sea and into--of all places--a semi-truck on the highway! I realize that everything that came before it is just as implausible, but this is almost a plot point too far. It's different when the fish behave in unrealistic ways in the ocean, or away from the eyes of man, but when they're behaving with human intelligence behind the wheel of a truck, it starts to seem a bit too silly. Fortunately, the film has built up enough goodwill by this point that it's easy to forgive this brief excursion.
Films that can truly be enjoyed by the whole family seem to be increasingly rare these days. Pixar, however, knows the secret formula for entertaining children and adults alike. Everyone can and should enjoy Finding Dory.

Photos © Copyright Pixar Animation Studios (2016)
Related Review