Movie Review
Find Me Guilty
Sometimes the best defense. . . is a wiseguy.
US Release Date: 03-17-2006
Directed by: Sidney Lumet
Starring
▸
▾
Vin Diesel

,

as

Giacomo 'Fat Jack' DiNorscio
Ron Silver

,

as

Judge Finestein
Annabella Sciorra

,

as

Mrs. DiNorscio
Paul Borghese

,

as

Gino Mascarpone
Tim Cinnante

,

as

Joey Calabrese
Richard DeDomenico

,

as

Tom "Nappy" Napoli
Vinny DeGennaro

,

as

Danny Roma
Frank Pietrangolare

,

as

Carlo Mascarpone
Nicholas A. Puccio

,

as

Tedeschi
Linus Roache

,

as

Sean Kierney
Alex Rocco

,

as

Nick Calabrese
Gene Ruffini

,

as

DeNorsico Senior
Peter Dinklage

as

Ben Klandis

Reviewed on:
March 20th, 2006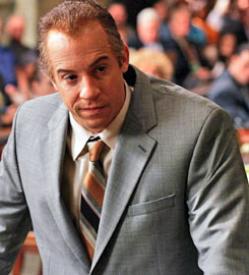 Vin Diesel in Find Me Guilty.
Legendary director Sidney Lumet returns with his first feature since 1999's Gloria. Lumet directed his first movie, 12 Angry Men, way back in 1957. He has also helmed such classics as The Pawnbroker, Dog Day Afternoon and Network to name just a few. Find Me Guilty finds this octogenarian auteur back in court and still in top form as a filmmaker.
This is the story of New Jersey mobster Jackie DiNorscio. While serving a 30 year sentence he is offered a deal by the Feds for an early release if he will testify against his associates. He remains loyal to his "family" and winds up representing himself during the marathon trial, which lasted for a then record 21 months. This is a true story, and in fact much of the courtroom testimony was taken directly from records of the actual trial.
Vin Diesel gives an awesome performance as Jackie. He is made to look older, and wears a really ugly, but funny, hairpiece. I had no idea the man was this talented. He handles the comedy and drama with equal aplomb. The best scenes in the movie are when he is questioning witnesses and speaking to the jury. He tells them, "I'm not a gangster, I'm a gagster." Although the guy only had a 6th grade education he definitely had street smarts, common sense and a gift for gab. Diesel really brings him to life and in the process proves that he is much more than a muscle-bound tough guy.
This movie takes place in the 1970's. The time period is recreated accurately but subtly. Too often today that era is exaggerated, for example everyone will be walking around with huge afro's and bell bottom polyester pantsuits. Lumet knows better, having made many of his classic movies during that decade. In some ways making this movie must have been a bit like going back in time for him.
Thank goodness there are still directors like Lumet working today. This movie really succeeds as a comedy but is also intelligent, thought provoking and conveys real emotion. The mix of comedy, drama and fascinating characters is a bit reminiscent of Network, although Find Me Guilty is not as good as that masterpiece.
By the time Oscar season rolls around next year this movie will more than likely have been lost in the shuffle. I hope not, because it is truly worthy of being nominated for many of the big awards.
Reviewed on:
March 26th, 2014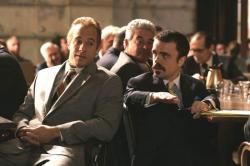 Vin Diesel and Peter Dinklage in Find Me Guilty.
Patrick was far more enamored with this movie than I was. I found it to be overly long, poorly written and not all that well acted. It seems to last nearly as long as the record long trial it's covering and the ending is highly unsatisfying.
The film's biggest problem though, is its perspective. It treats Jack DiNorscio as if he were a hero we should be rooting for instead of as the drug dealing mobster that he is. It then casts the district attorney's office as the bad guys. We're meant to cheer when DiNorscio scores a point against a witness or gets one over on the DA. We're meant to admire his loyalty to his childhood friends, even when they reject him. Let's not forget that his "friends" are also mobsters, responsible for plenty of crimes, including murder. Granted, it's not impossible to make a criminal the protagonist of a film, but you need to work to make the audience show why we should care about the criminal. You can't just assume that they will as the script does here. In any case, I certainly wasn't rooting for DiNorscio to be found Not Guilty, nor was I upset when he stopped receiving preferential treatment in prison.
Vin Diesel does stretch himself a little as an actor, but given that he generally plays the same character in every film, it wouldn't take much to be considered a stretch. I still don't think he does that great a job, but it's not for lack of trying on his part. The rest of the cast looks as if they answered a central casting call from Gangster Stereotypes 101 and none seem to have any unique character traits. Only Peter Dinklage, who I've yet to see give a bad performance in anything, distinguishes himself.
The film mentions, as did every article I could find online about this movie, that much of the dialogue was taken from court transcripts. And yet, nowhere did it say exactly how much, or which lines were invented. I have my guess as to which was which, but can not confirm it. When Jack is being funny and flippant, I'm guessing is reality, while the more serious moments when he leads and badgers the witnesses, making statements instead of asking questions, seem to be faked.
There's no denying Lumet's pedigree. He directed many classic films over his long career. This just isn't one of them.

Reviewed on:
March 27th, 2014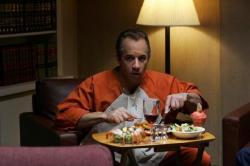 Vin Diesel in Find Me Guilty
Lumet's previous successes and accomplishments do not excuse this uninspired film. As Patrick noted, this is based on a true story, with much of the dialogue taken from courtroom testimony records. That's mildly interesting but that tells me that this likely made a better news article than movie.
This film is told from DiNorscio's perspective. We see how loyal he is to his family and friends. We see how clever he is supposed to be in court. We see him and his wife have an argument. Nothing that he did endeared me to him. As Scott noted, we are intended to root for him and cheer at the verdict. The only thing I felt like cheering for was that the movie was almost over.
The one and only thing this film will ever be remembered for is Vin Diesel playing a role we would not normally think of him playing. This is the kind of part Robert De Niro or Al Pacino could have walked through 20 years ago and likely done a much better job. Unlike Patrick, I was not impressed with Vin Diesel's performance. His hair piece and padded stomach do most of the work for him. He seems lost as to how to play many scenes. All we really get from him is a serious stare and his distinct voice.
Patrick, I do not think this movie got lost in the Oscar shuffle, I doubt it ever even made it into the mix. I liked that Diesel tried a different type of role and enjoyed how very little is made of Peter Dinklage's height. Those two things are all that I am taking away from this movie.
Photos © Copyright Crossroads Entertainment (2006)