Movie Review
Final Season
How Do You Want To Be Remembered?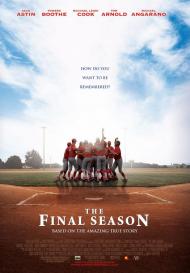 US Release Date: 10-12-2007
Directed by: David Mickey Evans
Starring
▸
▾
Sean Astin

,

as

Kent Stock
Larry Miller

,

as

Roger Dempsey
Ann Wedgeworth

,

as

Anne Akers
Powers Boothe

,

as

Coach Jim Van Scoyoc
Holly Bonelli

,

as

Jen Maples
Rachael Leigh Cook

,

as

Polly Hudson
Michael Angarano

,

as

Mitch Akers
Tom Arnold

as

Burt Akers

Reviewed on:
October 17th, 2007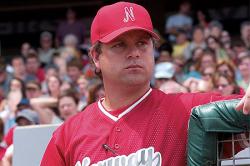 Sean Astin in The Final Season.
The Final Season is a slice of home made Americana. The American flag is all over the place. No doubt some liberals would call it a conservative film as it features an almost all white cast of wholesome acting country folks. But, I think a film like this represents a large portion of middle America that Hollywood to often ignores.
Astin plays an assistant baseball coach at an Iowa highschool. I kept waiting for someone to make a Field of Dreams joke. The team has won the state championship for the last 19 years. The school is in a small farming community and the following year will be its last as it will be merged with a neighboring school and all of the students bused to it. The town takes great pride in it's winning team and is upset by the states decision to save money by combining the school districts. The following year Astin gets the head coaching position as the original coach heads off to work in the Detroit Tigers farm system. The team and the town has little hope in the new coach whose only coaching credentials are in women's Volley ball.
Based on a true story, The Final Season is about more than just baseball. It is a celebration of small town America. I imagine people who live in large cities must think these small town people are quaint. Well of course their quaint and they know and love it. I live in a small town and enjoy that whenever one of our school teams win a big contest the police escort the school bus back into town with it's lights flashing and siren screaming while the kids yell out of the window. Anyone who sees that bus going by either knows someone on it or knows someone who does.
Where as Friday Night Lights showed the pressure and down side of highschool sports, The Final Season demonstrates how something so innocuous as a highschool sports team can bring a town together. Larger towns are not so different, or at least they were not at one time. Within all large cities are, or were, neighborhoods where all of the local children go to the same school. The parents all tend to know each other through the school and their children's activities such as little league or rocket football. One of the biggest disasters to our public school system was when they installed bussing. Whether in a small town or a city, it literally destroyed a neighborhoods familiarity with its local school. Families who once took pride in their local school now lost interest as their children became forced to attend a school pointlessly farther away with people they had never met.
The Final Season embraces small town American pride. Sure it throws in a couple of high handed morals, such as when a member of the baseball team gets mad at the new kid for asking where he can get some weed. I am sure some of those country kids smoked pot but kudos to this movie for actually having the balls to take a moral stand. This movie will not break any box office records but it's uniqueness in showing pride for town and country is quite refreshing these days.
Photos © Copyright Yari Film Group (2007)