Movie Review
Fierce People
Nothing is more savage than high society.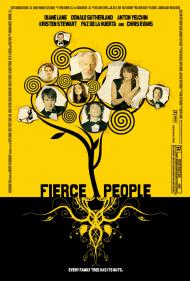 US Release Date: 04-17-2006
Directed by: Griffin Dunne
Starring
▸
▾
Diane Lane

,

as

Liz Earl
Anton Yelchin

,

as

Finn Earl
Donald Sutherland

,

as

Ogden C. Osborne
Chris Evans

,

as

Bryce
Kristen Stewart

,

as

Maya
Paz de la Huerta

,

as

Jilly
Blu Mankuma

,

as

Gates
Elizabeth Perkins

as

Mrs. Langley

Reviewed on:
October 13th, 2009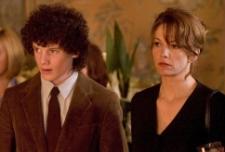 Anton Yelchin and Diane Lane in Fierce People.
Fierce People takes an all-star cast of uninspired characters and throws them into a odd little plot. A little twist at the end is more WTF than "wow" inducing. Most of the film takes place in a mansion and the surrounding estate. It serves as a minor distraction, but it is not enough to hide the film's many weaknesses.
Fifteen year old Finn is eagerly looking forward to spending a summer with his father, whom he has never met. His father is a famous scientist who is living among a South American tribe. He sends Finn film of his time there. Finn's mother is a masseuse/hooker/drug addict. His plans change when he gets busted buying her drugs. His mom ends up getting hired to be the personal masseuse of a very wealthy elderly man. They are allowed to live in a nice home of their own on his estate and have the use of a car.
Finn narrates parts of the film. "There's this tribe in South America called the Ishcanani. That means fierce people. They're like the meanest people in the world. They'll cut off your thumbs, and they'll shit in your hammock just like we say hello." He is speaking of the natives his Dad is studying, but we soon learn that the rich family they work for is just as vicious.
At first, Finn seems to get close to the family. The wealthy family patriarch Ogden Osborne reveals to him that the family fortune was made over black mailing someone. Maya and Finn start dating. Bryce takes him under his wing acting as an older brother. One night, Finn gets raped on the estate grounds and real personalities come out.
In typical Hollywood form, the rich are not only snobs, but out right criminals, and fairly insipid. Mrs Langley is always drunk. Bryce just has lots of girlfriends. Maya is merely a tease. With all this money why do these kids not have more to do than hang around the son of a servant?
I always like a cast of recognizable movie stars. It adds some interest when the plot seems to wonder, which happens often here. Lane is her usual sexy middle aged character. Evans plays his typical cocky charmer. When referring to his junk, he says its, "Just like a penis, only bigger." Yelchin is doing the same character he did from Hearts in Atlantis, only older. Stewart is as forgettable and dull as ever. Sutherland has the presence of a seasoned actor, but not enough to do to create any excitement. The only reason to watch this movie is if one of these stars is a favorite of yours.
Photos © Copyright Lions Gate Films (2006)