Movie Review
Ferris Bueller's Day Off
One Man's Struggle To Take It Easy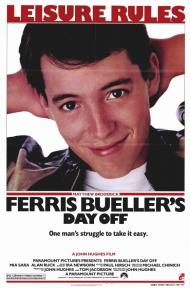 US Release Date: 06-11-1986
Directed by: John Hughes
Starring
▸
▾
Matthew Broderick

,

as

Ferris Bueller
Alan Ruck

,

as

Cameron Frye
Mia Sara

,

as

Sloane Peterson
Jeffrey Jones

,

as

Ed Rooney
Jennifer Grey

,

as

Jeanie Bueller
Cindy Pickett

,

as

Katie Bueller
Lyman Ward

,

as

Tom Bueller
Edie McClurg

,

as

Grace, the Secretary
Charlie Sheen

,

as

Boy in Police Station
Ben Stein

,

as

Economics Teacher
Kristy Swanson

as

Simone Adamley


Reviewed on:
September 19th, 2008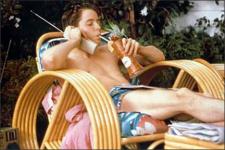 Broderick has an abundance of charm
In the mid 80's, middle aged John Hughes, wrote and directed a trilogy of high school movies. Sixteen Candles (1984) has Molly Ringwald and Anthony Michael Hall playing underclassman trying to fit in with a popular, older crowd. The Breakfast Club (1985) is about being part of a group, but learning that other groups are not so different. Ferris Bueller's Day Off shows that eventually you have to step away from your peers and become independent.
As the movie opens, high school senior Ferris Bueller decides to skip school, "How can I possibly be expected to handle school on a day like this?" Ferris is not a problem teen. In fact he is very popular at school, "They think he's a righteous dude." The only two people who have issue with him are his jealous sister Jeannie, "...why should he get to do whatever he wants, whenever he wants? Why should everything work out for him? What makes him so goddamn special?" and his principal, Ed Rooney, "...a character like Ferris Bueller ... gives kids bad ideas."
One of those kids is Ferris's best friend Cameron, whom he talks into letting him drive his father's rare sports car. Along with Ferris's girlfriend Sloane, the three skip school and have a day in Chicago going to the Sears Tower, a museum and a baseball game. Ferris even sings atop of a float in a parade.
Whereas Ferris is the larger than life hero, who sets the movies comic tone, it is Cameron who gives the movie an emotional arch. He is a depressed soul living with a father whom he fears does not love him. Through their day's adventure, Ferris takes Cameron out of his shell. By the end of the film Ferris is still Ferris, but Cameron is a changed person.
Although this film has tons of memorable lines, the key to its success is in the casting. Early in the movie, Ferris says, "Incredible, one of the worst performances of my career and they never doubted it for a second." The truth could not be farther away. This is Broderick's greatest role of his long career. He alone keeps this film from falling off the edge of plausibility. His charm alone makes Ferris a likable guy. Ferris pushes Cameron around and always gets his way, but we never resent him for it. This is all due to Broderick's abundance of charm. He does not look stupid when he wears the towel on his head, or a sweater vest and a beret. His awkward private moments at home keep Ferris from becoming too unrealistic.
The rest of the cast scrambles to keep up with Broderick. Whereas Ruck and Sara have plenty of screen time, it is the smaller roles that you remember. Grey is hysterical when Jeannie throws a hissing fit in the car. Sheen makes the most of his few minutes, "You wear too much eye makeup. My sister wears too much eye makeup. People think she's a whore." The one person you remember the most though is? "...anyone....anyone?" Ben Stein. His droll delivery of "Bueller...Bueller." Will stay with you for as long as you remember this movie.
Reviewed on:
January 20th, 2009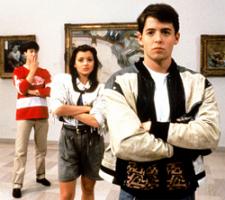 Has it really been over 20 years since this movie came out?
I was just finishing my junior year of high-school when this movie was released and I wanted to be Ferris Bueller, but unfortunately I was much more like Cameron (only without the daddy issues or the money). Although I was the right age at the right time for the John Hughes trilogy, I don't think that really mattered. Part of what makes those movies great is that apart from the fashions, they're fairly timeless. The same script, with some very minor variations could have been used in pretty much any decade from the 1950s to the present.
Eric, you forgot to mention my favorite supporting character; Ed Rooney's secretary, Grace. She has some great lines; "Well, with your bad knee Ed, you shouldn't throw anybody." and "Well, makes you look like an ass is what he does, Ed." among others.
Everyone in this movie is perfectly cast though. And this is Broderick's classic role. He's done lots of movies since then but this will always be his movie.
One part of this movie that always makes me laugh is just how much stuff these three teens are able to do in just one day! They see a baseball game, visit the Sears Tower, the Stock Exchange, the Art Museum, have lunch, participate in a parade and spend time in a hot tub! I know when you're younger time seems to go slower, but wow!
I wonder if they've ever considered a sequel. Cameron's marriage to Sloane (c'mon, there was always a little spark between those two and Ferris hints that he and Sloane won't last in one of his final monologues) is on the rocks and he's turning 40 so Ferris has to give them another day to remember. It could work!
It boggles my mind that it has been over 20 years since this movie was released. I can still remember like it was yesterday seeing it at the West Main Mall in Kalamazoo, MI with my friend from high-school, Mike Flanagan. Jesus, Ferris was right; life does move pretty fast.
Reviewed on:
April 20th, 2011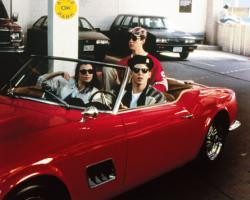 It has now been 25 years since this movie came out!
Ferris Bueller's Day Off is quite simply the all time great feel good comedy, from the quintessential 1980s filmmaker, featuring that most serendipitous of teenagers. It is charming and oh so innocent. Can you imagine a movie made today with high school kids skipping class where they go to an art museum?
John Hughes was to the 1980s what Frank Capra was to the 1930s. Both men made classic movies that were completely of their times and yet somehow timeless. Ferris Bueller is Hughes' happiest movie and Matthew Broderick will never top his pitch perfect performance.
The rest of the cast is good. Grey is funny in the scene where the principal breaks in to their house. "I've got my father's shotgun and a scorching case of herpes." Inept authority figures play an important part in Hughes' movies and Principal Rooney is painted with the broadest strokes of any of them. He has a personal vendetta against Ferris that, much like Ferris' sister's feelings, stem from jealousy.
Charlie Sheen, in his bad boy cameo, gives good advice when he tells Jeanie that she needs to focus more on herself and not on what her brother is doing.
Ferris is not only charming and carefree; he is also wise beyond his years. He breaks the fourth wall and talks directly to the audience several times throughout the movie, at one point making the astute observation that, "You can't respect someone who kisses your ass."
I have to admit that I hadn't seen this movie until a few years ago. Thanks to my brother Scott I did finally watch it and have since fallen under its buoyant spell.

Photos © Copyright Paramount Pictures (1986)