Movie Review
A Feather in Her Hat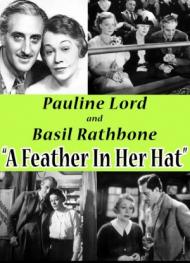 US Release Date: 10-25-1935
Directed by: Alfred Santell
Starring
▸
▾
Pauline Lord

,

as

Clarissa Phelps
Basil Rathbone

,

as

Captain Randolph Courtney
Louis Hayward

,

as

Richard Orland
Billie Burke

,

as

Julia Trent Anders
Wendy Barrie

,

as

Pauline Anders
Nydia Westman

,

as

Emily Judson
Victor Varconi

,

as

Paul Anders
Thurston Hall

,

as

Sir Elroyd Joyce
Nana Bryant

,

as

Lady Drake
J.M. Kerrigan

,

as

Pobjoy
Lawrence Grant

,

as

Dr. Phillips
Doris Lloyd

,

as

Liz Vining
David Niven

,

as

Leo Cartwright
John Rogers

as

Henry Vining
Reviewed on:
June 25th, 2012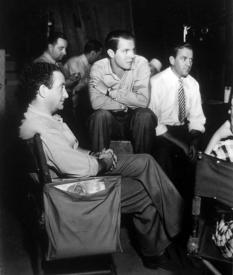 Director Alfred Santell and Louis Hayward on the set of A Feather in Her Hat.
A Feather in Her Hat is a 1930's melodrama about a self-sacrificing mother that was already creaky with age when it came out in 1935. The cast is good but the story, based on the novel of the same name by I. A. R. Wylie, is silly and filled with worn-out clichés. Try as they might these fine actors can't save the movie.
Stage actress Pauline Lord stars as Clarissa Phelps, a widowed shopkeeper. This was the second of only two movies she would make in her entire career. The year is 1925. The city London. Clarissa meets a drunken homeless ex-soldier named Randolph Courtney sleeping on a park bench (Basil Rathbone in a rare non-villain role). Randolph speaks with erudition and although he's a vagrant she does what any good parent would do and brings this complete stranger home to educate her young son, Richard. It is the first of several ridiculous plot twists to come.
The story then jumps ahead ten years to 1935. The young son is now a grown man played by the charming Louis Hayward (looking and sounding very much like a young Hugh Grant). On his 21st birthday he is given 1,000 pounds from Clarissa who tells him she is not his biological mother but was in fact asked to raise him by his upper-class parents (for reasons never explained), with the money to be given him when he comes of age. Clarissa insists he moves to a better neighborhood to start his adult life. Of course with the tutelage of the drunken but educated Randolph, Richard is now a perfect gentleman (think a male Eliza Doolittle) even though he grew up in a poor neighborhood in London over his mother's corner shop.
Richard moves to a nice boarding house run by a famous ex-actress (Billie Burke) whom Richard now believes to be his real mother – after reading some old letters he finds among Clarissa's belongings. He gets caught up in a love triangle between two women and begins a career as a playwright. All of which leads to an incredibly mawkish denouement. Clarissa, knowing she is dying, sells her tiny shop and somehow manages to finance an entire production of Richard's play on London's West End. She even has enough money left over to purchase a rowhouse in town and a house with land in the country. Apparently she could have been wealthy all along if only she had sold the shop sooner. Yes, there is a scene where Clarissa, on her deathbed, confesses to Richard what we knew all along, namely that she really is his mother.
The movie runs only about 75 minutes but it feels longer. The script is laughable. The cast is the only saving grace. Pauline Lord acquits herself well in the starring role, while Basil Rathbone is the most interesting character as the former soldier who hits the skids. Billie Burke uses her famous speaking voice to good effect and a young David Niven has a brief scene as one of Richard's rivals for the affections of a woman. Louis Hayward, while a fine enough actor, is far too charming and refined for the role. It's impossible to believe he is the son of an uneducated shopkeeper who was taught to be a gentleman by a drunken ex-soldier. Even though miscast, he projects star wattage and lights up the screen with his presence.
Despite the title this movie is far from a feather in the hat of anyone connected to it.
Photos © Copyright Columbia Pictures Corporation (1935)