Movie Review
Fatty's Magic Pants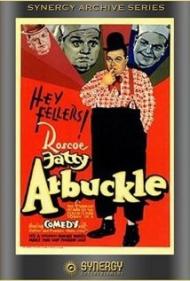 US Release Date: 12-14-1914
Directed by: Roscoe (Fatty) Arbuckle
Starring
▸
▾
Roscoe (Fatty) Arbuckle

,

as

Fatty
Charley Chase

,

as

Fatty's Rival
Minta Durfee

,

as

The Girl
Harry McCoy

,

as

Party Guest
Bert Roach

,

as

Party Guest
Al St. John

,

as

Party Guest
Slim Summerville

as

Cop


Reviewed on:
April 24th, 2011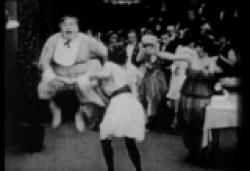 Fatty in his underwear.
As a fan of Buster Keaton's, I was introduced to Fatty Arbuckle through his work with him. He was a very broad comedian in every sense of the word. He played everything big and milked it all for what it was worth.
Arbuckle and another man wish to invite the same girl to a formal party. The other man has a suit while Arbuckle does not. His mother refuses to give him the four dollars to get one. He instead steals the other man's suit and takes the girl to the party.
Fatty milks his girth for many jokes. The suit is clearly too small on him. He looks ridiculous wearing it, and is anything but formal dancing around the floor. The man soon discovers what happened and sneaks into the party to sabotage Fatty. He secretly cuts some of the seams on his pants so that they fall off, revealing Fatty's underwear.
This leads to a shocking display, as his date is, of course, appalled to see him in such a state of undress. The suit's original owner ends up chasing Fatty with a gun. Fatty runs into a women's dressing room where they are in their underwear. He eventually jumps out the window and runs away, only to be nabbed by a policeman for indecent exposure.
Fatty provides most the films laughs. I liked when his mother slaps him with the laundry. He and the rival each have a scene where they stare at the camera, as if the audience is in on the goings on.
Arbuckle had great presence in his movies. Just as most silent film stars were moving into features, Arbuckle was bogged down in legal trouble and was never able to make that leap to feature length films. It is a shame as he clearly can carry a movie. At least we have his many short films to enjoy.
Reviewed on:
November 7th, 2012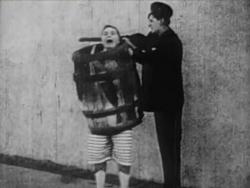 Fatty Arbuckle and Slim Summerville in Fatty's Magic Pants.
Roscoe Arbuckle is now remembered as a tragic figure in Hollywood history. His career was unfairly ruined by a scandal. It's too bad he wasn't given the chance to evolve as a movie comic in the same way that Chaplin, Keaton and Lloyd were. The world will never know what memorable feature length silent comedies (or even talkies for that matter) he might have produced.
Fatty's Magic Pants is a one-reel short from the very dawn of Hollywood. It features Arbuckle's then real life wife, and frequent costar of the period, Minta Durfee as the love interest. Fatty's rival, the cop, and several party guests were played by familiar silent comedy faces of the day, like Charley Chase, Al St. John, Slim Summerville, Bert Roach and Harry McCoy.
This movie begins well enough but by the end becomes a pure silent slapstick stereotype, complete with Arbuckle being chased around a crowded party by a man with a gun, before he (Arbuckle) winds up getting arrested (see photo). This was already a ubiquitous cliché in 1914.
I laughed at Arbuckle somehow being able to fit into Chase's tuxedo. Although he has to use a towel for a cummerbund. His eponymous pants are so tight that they look like modern day skinny jeans. His prancing jig is worth a few chuckles but it is Arbuckle's reaction when he discovers his pants are missing that is the high point of this very simple short film.
Reviewed on:
November 11th, 2012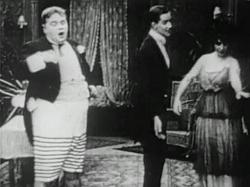 Roscoe (Fatty) Arbuckle in Fatty's Magic Pants.
What might have been if Arbuckle had not been wrongfully accused and dragged through one of Hollywood's most infamous court cases, is an interesting question for film scholars. We'll never know if his stardom would have lasted into the 20s or beyond into the sound era. He definitely had screen presence and a physicality that belied his large size.
If this short is your only exposure to the rotund comedian however, you might think his changes of longevity were slim to none. Apart from a few witty flashes, such as when he flips the top hat onto his head, Arbuckle's performance is fairly generic, as this entire short is really.
The short is really a two joke short. The first joke is seeing Fatty in a suit too small for him. Like Patrick, I was amazed at just how tight those trousers were and how he still managed to leap about in them. The second joke is Fatty losing those same trousers and running around the ball in his underwear.
It all ends with a chase of course, as so many shorts of the era did, although without any clever tricks or sight gags.
They churned out plenty of shorts in those days and this one is a fairly run of the mill example.
Photos © Copyright Keystone Film Company (1914)