Movie Review
Father of the Bride
Love is wonderful. Until it happens to your only daughter.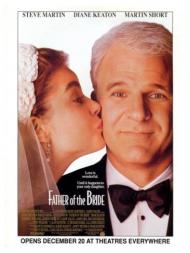 US Release Date: 12-20-1991
Directed by: Charles Shyer
Starring
▸
▾
Steve Martin

,

as

George Banks
Diane Keaton

,

as

Nina Banks
Kimberly Williams-Paisley

,

as

Annie Banks
Kieran Culkin

,

as

Matty Banks
George Newbern

,

as

Bryan MacKenzie
Martin Short

,

as

Franck Eggelhoffer
BD Wong

,

as

Howard Weinstein
Peter Michael Goetz

,

as

John MacKenzie
Kate McGregor-Stewart

,

as

Joanna MacKenzie
Tom Irish

,

as

Ben Banks
Eugene Levy

as

Singer at Audition


Reviewed on:
April 12th, 2013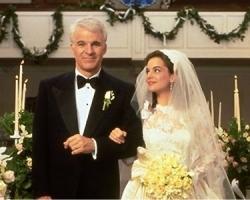 Steve Martin and Kimberly Williams in Father of the Bride
The film makers went to great length to acknowledge the original film. One of the first things you will recognize is that they chose a house for the Banks' residence that looks surprisingly similar to the one used in the 1950 film. Both the interior and exterior have the same design. Also take note of a particularly ugly wedding gift that both brides receive. The biggest difference is that the Banks had two older sons in the original while here they only have a younger son.
For some reason though, the leads first names were changed. Here, Annie comes home from studying in Italy with the news that she met a man and is engaged. Like the original the father, George over-reacts and throws a fit, while the mother gushes.
Spencer Tracy's father of the bride seemed more concerned about the cost of it all first and losing his daughter second. They are rarely shown spending much time together. Steve Martin's character is the opposite. The movie starts with him getting Annie's bike fixed. He and his daughter spend time playing basketball. Perhaps it was a sign of the times, but Martin acts far more sentimental about his daughter than Tracy did.
Whereas the original was all about Spencer Tracy, this 1991 version allows the supporting players a bit more time. Elizabeth Taylor's character in the first film used a wedding coordinator, who at most acted stuck up. In this version we have Martin Short stealing every scene with a horrendous accent and flaming mannerisms. We even get his almost as bad assistant played by BD Wong.
The heart of this film lies in the looks of admiration Steve Martin has for his daughter, played by Kimberly Williams in her screen debut. His love for her is achingly real. Several times we see him recall her as a child and you can just imagine his heart swelling with pride. Perhaps it is because I have children, but I feel his every angst.
Tracy did not play the role as sentimentally as Martin. I do not fault him for that. Tracy was acting as a father of that generation. Times changed. Our Dad was not in the delivery room when we were born, but I was for both of my sons, as has become the common practice.
Comparing these two films made some forty years apart is a great social study. Clearly family is important in both versions but the father's approach seem a bit different. In both films there is a moment when the father of the bride suddenly has a clear picture. Here Martin narrates, "I realized at that moment that I was never going to come home again and see Annie at the top of the stairs. Never going to see her again at our breakfast table in her nightgown and socks. I suddenly realized what was happening. Annie was all grown up and was leaving us, and something inside began to hurt."
This film can be enjoyed by anyone, but it truly touches the heart of a parent who has watched their child grow up faster than they ever thought was possible..
Reviewed on:
January 30th, 2014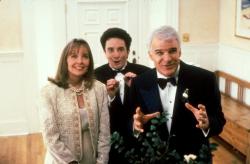 Diane Keaton, Martin Short, and Steve Martin in Father of the Bride.
This remake has charm and a winning central performance by Steve Martin but for me it fails to live up to the original. I agree that it's more sentimental but it's certainly not funnier. Ever since the 1980s feel-good Hollywood movies have relied on montages while a song that is the musical equivalent of comfort food underscores the scene. There are several such moments in this movie, one is while George plays a game of one-on-one basketball with his daughter and the other is when he thinks back over his daughter's life. Images of her childhood float by to the tune of The Temptations' "My Girl".
And whereas the humor in the original version was more verbal and situational, the humor here leans more to the slapstick variety. The worst example of this is when George and Nina Banks meet their soon to be in-laws John and Joanna MacKenzie. George acts like a fool by breaking a bathroom mirror and snooping around John's study. He gets chased by their dogs and winds up in the MacKenzie's swimming pool with John's bankbook in his hand. Martin is a gifted enough physical comic to nearly pull it off but his behavior is sitcomish in a way that the original movie never stooped to.
Martin Short gets some mileage out of his accent, that everyone but George seems to understand perfectly. Eugene Levy is funny as an auditioning wedding singer. But as the title suggests there is never any question of just who the star of the show is. Like Spencer Tracy before him, Steve Martin completely dominates the movie. Poor Diane Keaton has the least to do as his wife. The intended bride and groom get a few good moments but the in-laws are reduced to what is practically a cameo as George takes over their one big scene with his aforementioned antics.
This 1991 version of Father of the Bride might not quite live up to the original but it is enjoyable nonetheless. And I'm sure Eric is correct when he states that it has added depth for anyone who has raised a child. Although it lays on the sentiment pretty thickly at times and I find Spencer Tracy's restrained performance more compelling than Steve Martin's effusive behavior. But that is all really just a matter of personal taste and style.
Eric also mentioned several of the many references it makes to the 1950 movie. They did change the first names of the characters but if you listen carefully you will hear George mention his full name, George Stanley Banks (Spencer Tracy's first name was Stanley). One character even shows up from the original, played by the same guy 41 years later. Tom Irish made his movie debut playing Elizabeth Taylor's brother Ben Banks. He appears in a cameo at the wedding reception although just how he is related to them isn't made clear. And in the scene where we first see Annie in her wedding gown director Charles Shyer copies Vincente Minnelli by having George open the door to his daughter's bedroom to reveal Annie's reflection in three large mirrors.
If I sound a bit hard on this movie I don't mean to. I was thoroughly entertained by it and, again echoing Eric, as a bookend to the original version it does beautifully demonstrate the vast societal changes that took place between the 1950s and the 1990s. It stands alone as a nice family comedy while at the same time paying respectful homage to the original. It is far better than most of the remakes Hollywood churns out these day. That's for sure.
Photos © Copyright Buena Vista Pictures (1991)
Related Review