Movie Review
Father of the Bride
The Bride gets the THRILLS! Father gets the BILLS!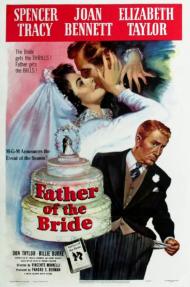 US Release Date: 06-16-1950
Directed by: Vincente Minnelli
Starring
▸
▾
Spencer Tracy

,

as

Stanley T. Banks
Joan Bennett

,

as

Ellie Banks
Elizabeth Taylor

,

as

Katherine 'Kay' Banks
Russ Tamblyn

,

as

Tommy Banks
Tom Irish

,

as

Ben Banks
Don Taylor

,

as

Buckley Dunstan
Billie Burke

,

as

Doris Dunstan
Leo G. Carroll

,

as

Mr. Massoula
Moroni Olsen

,

as

Herbert Dunstan
Marietta Canty

,

as

Delilah
Melville Cooper

,

as

Mr. Tringle
Taylor Holmes

,

as

Warner
Paul Harvey

,

as

Rev. A.I. Galsworthy
Frank Orth

,

as

Joe
Marietta Canty

,

as

Delilah - the Maid
Tom Irish

,

as

Ben Banks
Oliver Blake

,

as

Engagement Party Guest
Frank Cady

,

as

Timid Engagement Party Guest
Carleton Carpenter

as

Party Guest / Usher at Wedding


Reviewed on:
April 10th, 2013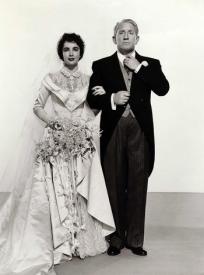 Elizabeth Taylor and Spencer Tracy in Father of the Bride
It can be debated by all who care, whether the original version of Father of the Bride or the 1991 remake is the better film, but I believe they both have much to offer. The difference between the two is most distinct in the lead character. Steve Martin played Stanley Banks with more emotion, be it expressing his love to his daughter or acting hysterical over the bills. Spencer Tracy was more the stereotypical father of his time. His performance is more subtle as he keeps his feelings closer to home.
Both films open with father of the bride Stanley Banks sitting in the middle of a very messy room following the wedding of his daughter. He then narrates back to the day he and his wife received the news that their only daughter Kay, was going to be married. We then follow him through to the wedding itself. The story is more about the father than the bride as he must deal with losing his daughter and paying for the privilege.
This version is a time capsule of the American family in 1950, or at least Hollywood's version of the American family in 1950. Kay calls her father, "Pop." Stanley and his wife Ellie sleep in separate beds. They, of course, have a black maid. She is played by Marietta Canty whose last film role was as Sal Mineo's maid in Rebel Without a Cause (1955). Another interesting aspect is that all of the adults seem to drink alcohol like prohibition is about to be put into law.
Both films deal emotionally with a father losing the daughter he loves. As great an actor as Tracy is, he is not as open with his feelings as Steve Martin. Tracy's line, "Right then I knew we'd lost her. She'll always love us of course, but not in the old way. From now on her love will be handed out like a farmer's wife tossing scraps to the family rooster." Sounds more recited than heart felt. Again, his reading may have more to do with the times than his talent.
This movie was a huge success. It benefited greatly from Elizabeth Taylor's real life first wedding to Nicky Hilton a month prior to this film's release. A movie studio could not imagine any better publicity for this film than that. Every time a magazine wrote about her real wedding, they were in effect advertising Father of the Bride. MGM even gave Elizabeth Taylor her wedding dress designed by Edith Head. This film was such a hit, that it spawned a sequel. Although that has become common place today, sequels were quite unique in 1950.
Reviewed on:
January 10th, 2014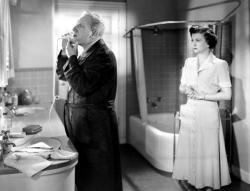 Spencer Tracy and Joan Bennett in Father of the Bride.
The 1991 version is good but I prefer the original, as did the Academy. It was nominated for Best Actor, Best Picture, and Best Screenplay. Something the Steve Martin version cannot boast. As Eric said, this is a wonderful time capsule of suburban America in 1950. Nearly every family television sitcom of the 1950s would follow the blueprint created by this movie.
One thing that makes this version so good is the direction by the great Vincente Minnelli. He adds a few interesting flourishes to the story, such as the nightmare Stanley has the night before the wedding, and in the scene where the prospective in-laws meet for the first time. As they down drink after drink the scene keeps shifting with a blur to show the passage of time and to indicate that Stanley is getting steadily drunker. It is a nice little touch.
Eric mentioned the copious amounts of alcohol consumed in this picture. One of my favorite scenes revolves around this fact. At the engagement party Stanley makes a bunch of martinis but to his dismay most of the guests request other drinks. He spends the entire time in the kitchen playing bartender and never gets to give his carefully rehearsed speech.
Elizabeth Taylor was perfect as the young bride. A part she would play in real life ad nauseam. She has rarely looked more radiant than she does as Kay Banks. The first time we see her in her wedding gown is quite memorable. Minnelli shot it by having Spencer Tracy open his daughter's bedroom door and there she is. We see her reflected in triplicate standing in front of her mirrors, the picture of innocent beauty. She is truly a sight to behold.
But it is Spencer Tracy who makes the picture. This is one of my all-time favorite of his performances. He may not play it at a high emotional level but he is hilarious. The scene where the Banks first learn of their daughter's engagement is one of his best moments. Watch the way he moves about in an agitated manner in bed. He fills his wife with worry by mentioning all the bad things he can think of about their future son-in-law. Once he has his spouse (the under-appreciated Joan Bennett) worked up he is able to fall comfortably to sleep.
Father of the Bride is a true comedy classic. On the surface it's incredibly dated but if you look just beneath it you'll find a truly timeless emotional truth.
Photos © Copyright MGM (1950)
Related Reviews