Movie Review
Father Goose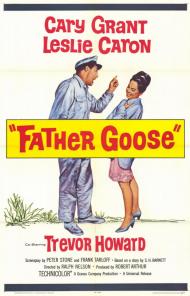 US Release Date: 12-10-1964
Directed by: Ralph Nelson
Starring
▸
▾
Cary Grant

,

as

Walter Christopher Eckland
Leslie Caron

,

as

Catherine Freneau
Trevor Howard

,

as

Commander Frank Houghton
Jack Good

,

as

Lieutenant Stebbings
Sharyl Locke

,

as

Jenny
Pip Sparke

,

as

Anne
Verina Greenlaw

,

as

Christine
Stephanie Berrington

as

Elizabeth Anderson


Reviewed on:
December 20th, 2005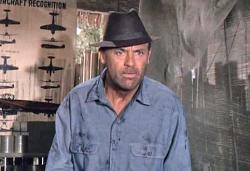 Cary Grant in Father Goose.
Father Goose was Cary Grant's next to last film. It is also one of his best. Cary Grant was 60 years old playing a romantic/comedic lead who runs about an island like a man half his age. He had gray hair and was nearly twice the age of his leading lady but his charm was still there in spades.
Grant plays a drunk stuck on a south seas island during World War II. He is a plane spotter for the military. Whenever Japanese planes fly overhead he radios in what kind and how many there are. In return for his service the military has hid whiskey bottles all around the island and whenever he radios in information they tell him where to find one of the bottles. After being bribed with the location of many whiskey bottles, he uses his small boat to go to a nearby island to check on another plane spotter. There, he finds a school teacher and her brood of school girls. The plane spotter is dead so he ends up begrudgingly taking the woman and her students back to his island.
The movie plays out like the African Queen. In both movies a carefree drunk, almost by accident, rescues a proper acting woman. Caron's Catherine is like Katharine Hepburn's Rose in that she dislikes her man's drinking and goes about reforming him. The leads, of course, fall in love and there is even a scene at the end with the leads in a boat facing the enemy in a ship. It doesn't quite play out the same way, but the similarities are there.
What differs the most between the two film is that Father Goose is far more light hearted. In one of the funniest scenes Grant is showing Caron how to catch a fish with her hands. He is right behind her and they are both bent over in a compromising position looking for a fish. "Hey, here she comes again." Grant says to Caron who asks, "How do you know it's a she?" Grant replies, "Her mouth is open, now be quiet." They squirm and move about a bit trying to get the fish but it gets away. However, Grant gets something else instead. This is a family friendly film and his erection is only implied, but it is funny watching the two try to deal with the situation they find themselves in.
Grant could have gone on to make many more films. Watch Father Goose and you see a man who aged very gracefully. Although there are actors like Sean Connery, and Paul Newman who have aged well as well, "Cary (Grant) seemed to actually improve with age...", Patrick wrote in his tribute article. Watch this movie and you will agree.
Reviewed on:
February 10th, 2006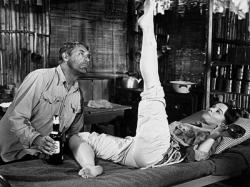 Cary Grant and Leslie Caron in Father Goose.
I'm not sure I would call this one of Cary Grant's best films since he left behind such an amazing body of work. But I agree with Eric that it has a lot of charm. The man made everything he did look effortless, which, ironically, is why he never got the recognition he deserved as an actor. Still I think most people today will agree he is the epitome of what a Movie Star should be.
Leslie Caron is also good in the movie, she and Cary have good chemistry together. Her best scene is when she gets drunk after thinking she was bit by a poisonous snake (it turns out to be a branch in the water, foreshadowing Gilligan's Island?). The straight-laced teacher, as played by Caron, lets her hair down and shows off her dancer's agility in what is a truly inspired moment.
In spite of himself, the curmudgeonly Walter develops close relationships with the girls, actually helping one to finally be able to speak. But like Eric said the mood is never allowed to become heavy, even when the danger grows and they are forced to flee for their lives.
The great British actor Trevor Howard is along for the ride. He is quite funny as the Commander who must use whatever tricks at his disposal to get Walter to cooperate with the military.
A great family movie that is also a war comedy. Father Goose might just be a genre all its own.
Reviewed on:
February 16th, 2009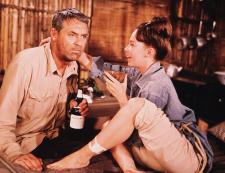 Cary Grant is hands down my favorite old time movie star.
Cary Grant is hands down my favorite old time movie star. As you both said, he is as charming late in his career here as he was in his early work. He's so active in this movie that it's hard to believe he was 60.
I'd say as far as genres go, this one is pretty clearly a romantic comedy, with special emphasis on the comedy. I love Caron's drunk scene and the conversation they end up having over how her blood tastes. Grant has equally good chemistry though with all of the children, from the youngest to the oldest, but especially with young Jenny, the girl whom he gets to speak and who brings him bottles of whiskey.
This is also that rare comedy that actually manages to create genuine tension. When the Japanese arrive on the island and when Walter goes to the other island there's real sense of danger.
The only weak part of the movie seems to be that Walter and Catherine go from liking each other to wanting to get married very quickly. Perhaps it was just the idea that they could both be dead in a short while, but they do seem to rush it a bit, but it doesn't hurt the enjoyment of the movie.
It's truly a shame that Grant didn't continue to make films. Too often stars keep on making movies long after they've worn out their welcome. Grant could have gone on making movies for as long as he wanted.
Photos © Copyright Universal Pictures (1964)