Movie Review
Fat Albert
Hey! Hey! Hey! Christmas Day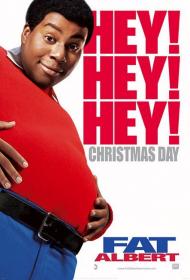 US Release Date: 12-25-2004
Directed by: Joel Zwick
Starring
▸
▾
Kenan Thompson

,

as

Fat Albert
Kyla Pratt

,

as

Doris
Shedrack Anderson III

,

as

Rudy
Jermaine Williams

,

as

Mushmouth
Keith Robinson

,

as

Bill
Alphonso McAuley

,

as

Bucky
Aaron Frazier

,

as

Old Weird Harold
Marques Houston

,

as

Dumb Donald
Bill Cosby

as

Himself


Reviewed on:
April 3rd, 2005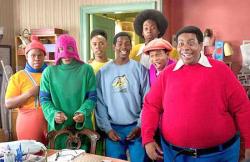 Fat Albert.
I remember watching the Fal Albert cartoons as a child with my brothers. They were harmless fun. I liked them because they were poor kids who hung out in a junk yard of all place. Nearly everyone of them was noticeably flawed. There is dumb Donald, Mush Mouth, Weird Harold and of course Fal Albert. But no matter what they lacked they still had each other as friends. Many cartoons have since copied this formula such as Arthur and Recess, but none have done it better.
The film version starts with a girl, Doris, watching the cartoon. She is sad because she has no friends. Fat Albert and gang jump through the television in to "real" life to help Doris out. They hangout with her for a couple of days. They are from the 1970's so they are surprised by cell phones and dvd's. The movie attempts a few time travel type jokes but few work.
Thompson is fine as Fat Albert. He has all of the hey hey hey's down pat, but it is Mush Mouth who gets all the laughs. His mumbling had my sons and I laughing. However, the movie has a toddler teach him how to speak correctly and thus the film loses it's best source for jokes.
Fat Albert is good clean fun. No one swears, does drugs or even refers to sex. The movie is very squeaky clean. Too clean. A few subtle adult jokes thrown in by superfluous characters could have helped. Or perhaps some jokes about just how innocent these guys act could have helped.
Still, the theme song is just as catchy today as it was thirty years ago. My sons spent the rest of the day singing "nah nah nah goin have a good time. Hey hey hey."
Reviewed on:
March 23rd, 2006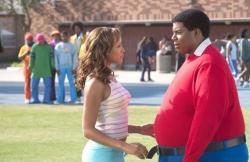 Fat Albert.
Young children are definitely the target audience here. Other than the nostalgia factor there is very little for adults to enjoy. I'll admit I enjoyed the one big musical number where the old theme is updated with a hip hop beat. The choreography was about the most inspired thing in the entire movie.
It probably makes no sense to point out a plot hole in a movie where cartoon characters step out from a television set, but what the hell, I'll do it anyway. Why is it that no one makes the connection between these characters and the old tv series? The toddler that teaches Mush Mouth to speak is the only person who seems to recognize them. All the other kids make fun of Fat Albert simply because he is overweight but no one ever asks him why he thinks he's Fat Albert.
These junkyard city kids remain unique characters and icons of the 1970's. I'm curious as to why the character of Rudy was changed from the original show though. All the other Cosby Kids are pretty much the same. In the cartoon Rudy was an egotistical braggart who was also a bully and a coward, always picking on Russell. Here he is a romantic sweetheart.
Eric's right about how squeaky clean this movie is. That in itself is a rarity today. This is probably due to Bill Cosby who shows up for the required cameo. The feel good ending is straight out of a Disney movie.
Photos © Copyright 20th Century Fox (2004)