Movie Review
The Fast and the Furious
Live life 1/4 mile at a time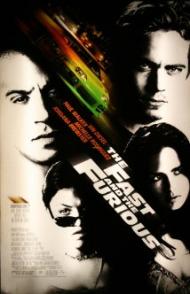 US Release Date: 06-22-2001
Directed by: Rob Cohen
Starring
▸
▾
Paul Walker

,

as

Brian O'Conner
Vin Diesel

,

as

Dominic Toretto
Michelle Rodriguez

,

as

Letty
Jordana Brewster

,

as

Mia Toretto
Rick Yune

,

as

Johnny Tran
Chad Lindberg

,

as

Jesse
Johnny Strong

,

as

Leon
Matt Schulze

,

as

Vince
Ted Levine

,

as

Sgt. Tanner
Ja Rule

,

as

Edwin
Vyto Ruginis

,

as

Harry
Thom Barry

,

as

Agent Bilkins
Stanton Rutledge

,

as

Muse
Noel Gugliemi

,

as

Hector
R.J. de Vera

as

Danny Yamato


Reviewed on:
June 4th, 2014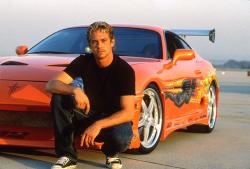 Paul Walker in The Fast and the Furious
The Fast and the Furious was the movie that put Paul Walker on the "A" list. It would set a tone for the rest of his career where he often played either a cop or a criminal. Here he is undercover Los Angeles police officer Brian O'Connor getting in good with street racing gangs that the police believe are responsible for a series of robberies that happen to semi-trucks while driving down highways.
He enters a race that he loses but he befriends the leader of one gang, Dominic, played by Vin Diesel, when he helps him escape the police. He is brought into the racing fold but problems arise when he falls for Dominic's sister, Mia played by Jordana Brewster. She already has an admirer in the group, Vince played by Matt Schulze, who does not like Brian getting close to her. There is also trouble with a rival gang that prefers motorcycles over cars and machine guns over polite conversation.
The more Brian gets to know Dominic and Mia, the more his loyalties begin to blur. Dominic sells Brian on his passion for racing, "I live my life a quarter mile at a time. Nothing else matters: not the mortgage, not the store, not my team and all their bullshit. For those ten seconds or less, I'm free." Are Dominic and his gang responsible for the robberies Brian is investigating and if so, will Brian be able to arrest a man who has become his friend and whose sister has become his lover? Of all The Fast and Furious films, this is the one most grounded in reality and easily the most entertaining.
The plot and acting are, of course, not this stories selling point. All of the movies in this franchise are little more than automotive porn. Someone popping the hood of their car and getting a reaction from the other drivers is akin to a porn actress dropping her robe. A driver flooring it and crossing the finish line is this movies money shot. He tenses up as he reaches the finish line and then lets out a sigh of satisfaction as he slows down. Oh come on! You know what I am talking about.
Paul Walker demonstrates a decent amount of screen presence. His clean cut looks trying to appear to have street credit makes him likeable, if not completely believable. He would make many more films but this is where his star first found its place in the cinema firmament.
Reviewed on:
April 26th, 2015
Vin Diesel and Paul Walker in The Fast and the Furious.
The most surprising thing about this, the first in the Fast and Furious series of films, is how genuinely entertaining it is. And, as Eric noted, it's actually grounded in reality. Although some of the shenanigans in cars are unlikely, they are all completely feasible and the film is free of the over-the-top outlandish moments that have taken the place of plot in the later films. Here the action is exciting and there are moments of genuine tension.
Of course it will help if you're a "car guy". Eric's not wrong when he calls this automotive porn. The original idea for the film came from an article titled "Racer X" in the May 1998 issue of Vibe magazine about young, ethnic street racers in, not the open highways of Los Angeles as in the film, but the crowded urban streets of New York City. Those, like those young men written about, who get excited looking at glossy pictures of piston engines and Johnson rods will no doubt enjoy this movie even more than I did.
Although the action is believable, the plot really isn't. The central "mystery" that Brian is sent undercover to solve takes him weeks to sort out, when it should only take a day. The police and the FBI know that someone is hijacking semis so why don't they set up a sting operation by loading a semi full of desirable products and then follow it discreetly? Or, how about a few tracking devices stashed inside some of the electronic equipment that's being hauled by the truck? Either of these two methods would have revealed the identity of the criminals right away and without the need for all the drag races, shot up cars, and divided loyalties. Of course it would also be a pretty boring movie. You definitely have to ignore this little detail, but compared to what comes later in the series, suspending your disbelief for this minor plot point is nothing by comparison.
Paul Walker does do a good job in the lead and he really is the lead here while Vin Diesel is very much the supporting player as opposed to the later entries in the series where Diesel takes the starring role. And here it's important to have Walker as the star because Diesel and his gang, while likeable enough, aren't particularly sympathetic. They have no reason for their actions other than needing money to pay for their cars. At the film's climax when the truck driver starts fighting back against the robbers, my sympathies were more with the driver than with the robbers.
This series of films have become a cash cow for the studio, virtually printing money. It's easy to forget that Vin Diesel walked away from this franchise after the first movie and didn't return for a major part until the 4th entry. His stated reason for not coming back for the sequel was that he had too many other films in the works, but rumors at the time said it was because the studio wouldn't meet his salary demands. Now that the franchise is earning billions of dollars around the globe I'm sure getting a raise isn't currently one of his problems.
Although the series has become one of bloated, globe trotting spectacles, with big name guest stars, it peaked in terms of quality here with the original when the budget and the story were much more modest.
Reviewed on:
May 7th, 2015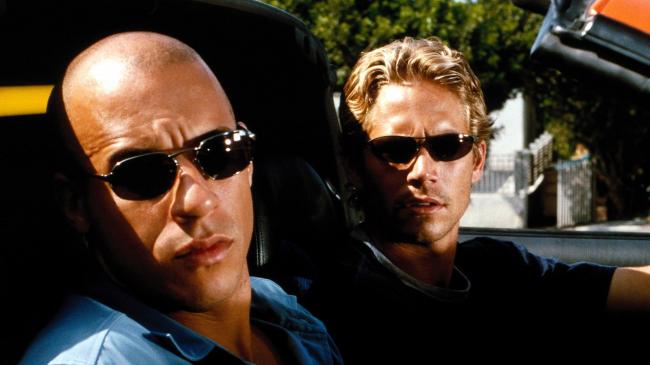 Vin Diesel and Paul Walker in The Fast and the Furious.
Despite the presence of Michelle Rodriguez and Jordana Brewster, The Fast and the Furious is a total testosterone fueled bromance between Vin Diesel and Paul Walker. They meet cute when Dominic breaks up a fight between Brian and Vince. Clearly Dominic is smitten by Brian's clean-cut good-looks, but when Brian saves Dominic from getting arrested later that day, their courtship really begins. Dominic takes Brian under his wing and into his confidence. He tells Brian about how his father died while racing and about his deepest fears. Brian, meanwhile, is beginning to experience conflicting emotions between his duties as a police officer and his feelings for Dominic.
The script plays it up like Vince and Brian are competing for Mia, but it is really Dominic's attention they are competing for. And Vince never stands a chance. Of course before we can get to the happy ending they must have a major falling out. In this case it happens when Brian cops to being a cop, but don't worry, they race and make up before the end credits roll.
Not being a car person these movies hold very little interest for me. I had actually forgotten that I had already seen and reviewed one of the entries in this long and incredibly financially successful franchise, Fast & Furious 6. It left that little of an impression on me I guess. This movie is much better than that one but then the first movie in a series usually is – and that movie was so bad it's not much of a compliment. I agree that most of the racing stunts stay within the realm of reality, except for the initial car race between Brian and Dominic.
Over a police radio they learn that the LAPD will conveniently be "busy" so they are able to race undisturbed. Instantly all other traffic disappears and these guys take off down a long stretch of deserted road. They reach speeds of 140+mph, and the race goes on and on. In reality they would've covered miles and miles of city at that speed and yet they never encounter any cross-traffic or even pass a single other car on the road. And when it ends -seemingly miles away from where it began- all of their friends that they left behind at the starting line suddenly materialize to congratulate the winner.
On a positive note, these characters are likable enough, although I can't say much for the acting. The Fast and the Furious movies aren't for everyone. Those who enjoy them don't give a rat's ass what any critic has to say, while others look at them in horror as a sign of America's continuing cultural descent into the abyss.
Photos © Copyright Universal Pictures (2001)
Related Reviews