Movie Review
The Fast and the Furious: Tokyo Drift
Speed Needs No Translation.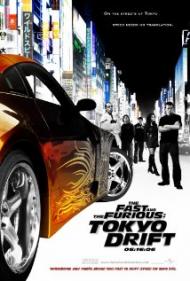 US Release Date: 06-16-2006
Directed by: Justin Lin
Starring
▸
▾
Lucas Black

,

as

Sean Boswell
Zachery Ty Bryan

,

as

Clay
Nikki Griffin

,

as

Cindy - Clay's Girlfriend
Lynda Boyd

,

as

Ms. Boswell
Brian Goodman

,

as

Major Boswell
Nathalie Kelley

,

as

Neela
Bow Wow

,

as

Twinkie
Leonardo Nam

,

as

Morimoto
Keiko Kitagawa

,

as

Reiko
Brian Tee

,

as

D.K.
Sung Kang

,

as

Han
Jimmy Lin

,

as

Jimmy
Vin Diesel

as

Dominic Toretto

Reviewed on:
June 29th, 2014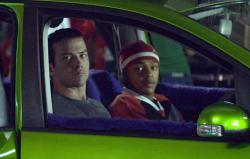 Lucas Black and Bow Wow in The Fast and the Furious: Tokyo Drift
The Fast and the Furious: Tokyo Drift is unique to the Fast and Furious series as it is the one and only film in the series that Paul Walker does not appear. Other than the character played by Jimmy Lin, who also appeared in Fast & Furious (2009) and a last minute cameo by Vin Diesel, this movie stands alone from the others. Lucas Black will be in Fast and Furious 7, and possibly Bow Wow, so the connections will, hopefully, be cleared up.
Tokyo Drift begins as a variation of Rebel Without a Cause. Lucas Black plays Sean, a high school senior who cannot seem to stop getting into trouble. After a destructive car race against the school bully, Sean gets sent to live with his father, a Lt Commander in the U.S. Navy, stationed in Tokyo. He shares this piece of wisdom with his son, "You know Sean, the Japanese have a saying, "The nail that sticks out gets hammered." Sean makes friends with an annoying fellow American student, played by Bow Wow, who introduces him to an underground racing circuit. Sean meets and has eyes for Neela, the girlfriend of the car racing gang leader whom Sean enters into a race and loses because he does not know how to make his car drift around corners.
Sean is the stereotypical young male loner so prevalent in American films and literature. He is likable, hard headed, honorable and privately sensitive. Trouble finds him no matter where he goes, but he also impresses some. An odd rich guy sponsors Sean's racing by giving him a beautiful car to drive. Sean practices drifting, and spends more and more time with Neela. This pisses off her boyfriend, who is in deep with a mob boss who also has wisdom to share, "There's an old saying: 'For want of a nail, the horseshoe was lost. For want of a horseshoe, the steed was lost. For want of a steed, the message was not delivered. For want of an undelivered message, the war was lost." I never realized before just how relevant nails were to eastern philosophy.
With his southern accent, Alabama born Lucas Black has good ol boy charm but with his ever present five o'clock shadow and mature face, he looks nowhere near high school age. For the record, he was 24 when this film came out but so was James Dean when Rebel Without a Cause was released in 1955.
The plot is nothing special in any way shape or form but the pace moves along like, well, a car race. You just know that things will have to be settled with a race on a winding road that will require plenty of drifting. One of the best aspects of this film is that all of the race scenes were actually performed by professional drivers, not CGI. As this movies selling point are the cars, that is the best compliment I can give it.
Photos © Copyright Universal Pictures (2006)
Related Reviews