Movie Review
Fashions of 1934
The First Laff Extravaganza with Music!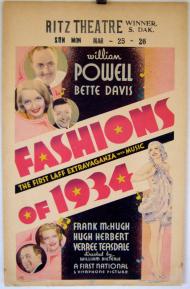 US Release Date: 02-14-1934
Directed by: William Dieterle
Starring
▸
▾
William Powell

,

as

Sherwood Nash
Bette Davis

,

as

Lynn Mason
Frank McHugh

,

as

Snap
Hugh Herbert

,

as

Joe Ward
Verree Teasdale

,

as

Grand Duchess Alix
Reginald Owen

,

as

Oscar Baroque
Henry O'Neill

,

as

Duryea
Phillip Reed

,

as

Jimmy Blake
Gordon Westcott

,

as

Harry Brent
Dorothy Burgess

,

as

Glenda
Etienne Girardot

,

as

Glass
William Burress

,

as

Feldman
Nella Walker

,

as

Mrs. Van Tyle
Arthur Treacher

,

as

The Duchess' Butler
Jane Darwell

,

as

Customer at Maison Elegance
Hobart Cavanaugh

as

Inventor on Ship
Reviewed on:
January 2nd, 2013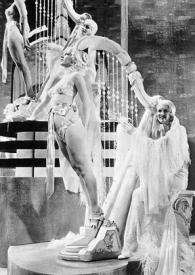 Human Harps in Fashions of 1934.
Fashions of 1934 is an odd but entertaining little pre-code comedy with music. It's memorable as the only screen teaming of William Powell and Bette Davis. Powell plays his usual dapper, fast talking con man, while Davis was in the middle of an identity crisis. The powers that be at Warner Brothers were trying to reinvent her as a platinum blonde glamor puss, complete with heavy lipstick and false eyelashes. They dressed her in many sophisticated gowns, by their resident fashion designer Orry-Kelly, that emphasized her rather pendulous breasts.
The plot jumps all over the place and covers a lot of ground in just 77 minutes. Powell works illegitimately in the New York fashion industry making knock offs of dresses made by famous designers. Davis is his girlfriend who sketches the gowns to be reproduced on the cheap. Frank McHugh plays Snap, a photographer who also provides much of the comic relief with his horn dog antics.
The three of them wind up in Paris where they become involved with an old paramour of Powell's. She's passing herself off as a Russian Grand Duchess (even though she was formerly known as Hoboken Mabel) and is engaged to the most successful designer of them all named Oscar Baroque. Throw in a man selling thousands of ostrich feathers, a fashion show that predates Cukor's in The Women, and a couple of gaudy Busby Berkeley production numbers and this is the result.
This is the movie that features the famous "Human Harps" number wherein Busby Berkeley positioned scantily clad beauties as large harps being played by other scantily clad beauties (see photo). It also features his trademark overhead shot of chorus girls in isometric patterns. This time utilizing huge feathers to imitate a rosebud opening and closing.
Powell and Davis make a rather odd pair lacking in sexual chemistry. Davis, being the trooper that she was, gives it her best shot in a role more suited to Jean Harlow or Myrna Loy. She seems somewhat uncomfortable as a glamor girl, although I have to admit she looks pretty here.
Miss Davis wasn't amused by the role. As she complained to Kathryn Dougherty of Photoplay magazine, "Look at me in this picture - all done up like a third-rate imitation of the MGM glamour queens. That isn't me. I'll never be a clothes horse or romantic symbol." Later that year, on loan out to RKO, she sunk her teeth into the role of slatternly waitress Mildred Rogers in Of Human Bondage and showed the world what dramatic fireworks she was capable of.
Part comedy, part musical, part fashion show, Fashions of 1934 is a brisk bit of movie fluff with two classic stars of Hollywood's golden age. The fashions on display here are outrageous and over-the-top. Like the movie itself they are from a long gone, and much more fabulous, era.
Photos © Copyright Warner Bros. Pictures (1934)