Movie Review
Far from the Madding Crowd
Based on the classic love story by Thomas Hardy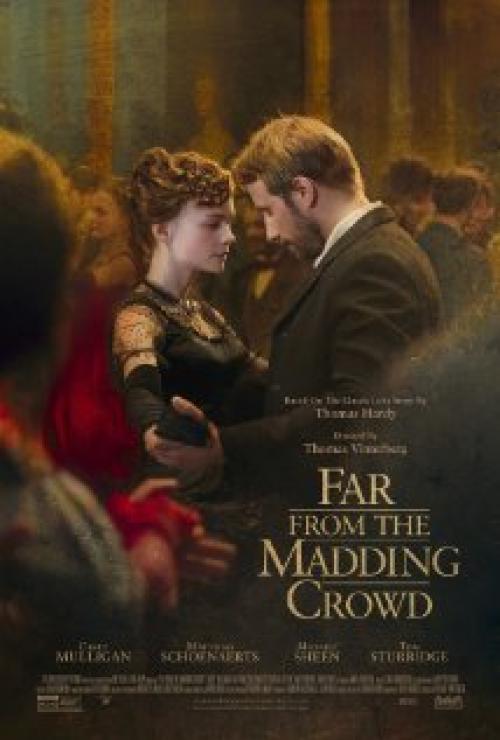 US Release Date: 05-01-2015
Directed by: Thomas Vinterberg
Starring
▸
▾
Carey Mulligan

,

as

Bathsheba Everdene
Matthias Schoenaerts

,

as

Gabriel Oak
Tom Sturridge

,

as

Sergeant Francis Troy
Michael Sheen

,

as

William Boldwood
Juno Temple

,

as

Fanny Robbin
Jessica Barden

,

as

Liddy
Bradley Hall

,

as

Joseph Poorgrass
Victor McGuire

,

as

Bailiff Pennyways
Jon Gunn

,

as

All Souls Vicar
Tilly Vosburgh

,

as

Mrs. Hurst
Sam Phillips

,

as

Sergeant Doggett
Hilton McRae

,

as

Jacob Smallbury
Harry Peacock

,

as

Jan Coggan
Jody Halse

as

Farmer Stone

Reviewed on:
May 5th, 2015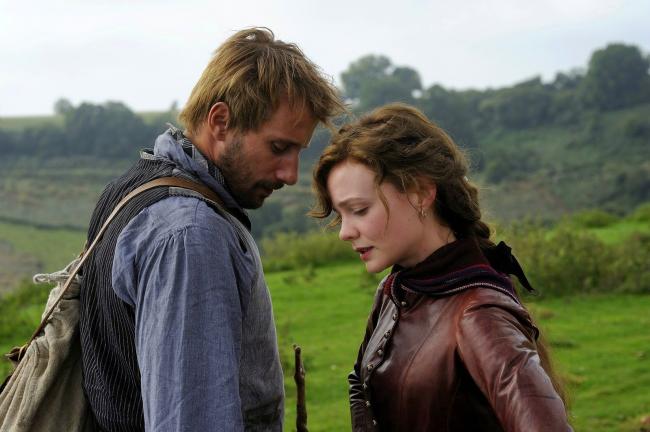 Matthias Schoenaerts and Carey Mulligan in Far from the Madding Crowd.
Far from the Madding Crowd was 19th century novelist Thomas Hardy's fourth novel and his first big literary success. One of the great romantic authors of his time, this book is typical Hardy. It is set in the West country of England in the semi-fictional area he referred to as Wessex in many of his novels. It also features, as many of Hardy's books do, a female character of depth and interest. One small element that might interest younger audiences of today is that the name of its lead character, Bathsheba Everdene, was Suzanne Collins' inspiration when it came time to give a surname to the heroine of The Hunger Games.
Like Katniss, Bathsheba is faced with a romantic choice, only instead of just two men, she is faced with three suitors. Each of them represents an archetype still seen in romantic books and films today. First there is Gabriel Oak. He is the quiet, decent man who shares many of the same interests as Bathsheba, but doesn't stir her passions. As you can guess, he ends up in the friend zone. Second there is the dashing Sergeant Francis Troy. He's the bad boy who sweeps her off her feet and fans the flames of physical desire. And lastly there is William Boldwood. Boldwood is older and rich. He offers Bathsheba security, prosperity, and the trappings of respectability. But who will Bathsheba choose? The answer doesn't exactly come as a surprise, but the journey is worth traveling along anyway.
Carey Mulligan plays Bathsheba, the center of all the male attention. Despite the desire of the men around her, Bathsheba is an independent woman who isn't looking for a husband at all. Shortly after the story begins she inherits a large farm and becomes a financially independent woman of property. She forges her way in the traditionally male world of the farmer's market to sell her grain and rules over her many servants with strength and backbone beyond her young age. It's the type of role any young actress would relish and Mulligan is terrific in the part.
The men are likewise well cast. Belgian actor Matthias Schoenaerts plays Gabriel as the strong silent type. The type of guy so popular in Victorian romances who pines in silence for years. Michael Sheen is the most underwritten character as Blackwood, the elderly suitor with a broken heart from a lost love in the past. And Tom Sturridge plays the charming bounder who is obviously up to no good, but who wins his way with Bathsheba by being the first to awaken sexual longing within her.
Hardy wrote lovingly of the West Country and he would approve of the cinematography here. The film is shot beautifully, showing off the countryside to great effect . England's mountain's green and pleasant lands are on full display in all their lush splendor. The scenery is almost worth the price of admission all on its own. The rest of the production values are equally high with no expense spared to replicate the time period.
Released on the same weekend as The Avengers: Age of Ultron, the title was an apt one. The differences in the two audiences for each film is striking, but the same in one important way. They are both bound to be critic proof to fans of their genres. Anyone who enjoys a good "Masterpiece Theater" type costume drama is sure to enjoy this masterly done one.

Reviewed on:
December 19th, 2015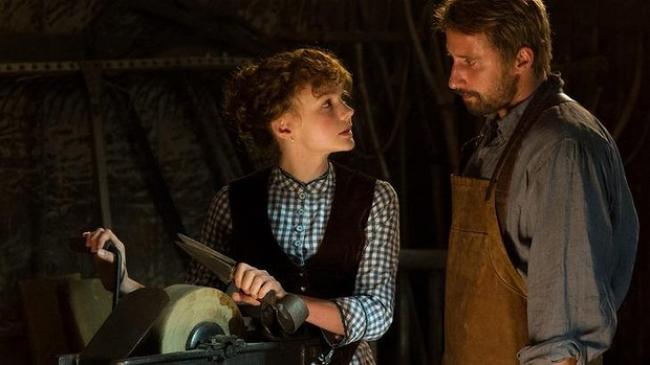 Carey Mulligan and Matthias Schoenaerts in Far from the Madding Crowd
Suzanne Collins 'may have stolen her heroine's name for The Hunger Games from Far from the Madding Crowd but I think other authors may have also found inspiration from this Thomas Hardy love story. The one that came to my mind while watching this was Gone with the Wind. Margaret Mitchell's Scarlett O'Hara has several things in common with Bathsheba Everdene. Both are independent women who become land owners because of an inheritance. Both have several suitors, and both women allow each one to think they stand a chance with her. Both stories even end with the lady in question racing to stop the one man she should be with from leaving her.
Also as Scott mentioned, it is easy to tell which of the men she should, and will, end up with. Like Scarlett, Bathsheba enjoys the men's attention but has little regard for their feelings. Whereas Scarlett is a vicious flirt, Bathsheba is much more subtle. When Gabriel first asks her to marry him she responds with. "Mr Oak, I don't want a husband. I'd hate to be some man's property. I shouldn't mind being a bride at a wedding if I could be one without getting a husband." He leaves but she chases after him, stating to him with a smile that she did not say "no" exactly. She is far more subtle than Scarlett but she plays just as many games. She likewise leads on Mr. Boldwood, letting him think she may one day marry him.
Like Scarlett, Bathsheba must go through a learning process. She wants independence in a time and place when most women did not have it. She holds her own against men in the market place. Like that famous southern belle owning a lumber mill, Bathsheba has no problem making tough decisions about her farm and her employees. What both are ignorant to is love. Each of Bathsheba's beaus represent one thing to her. Gabriel has the most in common with her, thus he offers friendship. Mr. Boldwood is older and wealthy. He offers security. Troy is sexually experienced and knows his way around a woman's body. He offers her passion. Rhett Butler is an amalgam of all three men.
Of the three interested men, it is Gabriel who is given the most screen time and it is he who we care the most about. Like Rhett Butler seeing through Scarlett's facade, Gabriel knows Bathsheba better than the other men. At one point he tells her, "Leading on a man you do not care for is beneath you." Just as Scarlett begged Rhett to get her out of Atlanta, Bathsheba also seeks Gabriel's help, "Tell me what to do Gabriel." She begs but Gabriel only responds, "Do what is right."
Far from the Madding Crowd is a romantic trip to a time and place where true love was a privilege granted only to the patient. It is also a benefit if the audience has some patience as the pace is languid and the emotions on display mostly kept on simmer. As Scott wrote, those who appreciate costumed dramas or historical love stories will find plenty to enjoy.
Photos © Copyright Fox Searchlight Pictures (2015)