Movie Review
Fanny
Tender...radiant...soaring...laughing...unforgettable motion picture from Warner Brothers.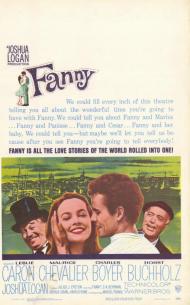 US Release Date: 06-28-1961
Directed by: Joshua Logan
Starring
▸
▾
Leslie Caron

,

as

Fanny
Maurice Chevalier

,

as

Panisse
Charles Boyer

,

as

Cesar
Horst Buchholz

,

as

Marius
Georgette Anys

,

as

Honorine (Fanny's Mother)
Salvatore Baccaloni

,

as

Escartifique (Ferryboat Captain)
Lionel Jeffries

,

as

Monsieur Brun (The Englishman)
Raymond Bussieres

,

as

The Admiral
Joel Flateau

as

Cesario

Reviewed on:
November 5th, 2010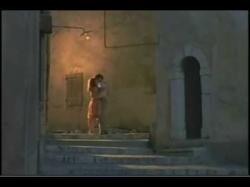 Leslie Caron as Fanny kisses Horst Buchholz as Marius
Fanny is one of my favorite movies. I came across it on TCM one day in the mid 1990's and fell under its spell. I now watch it whenever they re-show it. The plot is pure soap opera but it is romantic as hell and full of memorable characters. It was shot in Technicolor on location in Marseille, France and released by Warner Brothers in 1961. It was based on the Broadway musical of the same name (the songs were used only to underscore the action as this is a nonmusical version), as well as the trilogy of plays/movies written by Marcel Pagnol in the 1930's. Fanny received 5 Academy Award nominations.
Like the trilogy, the story is told in 3 acts. I will set the scene of the first act, but as this is one of those movies best enjoyed when discovered as it goes along, I won't give away too much. It begins in the 1920's on the waterfront in Marseille. We are introduced to the characters that inhabit this picturesque setting.
There is Cesar (Charles Boyer) a gruff spoken but kindly owner of a waterfront bar. His son Marius (Horst Buchholz) works for his father but dreams of a life at sea. Fanny (Leslie Caron) is the daughter of a local fishwife (Georgette Anys); she is in love with Marius. Panisse (Maurice Chevalier) is a wealthy merchant who has recently suffered the loss of his wife. The story begins on Fanny's 18th birthday.
Horst Buchholz perfectly captures the yearning for a life of adventure that Marius feels and Leslie Caron is wonderful as a young girl in love struggling to be noble. Still it is the older generation of actors that steals the show. Charles Boyer and Maurice Chevalier, both near the end of their careers, really elevate the movie. The relationship between these two aging men is poignant as well as funny. Georgette Anys is also very good as Fanny's mother. I love the way she sells fish. "You have to insult the customer so they feel they are getting their money's worth."
One unusual aspect of the story is that it has no real villain. Events unfold, some happy - some sad, much as they do in life. The script is rich in both pathos and humor and it balances the two brilliantly. It can put a lump in your throat and then make you laugh in the same scene. Director Joshua Logan makes good use of the location. It was a master stroke to film in Marseille at a time when most movies were still being shot on sets. Fanny is a wonderful, old-fashioned romantic movie like they just don't make anymore.


Reviewed on:
May 19th, 2011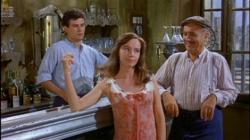 Horst Buchholz, Leslie Caron and Charles Boyer in Fanny.
Filmed in the south of France, Fanny seems highly romanticized, yet the simple story could take place anywhere. As Patrick wrote, Marius is 19 and yearns for adventure, while Fanny is 18 and yearns for Marius. Although he is antsy for a life at sea, he is also fighting his newly discovered sexual attraction to Fanny. She makes it harder on him by constantly flirting with him and other men, to make Marius jealous. Her plan succeeds and fails. She and Marius have sex for the first time, and another man, Panisse, falls in love with her.
Patrick liked the older actors but I enjoyed Marius and Fanny. He is at first willing to sacrifice his life at sea for her but then she sacrifices for him by letting him go. Marius ends up leaving on a ship, not knowing she has become pregnant. What is a young girl to do when the man she loves, and the father of her unborn child, is gone for an extended period of time? She marries the old rich guy, Panisse.
My favorite scene has always been the one where Marius visits Fanny and discovers he has a son. As the scene begins you expect a romantic reunion. However, it becomes very sad as everyone just wants Marius to leave, including Fanny and his own father. My heart breaks for Marius as everyone he loves turns away from him.
Although often highly romantic, "Fanny. Only you can stop me. Now tell me that you love me. Tell me now!" Fanny also has some funny scenes as well. When Panisse comes to visit Fanny, a French teenager hits him in the head with an orange, but then apologizes, "I am sorry, but I took you for an American."
As Patrick noted, Fanny's greatest asset is that the story is presented true to life. It is a series of events that lead to dramatic situations. Patrick is wrong though about one thing. Everyone is a villain and everyone is a victim. We all make plans and have dreams, but how often does life turn out as we plan? Fanny is a celebration of life and all of it's unpredictability. As Panisse says late in the film, "I don't mind I'm dying. It's giving up life that annoys me."
At well over two hours this romantic dramedy needed to be trimmed. Logan was clearly thrilled to be filming on location as he milks the setting for all it is worth. Many scenes seem included just for the sake of it. Nearly a half hour could have been trimmed from the time Marius leaves and returns. It is their love story after all.
Photos © Copyright Warner Bros. Pictures (1961)
Related Reviews