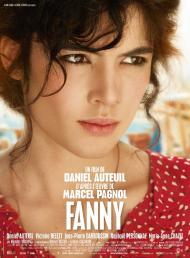 France Release Date: 07-10-2013
Directed by: Daniel Auteuil
Starring
▸
▾
Daniel Auteuil

,

as

Cesar
Raphael Personnaz

,

as

Marius
Jean-Pierre Darroussin

,

as

Panisse
Victoire Belezy

,

as

Fanny
Marie-Anne Chazel

as

Honorine

Reviewed on:
January 24th, 2015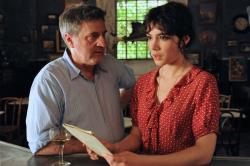 Daniel Auteuil and Victoire Belezy in Fanny
Fanny begins exactly where Marius ended. Fanny and Cesar are both distraught at having Marius abandoning them for a life at sea. Cesar's friends and Fanny's mother worry that both may not recover emotionally from Marius's quick exit. Hope finally arrives in the form of a letter from Marius two months after leaving port. It is however, not enough to change what has happened.
With Marius away, old Panisse decides to ask Fanny's mother permission to marry Fanny. She agrees thinking Fanny needs to move on. Meanwhile, Fanny finds out that the reason she has been ill is because she is carrying Marius's baby. Concerned with the shame of a bastard child and the thought that Marius may not be back in two years, Fanny agrees to marry Panisse. Cesar is at first angered by the decision until he acknowledges that the old man's money will provide a comfortable life for his grandchild, as well as respectability.
Fanny marries him but she is not happy. Pretending the child is Panisse's, his family comes to visit. Panisse's older brother tells Fanny that this is the first offspring in their family and how happy they are to have their name carried on. Fanny is too overcome to respond.
My favorite part of Joshua Logan's Fanny (1961) has always been the scene where Marius comes home and confronts Fanny at her nice home she shares with her husband Panisse and their son, whom Marius figures out is his. I felt desperately sorry for Marius as played by Horst Buchholz but in this version the argument against him is too strong for me to be on his side.
Auteuil added Panisse to this scene and the entire story comes to a dramatic confrontation. The fight is no longer just about Fanny but also the child. Cesar tries to explain to Marius that Panisse has become the child's father in his absence. He has fed him and nursed him. After hearing the child cough, Panisse runs upstairs to check on him, leaving the three to continue the debate.
Cesar tries desperately to explain the situation to Marius but he does not get it. An angry Marius ends up yelling, "For God's sake, Who is the father? The one who gives him life or the one who feeds him?" Cesar looks at his son with all the love a father can and explains gently, "The father…is the one who loves him." Marius is arguing who is the father while Panisse is upstairs acting like one.
In the 1961 version, that scene marked the two thirds point of the film as it is how the original play ended. Logan's version goes on to show the child grow older and meet Marius, while here it ends just after the confrontation. I like Auteuil's way of ending the film. The last third of Logan's version is more about Panisse than Fanny and Marius anyway. Auteuil slipped some of those scenes into these first two.
The four main characters in this story are very solid. We see each of their points of view. We like them all. In the 1961 version, Panisse comes close to being the bad guy while in this version it is almost Marius. Here are four people with lots of love between most of them. We want to see them all make the best choices and get along but life sometimes has emotional causalities. Fanny has the most bittersweet ending I can ever remember watching.
Photos © Copyright Les Films Alain Sarde (2013)
Related Reviews