Movie Review
Fame
Remember my name...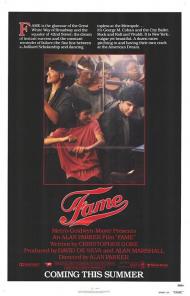 US Release Date: 05-16-1980
Directed by: Alan Parker
Starring
▸
▾
Irene Cara

,

as

Coco Hernandez
Barry Miller

,

as

Ralph Garci / Raul Garcia
Lee Curreri

,

as

Bruno Martelli
Gene Anthony Ray

,

as

Leroy Johnson
Maureen Teefy

,

as

Doris Finsecker
Laura Dean

,

as

Lisa Monroe
Eddie Barth

,

as

Angelo Martelli
Antonia Franceschi

,

as

Hilary van Doren
Boyd Gaines

,

as

Michael
Albert Hague

,

as

Mr. Shorofsky - Music Teacher
Paul McCrane

,

as

Montgomery MacNeil
Anne Meara

,

as

Mrs. Sherwood - English Teacher
Joanna Merlin

,

as

Miss Berg - Dance Teacher
Jim Moody

,

as

Mr. Farrell - Drama Teacher
Debbie Allen

,

as

Lydia
Richard Belzer

,

as

M.C.
Isaac Mizrahi

as

Touchstone
Reviewed on:
May 30th, 2012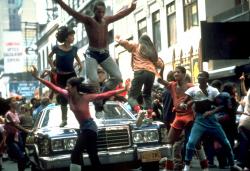 The cast of Fame performs the title number.
Fame is a 1980 MGM musical about students at Manhattan's High School of Performing Arts. It follows several students from their initial auditions through each of the four years of high school. Fame made quite an impact on popular culture. It spawned a hit theme song, a television series and spin-off, a stage musical, a reality show and a 2009 remake.
The students include Montgomery, he's a gay aspiring actor and the son of a famous actress. Doris is a reluctant performer with a stereotypical stage mother. Bruno is a musician and the son of a cabbie. Lisa's a loudmouth who's been dancing since she was little. Coco is the all around star. Ralph idolizes Freddie Prinze and tries his hand at dance and music before settling on drama. Leroy is an illiterate dancer who clashes with a female teacher.
Fame was shot in four of the five New York City boroughs (skipping Staten Island) in the summer and fall of 1979. The graffiti covered walls and trains, burned out buildings, big cars, and of course the hair and clothing styles, all make this a great time capsule for the city at the dawn of the Reagan decade.
Fame's most famous scene is the Oscar winning title number, which is performed in the street outside the school when Bruno's father blasts his son's song on the stereo in his taxi. It's an inspiring dance of joy and freedom that literally stops traffic (see photo). It also completely lacks any sense of reality but makes for a rousing musical number. In an earlier scene a similar impromptu performance occurred in the school cafeteria. These kids are just bursting with talent and energy and the need to perform.
Over the course of four school years we watch as these kids grow and mature. They have relationships, reveal painful memories and begin to dabble in the adult world. There are a few inspiring musical numbers interspersed throughout the proceedings, culminating at graduation where the students perform another inspiring ballad called "I Sing the Body Electric". In fact, if you had to sum up the music in this movie in one word, that word would undoubtedly be "inspiring".
Of the cast only Irene Cara went on to true stardom. Fame provided comedienne (and mother of Ben Stiller) Anne Meara with her most famous movie role as the teacher that clashes with Leroy. Today's hit show Glee as well as the High School Musical phenomenon of a few years back both owe a debt to this movie. Although Fame is more realistic and emotionally raw than either of those. It was certainly ahead of its time in terms of the diversity of the cast. The racial makeup of the school looks like New York City of today, only with bad haircuts and outdated clothing.
By the early 1980s the movie musical was on its death bed. It was also the era of the one word musical title. Grease, Fame, Annie, Xanadu and Yentl all came out within a five year period. By the mid-80s musicals had disappeared from the screen and it would take until the dawn of the new millennium for them to make a comeback. Fame is a decent example of the genre that remains entertaining while also serving as a fascinating time capsule of an earlier era.
Photos © Copyright Metro-Goldwyn-Mayer (MGM) (1980)