Movie Review
The Fall of the Roman Empire
The Most Magnificent Re-Creation . . . Of An Ancient Empire . . . Launches A New Epoch In Motion Pictures . . .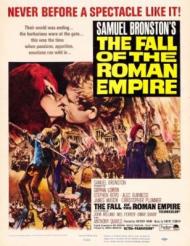 US Release Date: 03-26-1964
Directed by: Anthony Mann
Starring
▸
▾
Sophia Loren

,

as

Lucilla
Stephen Boyd

,

as

Livius
Alec Guinness

,

as

Marcus Aurelius
James Mason

,

as

Timonides
Christopher Plummer

,

as

Commodus
Anthony Quayle

,

as

Verulus
John Ireland

,

as

Ballomar
Omar Sharif

,

as

Sohamus
Mel Ferrer

,

as

Cleander
Eric Porter

,

as

Julianus
Finlay Currie

,

as

Senator
Andrew Keir

as

Polybius
Reviewed on:
January 31st, 2011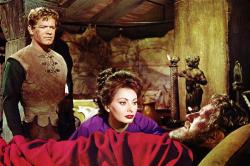 Stephen Boyd, Sophia Loren and Alec Guinness in The Fall of the Roman Empire.
The Fall of the Roman Empire is an old-fashioned, widescreen, 3-hour epic, shot in glorious Technicolor. With a reported price tag of 20 million dollars and a box office gross of less than a quarter of that this was Paramount's biggest flop of 1964. Ironically a movie about the fall of the Roman Empire would play a big part in the fall in popularity of the sword and sandal movie epic. It does however boast an impressive all-star cast and holds the record to this day for the largest outdoor set ever built for a motion picture.
They rebuilt the Roman Forum in Madrid, Spain. Its size: 1,312 by 754 ft. Sophia Loren, following in rival Elizabeth Taylor's footsteps, became just the second actress in history to receive one million dollars for a single movie role. Stephen Boyd replaced Charlton Heston and would later blame this movie for ruining his promising film career. Alec Guinness, in later years, confessed that he had never watched more than 20 minutes of the finished film.
The Fall of the Roman Empire deals with what historians consider to be the beginnings of the demise of that venerable and colossal empire. Rome would stagger along for another three or four centuries, surviving even after being split into separate Eastern and Western empires; but its Golden Age ends with this movie. Eventually the Dark Ages would descend and the remaining power in Rome would belong to the Catholic Church and the Papacy.
In the year 180 A.D. Emperor/Philosopher Marcus Aurelius (Guinness) is dying somewhere along the Rhine in what is now Germany. He plans to change his heir from son Commodus (Christopher Plummer) to the more honorable Livius (Boyd). Livius is in love with Marcus Aurelius's daughter Lucilla (Loren).
The sets, the crowd scenes, the battles, the pomp and pageantry are all splendidly recreated. What is missing is a good script. Instead of sharp witty dialogue we get stilted conversations like Livius and Lucilla telling each other they are beautiful. See The Lion in Winter for an excellent example of acerbic dialogue dealing with the power struggles and back stabbings of people at the upper echelons of society and politics.
Anthony Mann's The Fall of the Roman Empire is a feast for the eyes but a drought for the mind and only mild succor for the heart.

Photos © Copyright Paramount Pictures (1964)