Movie Review
Extraordinary Measures
Don't hope for a miracle. Make one.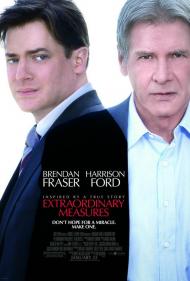 US Release Date: 01-22-2010
Directed by: Tom Vaughan
Starring
▸
▾
Brendan Fraser

,

as

John Crowley
Harrison Ford

,

as

Dr. Robert Stonehill
Keri Russell

,

as

Aileen Crowley
Meredith Droeger

,

as

Megan Crowley
Diego Velazquez

,

as

Patrick Crowley
Sam M. Hall

,

as

John Crowley, Jr.
Courtney B. Vance

,

as

Marcus Temple
Ayanna Berkshire

,

as

Wendy Temple
Dee Wallace

,

as

Sal
Alan Ruck

as

Pete Sutphen

Reviewed on:
May 10th, 2011
Harrison Ford and Brendan Fraser in Extraordinary Measures.
It seems many comedic or action stars like to try their hand at drama in the autumn of their careers. Perhaps they are looking to stretch their acting wings or even win an award. Harrison Ford found mediocre success with Regarding Henry, and tries again with Extraordinary Measures. I am not sure what his other film options were, but he should have chosen any other film but this.
Extraordinary Measures opens with the note that it is based on a true story. A married couple from Portland have three children, two with a muscular dystrophy disease called Pompe disease. It is a genetic disorder that kills most children by the age of nine. The movie opens with their daughter Megan's 8th birthday party.
The father, John, contacts a researcher in Nebraska, Robert Stonehill, who has done innovative research on a treatment. They strike up an arrangement. Stonehill needs money to fund his enzyme research, and John agrees to raise it for him. John and his wife call in favors from everyone they know and raise a large amount of money for Stonehill's research and lab trials.
John eventually quits his advertising job to work full time with investors and venture capitalists. The meat of the film is the near reclusive Stonehill and John butting heads about how things get done. Stonehill wants credit and control, while John has to negotiate with the money men who want in on the project so as to make a profit from their investment.
Meanwhile, time is running out for John's children. Do not get too excited, the movie never finds a dramatic enough tone to engage the audience. We are supposed to be holding our breaths with anticipation but the film drags along so slowly that I just wanted the story to end. Not to be cold, but I was so bored that I stopped caring if the children lived or died.
Ford is credited as an associate producer. Apparently he saw something in this story that interested him. Perhaps it was the role or the possible inspiration of a father and mother doing everything in their power to save the lives of their children. I am not sure what his interest was but the final result is as dull as a film can get. He walks through the role looking quite bored. At best he makes Stonehill a slightly grumpy recluse. The real scientist who discovered the cure was Dr. Yuan-Tsong. If the writers of this film change him from Tainwanese to American, why not also add some eccentric personality?
Fraser fairs even worse. His role is so damn generic that absolutely anyone could have played it just as well or better. The only thing noticeable about him is his expanding waist, that announces that he has long since given up his George of the Jungle gym membership.
A story in and of itself is not enough to engage an audience. It is how that story is presented that makes or breaks it. A good enough writer and director can make grass growing seem entertaining. This is not that director and writer.
Photos © Copyright CBS Films (2010)