Movie Review
Extract
Behind every frustrated man is a wife in sweats.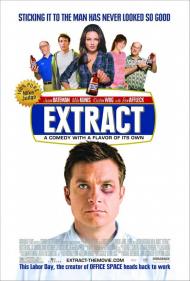 US Release Date: 09-04-2009
Directed by: Mike Judge
Starring
▸
▾
Jason Bateman

,

as

Joel
Mila Kunis

,

as

Cindy
Kristen Wiig

,

as

Suzie
Ben Affleck

,

as

Dean
J.K. Simmons

,

as

Brian
Clifton Collins Jr.

,

as

Step
Dustin Milligan

,

as

Brad
David Koechner

,

as

Nathan
Beth Grant

,

as

Mary
Gene Simmons

as

Joe Adler

Reviewed on:
September 8th, 2009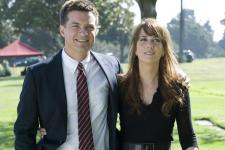 Jason Bateman and Kristen Wiig star in Extract.
As all of the ads are quick to point out, Mike Judge, the writer-director of the cult classic Office Space, returns to the workplace with the new comedy Extract. Although there are some similarities between the two movies (and indeed some plot points and characters that are very similar), it's not necessarily fair to compare the two too closely.
Jason Bateman stars as Joel; a sexually-frustrated husband and the owner of a small factory that makes flavor extracts. At work he deals with a rather kooky cast of employees and he dreams of selling the factory to General Mills and retiring at a young age. At home he and his wife (Kristen Wiig) are going through a dry spell and their sex life has gone by the wayside.
One night after he is inadvertently given a horse tranquilizer by his bartender friend (an almost unrecognizable Ben Affleck) he agrees to the dubious idea of hiring a gigolo to test his wife's fidelity; reasoning that if she is willing to cheat than he shouldn't feel guilty about pursuing Cindy, an attractive new employee at the factory. It's an idea that he quickly regrets in the sober light of day, especially when he discovers that his wife not only sleeps with the gigolo, but that she was quick to do so.
Further problems erupt for Joel when an employee is injured on the job and is threatening to sue; an action which in turn threatens the upcoming offer by General Mills to buy the factory.
As you would expect from Mike Judge, the movie is filled with oddball characters. The employees at the factory are quirky and yet recognizable as archetypes of people we've all met at some time or another. David Koechner is very funny as the insufferably boring neighbor who refuses to take a hint. Also funny is the idiot Gigolo whom Joel hires.
Although portions of the movie are quite good and some are hilarious, overall the movie just doesn't gel in the same way that Office Space does. The pieces are there, but the picture they form isn't as cohesive as that earlier workplace classic. By constantly reminding us in the marketing that Extract was made by the maker of Office Space, they're forcing us to make a comparison between the two and that's a comparison this movie is never going to win. My advice is to forget they're connected and just enjoy it for what it is; a nice little comedy with a great cast.

Reviewed on:
September 9th, 2009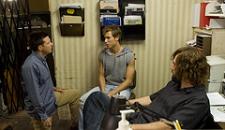 Joel and Dean hire Brad to have sex with Joels wife.
Mike Judge's work always revolves around the idea of a "normal" guy surrounded by idiots. This was the premise of Office Space and King of the Hill. In Extract, Bateman plays an ordinary man who owns a company with high tempered employees. His best friend is a stoner and his neighbor is utterly annoying. As with Ron Livingston and Hank Hill, the fun is in watching him deal with all of the nut cases around him.
Although best supporting actor Oscar should go to Christoph Waltz for Inglorious Basterds, Ben Afleck deserves some recognition for his scene stealing stoner. "What was the color of the pill I gave you?" He asks Bateman trying to figure out what drug he gave him. In another scene Afleck makes a quick, hilarious exit when it looks like his best friend is about to get his butt kicked.
The film has many scene stealing characters. Brad the clueless gigolo is hilarious in every part he appears. After Bateman finds out he had sex with his wife again, Brad assures him that it's not a big deal by telling him, "I won't charge you for that one." Koechner is great as the annoying neighbor who cannot take a hint. "If you could just write me that check..."
Although the film is filled with interesting characters, the plot is a bit thin. It is essentially about a couple that has marital problems, with a side plot about a gold digger that really goes nowhere. Kunis has a rather large part, but other than being attractive, she adds nothing.
What completes the comedy is Bateman's reaction to all of the insanity. From subtle scenes of dealing with whiny employees, to being freaked out while high, Bateman draws you into his horrible situations. As a friend pointed out, we all see ourselves in him. Even if others think we are nuts, we always think we are the normal one, surrounded by the dinkuses.
Photos © Copyright Miramax (2009)