Movie Review
Evita
The Most Anticipated Motion Picture Event Of The Year.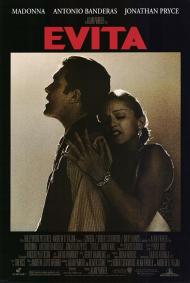 US Release Date: 12-25-1996
Directed by: Alan Parker
Starring
▸
▾
Madonna

,

as

Eva Peron
Antonio Banderas

,

as

Che Guvera
Jonathan Pryce

,

as

Juan Peron
Jimmy Nail

,

as

Migaldi
Victoria Sus

,

as

Dona Juana
Julian Littman

,

as

Brother Juan
Olga Merediz

,

as

Blanca
Laura Pallas

as

Elisa

Reviewed on:
December 25th, 2001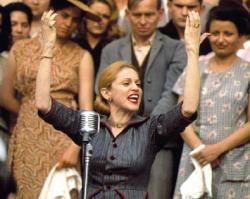 Madonna is Eva Peron in Evita.
After watching Evita for the first time at the theatre, I was so impressed by it, I was convinced that more musicals would be made for the big screen. By the time I'd seen it for the fourth time, the reviews had come out and it's box office results made public. It was obvious that others weren't as impressed as I had been.
Telling the familiar story of Eva and Juan Peron's rise and subsequent fall from power and based on the successful Andrew Lloyd Webber stage production, this movie combines great songs, lavish scenery, great costumes, and historical drama all into one movie. Even Madonna, whose previous film work had left me cold, does a great job. Perhaps it's because of the similarities between the diva doing the acting and the diva she is portraying.
Antonio Banderas turns in a very strong performance in this film. He seems to be enjoying himself and his voice is suited for the songs.
Jonathan Pryce is also very good, but sadly, is only featured in a rather small part.
Although this movie failed to spark the resurgence of musicals as I had hoped, it did leave us with a unique and extraordinary film.

Reviewed on:
December 25th, 2002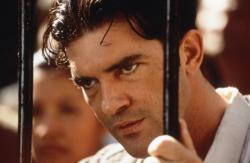 Antonio Banderas in Evita.
I knew nothing of the stage musical of which this is based. Other than a brief commercial for the touring production of Mandy Patinkin wearing a beard singing 'not much to ask for'. So I knew not what to expect.
It took me a couple of minutes to get used to the fact that there really is no spoken dialogue. It is all song. If you can get past that, and I have met some people that could not, then you will enjoy a powerful film.
Excluding Desperately Seeking Susan Madonna has never been suited to any of her roles. Here though, she is nearly perfect. Perhaps it helps that she doesn't have to speak. She has never sounded better in song. She does the famous 'Don't Cry For Me Argentina', justice. The only flaws she has here, are not due to her acting. The fact that she is obviously pregnant in most of the interior shots is a little distracting. They tried to hide it by having her hand, arm or suitcase cover her stomach, but it's still noticeable. The only other problem I had, was that she was obviously not the age of Evita, who was just a teenager when she went to live in Buenos Aires and never lived to the age that Madonna was when she made this movie.
The supporting cast does a fine job as well. Jonathan Pryce is good, considering he's British playing an Argentinean. It is however Antonio Banderas that surprised me the most. The guy can actually sing! His best song is 'High Flying Adored'.
Reviewed on:
December 25th, 2003
Madonna in Evita.
Good story, great songs, beautifully filmed. And yet Madonna still manages to ruin this movie. She cannot act or sing. I honestly wanted to like this movie. I would love to see the musical make a come-back unfortunately it didn't happen.
Antonio Banderas is good.
Photos © Copyright Cinergi Pictures Entertainment, Inc. (1996)