Movie Review
Eve's Bayou
The secrets that hold us together can also tear us apart.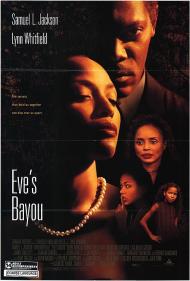 US Release Date: 11-07-1997
Directed by: Kasi Lemmons
Starring
▸
▾
Jurnee Smollett

,

as

Eve Batiste
Debbi Morgan

,

as

Mozelle Batiste Delacroix
Samuel L. Jackson

,

as

Louis Batiste
Lynn Whitfield

,

as

Roz Batiste
Diahann Carroll

,

as

Elzora
Lisa Nicole Carson

,

as

Matty Mereaux
Meagan Good

,

as

Cisely Batiste
Roger Guenveur Smith

,

as

Lenny Mereaux
Vondie Curtis-Hall

,

as

Julian Grayraven
Branford Marsalis

,

as

Harry
Carol Sutton

,

as

Madame Renard
Ethel Ayler

,

as

Gran Mere
Jake Smollett

,

as

Poe Batiste
Leonard L. Thomas

,

as

Maynard
Victoria Rowell

as

Stevie Hobbs
Reviewed on:
April 29th, 2015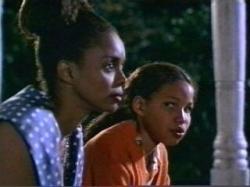 Debbi Morgan and Jurnee Smollett in Eve's Bayou.
Eve's Bayou is a coming of age drama about a young black girl living in the rural American South. It was the first feature film for writer/director Kasi Lemmons. She delivered a deeply moving story filled with memorable characters and evocative images. It's a remarkable debut that was Roger Ebert's pick as the best film of 1997. Set in 1962 Louisiana, it tells the story of one summer in the life of a wealthy black family. Like To Kill a Mockingbird, it's narrated by the voice of the now grownup central character. It begins ominously... "Memory is a selection of images, some elusive, others printed indelibly on the brain. The summer I killed my father, I was 10 years old."
One night after a party thrown by Eve's parents, she witnesses her father in an intimate moment with a married friend. Later when she tells her 14 year old sister Cisely about it, her older sister convinces Eve that what she saw was just an innocent moment between adult friends. The themes of memory and perception play a pivotal role throughout the story. As the summer progresses family dynamics evolve and reach a boiling point.
The cast is excellent. Samuel L. Jackson plays Louis Batiste (he also acted as producer on the film). He's the central male figure around which the action rotates. He plays a charming doctor with a roving eye. Lynn Whitfield plays his neglected wife, and mother to Cisely, Eve and their younger brother Poe. She's a real beauty that dresses like the perfect 1950's housewife. Debbi Morgan is terrific as Mozelle, Louis's fortune telling sister. She's had a string of husbands that all died violent deaths. Diahann Carroll steals a few scenes, in a decidedly non-glamorous role, as an eccentric old voodoo witch named Elzora. But it is the performances of the two Batiste sisters that shine the brightest.
Jurnee Smollett is a revelation as Eve. She is mature beyond her years but in so many ways still a young child. She has an expressive face with an ever present mischievous twinkle in her eyes. She handles the highly dramatic moments particularly well. Meagan Good is just that as Cisely, the eldest Batiste child. She's on the cusp of womanhood and more than a little confused by her exploding adolescent feelings. A secret shared between these sisters is the impetus for the central plot device in the story, which is alluded to in the opening narration that I quoted from above.
The characters in Eve's Bayou seem genuine. You get to know the Batiste family well over the course of the summer. It is a pivotal time that will change all of their lives forever. There isn't a bad performance in sight and the script is very well written. Some of the dialogue is memorable and worth repeating. My favorite speech is a bit of philosophical advice given to Eve by her wise Aunt Mozelle in the scene pictured above.
She tells her niece, "Life is filled with goodbyes, Eve, a million goodbyes, and it hurts every time. Sometimes I feel like I've lost so much, I have to find new things to lose. All I know is, there must be a divine point to it all, and it's just over my head. That when we die, it will all come clear. And then we'll say, "So that was the damn point." And sometimes I think there's no point at all, and maybe that's the point. All I know is most people's lives are a great disappointment to them and no one leaves this earth without feeling terrible pain. And if there is no divine explanation at the end of it all, well... that's sad."
In 2012 Entertainment Weekly included Eve's Bayou on its list of The 50 Best Movies You've Never Seen. If you're among those who've never seen it, I highly recommend doing so soon.
Photos © Copyright Trimark Pictures (1997)