Movie Review
Everyone Says I Love You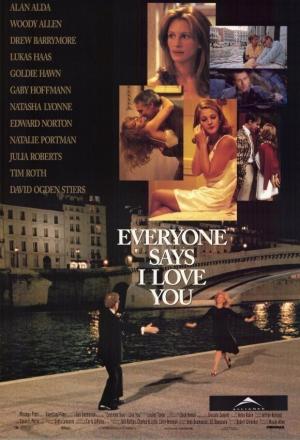 US Release Date: 12-06-1996
Directed by: Woody Allen
Starring
▸
▾
Alan Alda

,

as

Bob Dandridge
Woody Allen

,

as

Joe Berlin
Drew Barrymore

,

as

Skylar Dandridge
Lukas Haas

,

as

Scott Dandridge
Goldie Hawn

,

as

Steffi Dandridge
Gaby Hoffmann

,

as

Lane Dandridge
Natasha Lyonne

,

as

Djuna 'D.J.' Berlin
Edward Norton

,

as

Holden Spence
Natalie Portman

,

as

Laura Dandridge
Julia Roberts

,

as

Von Sidell
Tim Roth

,

as

Charles Ferry
David Ogden Stiers

,

as

Arnold Spence
Itzhak Perlman

,

as

himself
John Griffin

,

as

Jeffrey Vandermost
Patrick Cranshaw

,

as

Grandpa
Billy Crudup

,

as

Ken Risley
Robert Knepper

,

as

Greg
Scotty Bloch

,

as

Lynn Spence
Isiah Whitlock

,

as

Cop
Kevin Hagan

,

as

Doorman
Navah Perlman

,

as

Pianist
Waltrudis Buck

,

as

Psychiatrist
Liv Tyler

,

as

Girl
Christy Carlson Romano

,

as

Trick or Treat Child
Frank Pietri

as

Ghost Dancer
Reviewed on:
March 28th, 2016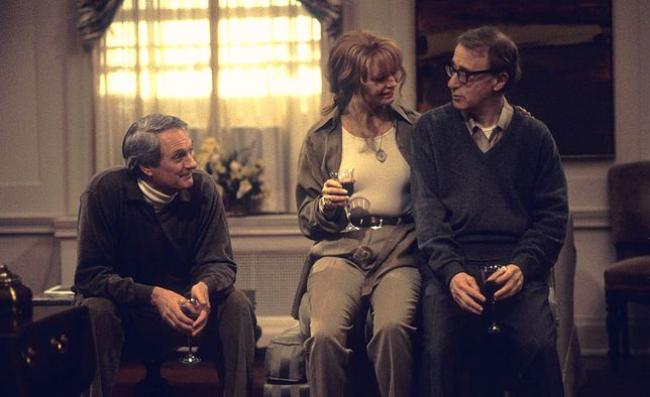 Alan Alda, Goldie Hawn, and Woody Allen in Everyone Says I Love You.
Although Woody Allen adapted his film Bullets Over Broadway into a Broadway musical in 2014, Everyone Says I Love You remains his only movie musical to date. The songs are all old standards and combined with some traditional dance numbers make a loving tribute to the Hollywood musicals of old. It's also one of Allen's most star studded casts even for a director known for casting well known faces, although to be fair, some of the stars here appeared here before they were overly famous. It's one of Allen's most charming and lighthearted films and certainly one of his best from the 1990s.
There's not so much a plot to the film as there is a series of events. We follow one wealthy Upper East Side extended family over the course of one year, mainly focusing on their romantic relationships. Edward Norton and Drew Barrymore are a young engaged couple. He's besotted, but her passion isn't awakened until an ex-con (Tim Roth) stirs her physically. Goldie Hawn and Alan Alda play the heads of the family, described by daughter DJ as "If Dad's a liberal Democrat, then you'd have to say Mom is the one thing more extreme. She's a guilty liberal Democrat." Allen plays Hawn's ex-husband and the father of DJ. He's on friendly terms with his ex and her husband. A young Natalie Portman plays another of the daughters, while Lukas Haas (most famous for playing the little Amish boy in Witness) plays son Scott, the lone conservative in a family of liberals and the source of one of the film's funniest punchlines when the reason for his conservatism is revealed near the end of the film.
As always, Allen is the source of many funny one-liners, but his storyline is one of the weakest. He was 61 when the film was released and still casting himself as the romantic lead. Despite the inside knowledge his character has, it's difficult to believe that he's able to bed a 29 year old, at the height of her beauty, Julia Roberts. They share zero chemistry and their relationship fails to spark any kind of emotional response. He's much better with Goldie Hawn, whom he actually seems to share a rapport with, and their dance number together near the film's climax is one of the film's best moments.
Despite being a musical, none of the actors have tremendous voices, which was reportedly the effect Allen was going for. He even instructed Goldie Hawn to sound less polished as apparently her normal singing voice sounded too professional. The effect is rather charming, as is the dancing, which is endearingly amateurish. Despite their lack of singing polish, all of the cast throws themselves into their parts. Of all the cast, only Barrymore had her voice dubbed as she insisted that her singing was too bad even for the naturalistic singing style on show here. Reportedly, Allen didn't reveal to the cast that the movie was even going to be a musical until after they'd signed their contracts.
While it's not likely to win over critics of Allen's work, his fans will find plenty to enjoy here, especially those who are also fans of old Hollywood musicals.

Photos © Copyright Miramax (1996)