Movie Review
Everyman's War
Never have so many owed so much to so few.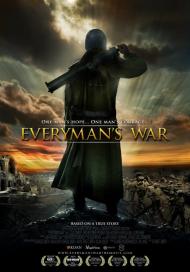 US Release Date: 05-22-2009
Directed by: Thad Smith
Starring
▸
▾
Cole Carson

,

as

Sgt. Don Smith
Lauren Bair

,

as

Dorrine
Michael J. Prosser

,

as

Cpl. Starks
Sean McGrath

,

as

Pvt. Benedetto
Eric Martin Reid

,

as

Pvt. Fuller
Brian Julian

,

as

Pvt. Heinrich
Lee Selmyhr

as

Don Smith - present day

Reviewed on:
January 17th, 2012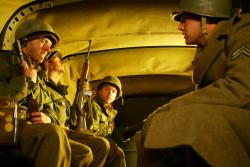 Just another soldier.
For what ever reason, I have always been very sentimental when it comes to World War II movies. Everyman's War drips with sentimentality from nearly every frame. Although it has many flaws, I ask that you stick with it. It gets better as it goes. If you too like historical/war pictures, you may find something to enjoy.
The film opens with a series of scenes featuring young men joining the military. As in all wars, the men are all from working class families. One is from a farm. One is an inner city Italian petty criminal. Another is a picked on German gas station attendant. Another has an expecting wife. It is the usual military role call.
Lastly, we meet 19 year old Don Smith, who works at a mill. He just got his draft notice and does not know how to tell his Rita Hayworth wannabe girlfriend, Dorrine. The movie then jumps to Don in the Army, narrating a letter to Dorrine. He meets the other men throughout the story, having a different relationship with each.
We follow Don and the men to France as they get baptized in war. We see the war from the German side as well, as each army tries to out think and out maneuver the other. Of course it all leads to lots of gun fights, yelling, explosions and death.
Under circumstances Don would have liked to avoid, he gets promoted to Sergeant, and finds himself leading a small band of soldiers during the decisive Battle of the Bulge. It is the film's most exciting and tense moments. After a large battle, Don finds himself alone behind enemy lines.
Everyman's War is a true story, written by Don's son Craig. The story comes from his father's letter to his mother. Don Smith's story is as good as any episode of Band of Brothers. However, Craig's dialogue is too often riddled with cliche's, "You're a good son. God speed." "We're going to fight the Nazis." However, the men talking in the foxholes about home, wives and girlfriends rings with truth.
Don Smith's other son Thad, directed Everyman's War. With a budget under a million dollars, he nearly pulls off a miracle, making due with limited military equipment and special effects. Although shot almost entirely outdoors, and in the United States, the film retains an authentic look and feel. The action scenes are well executed and as taut as most major film productions.
The one aspect that clearly marks this as an independent production is in the acting, most of which is extremely amateurish. I am not sure if it was shot in chronological order, but the acting seemed to get better as it went along. It never gets great but it gets better. Cole Carson is a hit and miss in the lead. Sometimes he pulls it off and sometimes not so much. His only foray into a major Hollywood film was as an extra in Hot Tub Time Machine.
Although marred by a lack of experience and polish, Everyman's War is a beautiful love letter to a man, and men, who served, survived and thrived. The last scene is the very definition of Americana. What an amazing way to pay tribute to the greatest generation.
Photos © Copyright One-Eighty Films (2009)