Movie Review
Everybody's All-American
Their life story is a love story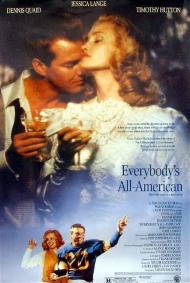 US Release Date: 11-04-1988
Directed by: Taylor Hackford
Starring
▸
▾
Jessica Lange

,

as

Babs Rogers Grey
Dennis Quaid

,

as

Gavin Grey
Timothy Hutton

,

as

Donnie 'Cake'
John Goodman

,

as

Ed Lawrence
Carl Lumbly

,

as

Narvel Blue
Ray Baker

,

as

Bolling Kiely
Savannah Smith Boucher

,

as

Darlene Kiely
Patricia Clarkson

,

as

Leslie Stone
Joseph Meyer

,

as

Pep Leader
J. Kevin Brune

,

as

Roommate
Wayne Knight

,

as

Fraternity Pisser
Roy B. Stewart Sr.

,

as

Junie
Pat Pierre Perkins

,

as

Willy Mae
Aaron Neville

,

as

Man with Gun
Shawn Burks

,

as

Georgia Center
Frank Deford

as

Cafe Owner
Reviewed on:
February 10th, 2014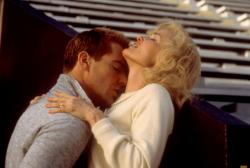 Dennis Quaid and Jessica Lange in Everybody's All-American.
Based on the 1981 novel by sports columnist Frank Deford, Everybody's All-American covers 25 years in the (fictional) life of Gavin "The Grey Ghost" Grey (Dennis Quaid). The movie covers his college days at the University of Louisiana in the 1950s, his subsequent marriage to Magnolia Queen Babs Rogers (Jessica Lange) and the birth of their four children, his professional career in the NFL as a Washington Redskin in the 1960s, his post-retirement life and comeback attempt with the Baltimore Colts in the early 70s, and ending in 1981 at a banquet celebrating the 25th Anniversary of Gavin leading his team to a win at the Sugar Bowl.
The story is told from the perspective of Gavin's nephew, a writer played by Timothy Hutton (presumably based on Deford). It has also been speculated that Gavin Grey was based on real life Heisman Trophy Winner and former LSU star player Billy Cannon. Deford laughed this rumor off, stating that he never met Cannon and knew nothing about him personally. He went on to say that Gavin was a composite of athletes from several sports he had covered in his career. It is also worth noting that the novel is set at the University of North Carolina.
There are a few subplots involving peripheral characters. John Goodman (whose southern accent comes and goes) plays Ed Lawrence, Gavin's best friend and fellow football player. He's a gambler whose debts get him in trouble with the criminal element in Baton Rouge. For me Goodman and Hutton played the two most interesting characters in the movie. They are far more fascinating than the vapid golden boy and girl played by Quaid and Lange.
The story is vaguely set against the backdrop of the Civil Rights Movement. Carl Lumbly plays the lone black character, Narvel Blue, a former aspiring football player who winds up in politics. His story takes a distant backseat to the four main characters however. And it is hinted that another man is a homosexual (Ray Baker). Gavin repeatedly refers to him as a "jock-sniffer" but his storyline goes nowhere.
There are a few famous faces in cameo roles. Singer Aaron Neville brandishes a gun in one scene. Seinfeld's Wayne Knight plays a fraternity loser, and Frank Deford shows up as the cafe owner in a scene where Narvel participates in a sit-in.
The cast, while good, are all too old for the early scenes. Jessica Lange, while still stunningly beautiful at 39, can't pull off college age. Only Timothy Hutton (27 at the time) seems age appropriate for these early scenes, and he likewise seems to age the most believably. Dennis Quaid has never been an actor of tremendous range, but he is surprisingly good as the shallow, egotistical Grey Ghost. He is especially good in the later scenes as a former athlete, a shell of his former self, looking back on his glory days.
On a surface level there are a few rousing, well-filmed scenes on the gridiron. Quaid even dislocated a collarbone at one point and can be seen writhing on the ground in genuine pain in the finished film. There are also a few lushly romantic moments between the very attractive twosome of Quaid and Lange. On the downside the story is filled with cliches and it meanders around lacking a clean emotional arc.
Even the passage of time is poorly handled by director Taylor Hackford. We are shown newsreel clips of the era but they don't always coincide with the actual year being represented. The biggest flaw is that we never really get inside these people's heads (or hearts) to learn just what Gavin and Babs see in each other. They remain one-dimensional throughout the movie. But then maybe that's the point, that they are both equally shallow individuals who've never bothered to scratch beneath life's surface. And as such they're a perfect match. Everybody's All-American is far from a perfect movie though.
Photos © Copyright Warner Bros. (1988)