Movie Review
Everybody Sing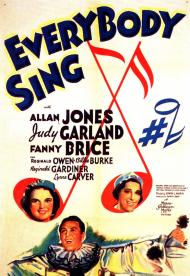 US Release Date: 02-04-1938
Directed by: Edwin L. Marin
Starring
▸
▾
Allan Jones

,

as

Ricky Saboni
Judy Garland

,

as

Judy Bellaire
Fanny Brice

,

as

Olga Chekaloff
Reginald Owen

,

as

Hillary Bellaire
Billie Burke

,

as

Diana Bellaire
Reginald Gardiner

,

as

Jerrold Hope
Lynne Carver

,

as

Sylvia Bellaire
Helen Troy

,

as

Hillary's Secretary
Monty Woolley

,

as

John Fleming
Adia Kuznetzoff

,

as

Boris
Henry Armetta

,

as

Signor Vittorino
Michelette Burani

,

as

Madame Le Brouchette
Mary Forbes

as

Miss Colvin
Reviewed on:
June 26th, 2014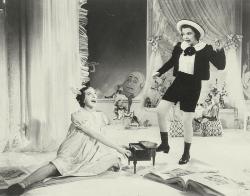 Fanny Brice and Judy Garland in Everybody Sing.
Everybody Sing was made during Judy Garland's pre-Wizard of Oz stage at MGM. Call it her "Ugly Duckling" phase. That was, in fact, the original title of this silly little pastiche. Billie Burke, playing Judy's mother, calls her daughter by that rather cruel nickname several times. She may have been at that awkward "in-between" age but she was far from ugly. Judy's chubbiness and lack of movie star beauty were more than made up for by her talents. She could wring emotion from a scene, had impeccable comedy instincts, and then, of course, there was her voice. An incredible instrument of startling power.
Everybody Sing showcases some of Garland's finest singing from this early period of her career. These include "Swing Mister Mendelssohn", "Down on Melody Farm" and a medley of "Ever Since the World Began / Shall I Sing a Melody?". Just fifteen, her vocal prowess was already peerless. She almost accomplishes the impossible when she nearly makes you forget your embarrassment over the fact that she is wearing blackface whilst belting out "Swing Low, Sweet Chariot".
Judy gets expelled from a fancy private school for singing a jazzy swing number in class. Her parents (Reginald Owen and Billie Burke) are wealthy theater folk whose fortunes are on a downward spiral. He's a playwright and she used to act. There's a pretty older sister (Lynne Carver) in love with the family chef (Jones). He moonlights as a singer and before you can say "let's put on a show" both he and the family maid (Brice) are plotting a new show to introduce Judy as the latest singing sensation.
Billie Burke steals scenes as the ditzy mother. She is forever quoting one of her husband's plays in melodramatic fashion. At the end of the movie when she finds herself once again center stage, she takes a grand stage bow that's hilarious. Yes the story concludes with the big opening night performance!
Legendary Ziegfeld star Fanny Brice made only a handful of movies in her career. Everybody Sing is notable as the only one in which she performed as her famous Baby Snooks character. She is joined by Judy (dressed as Little Lord Fauntleroy) (see photo) for a duet that proves to be not only the movie's most famous scene but also its comic highlight. Brice plays Olga the wisecracking Russian maid. Although she was a few years past her peak she radiates a contagious goofiness that was uniquely her own.
Top billed tenor Allan Jones had starred in James Whale's original 1936 screen version of Show Boat, opposite Irene Dunne. He is best remembered today for playing straight man to the Marx Brothers in A Night at the Opera (1935) and A Day at the Races (1937). In 1940 he worked with another classic comedy team in One Night in the Tropics; the movie that introduced Abbott and Costello to movie audiences. Jones sings several numbers here but he proves that a handsome face cannot make up for a lack of charisma. He possessed a nice set of pipes but his screen presence was on the bland side.
Everybody Sing was directed by Edwin L. Marin and features Reginald Gardiner and Monty Woolley in supporting roles. In the scenes featuring a girl's choir, a boy's choir is actually heard. The cast is as incredible as the story is sleight. Everybody Sing succeeds as a showcase for talent. As a movie, taken as a whole, it's not so great.
Photos © Copyright Metro-Goldwyn-Mayer (MGM) (1938)