Movie Review
Every Which Way But Loose
Clint Eastwood will turn you Every Which Way But Loose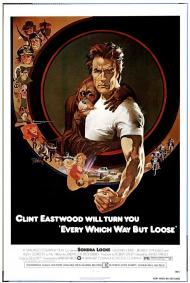 US Release Date: 12-20-1978
Directed by: James Fargo
Starring
▸
▾
Clint Eastwood

,

as

Philo Beddoe
Sondra Locke

,

as

Lynn Halsey-Taylor
Geoffrey Lewis

,

as

Orville
Beverly D'Angelo

,

as

Echo
Ruth Gordon

,

as

Ma
Manis

,

as

Clyde
Walter Barnes

,

as

Tank Murdock
Roy Jenson

,

as

Woody
James McEachin

,

as

Herb
Bill McKinney

,

as

Dallas
William O'Connell

,

as

Elmo
John Quade

,

as

Cholla
Dan Vadis

,

as

Frank
Gregory Walcott

,

as

Putnam
Hank Worden

as

Trailer Court Manager

Reviewed on:
November 26th, 2013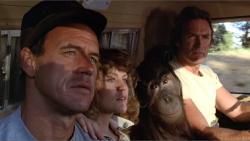 Geoffrey Lewis, Beverly D'Angelo, Manis and Clint Eastwood in Every Which Way But Loose.
Every Which Way But Loose is a very silly movie. I remember finding it quite funny as a child, but watching it today was a different story. There are still portions of it that are enjoyable, but much of the humor is on the level of a bad cartoon, causing more groans than guffaws. Still, thanks in large part to the cast, it still has its limited charm, although I freely admit that a portion of that charm is nostalgia.
Clint Eastwood stars as Philo Bedoe, a part originally written for Burt Reynolds. This was Eastwood's first comedy and he was wary of taking it on, but it would prove to be one of the most finacially lucrative films of his career. It cost a mere $5 million to produce and earned double that in its opening weekend and became one of the highest grossing films of 1978. When adjusted for inflation, it still stands in the top 200 highest grossing films of all time. It even generated a sequel, Any Which Way You Can, in 1980 that was almost as successful.
Philo is a truck driver who engages in bareknuckle boxing on the side to earn some money. He falls in love with country singer Lynn Halsey-Taylor, played by frequent Eastwood co-star and real life love interest, Sondra Locke. When she leaves town unexpectedly, Philo sets out in pursuit accompanied by his best friend Orville (Lewis), a girl they pick up along the way named Echo (D'Angelo), and of course Clyde the orangutan whom Philo once rescued from a desert zoo. They are pursued by a motorcycle gang and two off-duty police officers whom Philo has angered. Along the way Clyde gets into mischief and Philo gets into a few fights and all of it is accompanied by a country and western soundtrack.
The film's weakest aspect is its cartoonish humor. The motorcycle gang in particular are the biggest source of the problem. They are never threatening but nor are they really funny. Some of the humor does stand up though. Ruth Gordon is still a scene-stealer as the foul-mouthed old lady who just wants to get her driver's license. I also laughed at the running gag about Echo's name. Clyde is one of the things that the film is most remembered for, but while he's amusing, he never really made me laugh out loud, which is actually the right tone for this movie. It's at its best when it keeps things light, but not over the top.
It also helps that the cast is all so likable. Eastwood was 48 years old when this movie was released, but he remained in great shape as evidenced by his many shirtless scenes. His stoic, but naive, Philo is the heart of the movie. Eastwood wisely leaves most of the comedy to the supporting cast. Geoffrey Lewis (father of Juliette Lewis) makes a likeable sidekick, while Beveryly D'Angelo provides the eye candy that Sondra Locke lacks. Locke, as was often the case in Eastwood's films, is the weak link. She's a passable actress, but lacks the charisma that would explain Philo's instant attraction and desire to follow her across the country. Her final dramatic scene also feels out of place in this lightweight comedy. And Gordon, as I mentioned, is a delight.
Despite its flaws, this is still a movie that's easy to like. Some of it's quite bad, but it's bad in an easy going, quite harmless way.
Reviewed on:
July 9th, 2014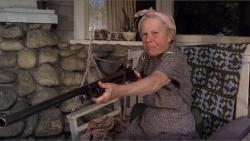 Ruth Gordon in Every Which Way But Loose.
Clint Eastwood never claimed to make high brow entertainment. He once said of his films, "If a guy has just had a bad day in the mines and wants to see a good shoot 'em up, that's great." Every Which Way But Loose is certainly a silly movie. It features low brow slapstick comedy and plenty of humorous fisticuffs. It also has several iconic moments, such as Clyde flipping off the motorcycle gang members, and him putting his hands up as Clint points his finger at him like a gun and then falling down when Clint says "Bang".
Scott's right that some of the jokes don't work but I didn't hold the cartoonish idiocy of the Black Widow motorcycle gang (whose average age has to be 50-something – I guess in an attempt to make Eastwood appear younger) against it. They fit in with the overall silliness of the scripted shenanigans. This is a comedy so the lack of any real sense of danger fits.
The entire movie is a series of silly fights and chases, interspersed with a few country & western ditties (in addition to Locke, both Mel Tillis and Charlie Rich show up to perform their own songs, and Eddie Rabbitt hit the charts with the catchy title track). It features at least half a dozen fistfights and bar brawls. As it did for my brother, it conjured up a strong sense of nostalgia for the era. The late 1970s – early 1980s was a very vivid period of our lives. Scott, Eric, and I watched many films for the first time on HBO. Watching unedited, commercial free movies in the privacy of your own home was a very exciting idea at the time. This was a few years before VCR's became commonplace. Every Which Way But Loose was one of those movies we watched multiple times.
Ruth Gordon's cantankerous Ma is my personal favorite character in the movie. She swears like a sailor and isn't afraid of anything. She gets the movie's funniest scene when she chases off the entire motorcycle gang with a shotgun on her front porch (see photo). The scene ends with an inspired comedic shot. As the flaming wreckage of several motorcycles burns on the lawn behind her, Gordon opens the screen door while complaining, "I told those boys not to leave a vulnerable old lady all alone!"
It's easy to see why this movie was such a hit. It wants nothing more than to provide breezy entertainment. It would be easy to pick it apart but what for? I still found plenty to laugh at and the passing of years has added a nice layer of nostalgia to the mix. And who would have guessed that 36 years later Clint Eastwood -at 84- would still be going strong in Hollywood?
Photos © Copyright Warner Bros. (1978)