Movie Review
Every Day
Not quite the party you signed up for...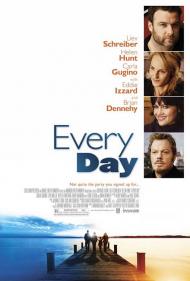 US Release Date: 04-24-2010
Directed by: Richard Levine
Starring
▸
▾
Liev Schreiber

,

as

Ned
Helen Hunt

,

as

Jeannie
Ezra Miller

,

as

Jonah
Skyler Fortgang

,

as

Ethan
Carla Gugino

,

as

Robin
Eddie Izzard

,

as

Garrett
Brian Dennehy

,

as

Ernie
David Harbour

as

Brian

Reviewed on:
October 27th, 2012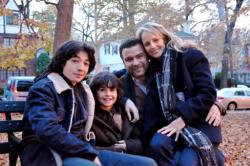 Ezra Miller, Skyler Fortgang, Liev Schreiber, and Helen Hunt in Every Day.
Every Day, from writer/director Richard Levine, is an indie dramedy about a modern family dealing with life's everyday issues such as raising kids, handling aging parents and on the job stress. It boasts a talented cast even if the script is cliched and the ending a bit too pat.
Liev Schreiber and Helen Hunt are Ned and Jeannie, a middle-aged Queen's couple who have been married for nineteen years. Their oldest son Jonah (Ezra Miller) has recently come out of the closet while still in high school and Jeannie's ailing father Ernie (Brian Dennehy) has just moved in. On top of that Ned's job as a scriptwriter for an HBO like television station has become increasingly stressful.
Although the plot is derivative of other movies Levine writes decent dialogue.
When Jeannie complains to her father about how he gives criticism he responds, "There's no easy way to give it. It's like medicine. You just take it... if you really wanna get better."
Later Jeannie tells a worker at the nursing home they move her father into that, "He's been depressed since the 50s."
When Ernie talks his younger grandson into getting him his pills and then attempts to swallow a handful Jeannie tells hims, "You're not going to kill yourself in my house and you're not using my son as an accomplice."
When Ned's coworker Robin (Carla Gugino ) asks him if he has children he answers, "I have three, my father-in-law is the youngest."
Later Ned has a brief fling with Robin indulging in sex in her indoor swimming pool. When she makes a disparaging comment about his marriage, Ned tells her he never said his marriage was bad. Her comeback is the best line in the movie. "You were fucking me underwater, I just assumed."
The freshest angle the story has to offer is the gay teenaged son's relationship with his father. Jonah wants to attend a prom sponsored by the LGBT community. Ned doesn't want his son to go as there will be college age people there as well. He gives in to pressure from his wife and agrees to allow Jonah to go but then gets upset when he sees what his son is planning to wear; tight jeans and a tight t-shirt with cut-off sleeves. He makes Jonah change clothes and then complains to his wife about how she was going to let her son go out dressed like a hustler. He is as protective of his son as fathers usually are with their daughters. Their scenes together in the car are touching as Ned struggles to understand and come to terms with his son's sexual orientation.
If only the rest of the movie was as original as these scenes are. Instead too much time is spent on Ned's job dealing with his overbearing boss (Eddie Izzard doing his version of a Ryan Murphy type, whom Richard Levine had once worked with on Nip/Tuck). The cast of pros helps elevate the storyline, even when it's at its most cliched. Liev Schreiber is particularly good as a husband, father, and employee attempting to keep his head above water in modern Every Day life.

Reviewed on:
April 19th, 2016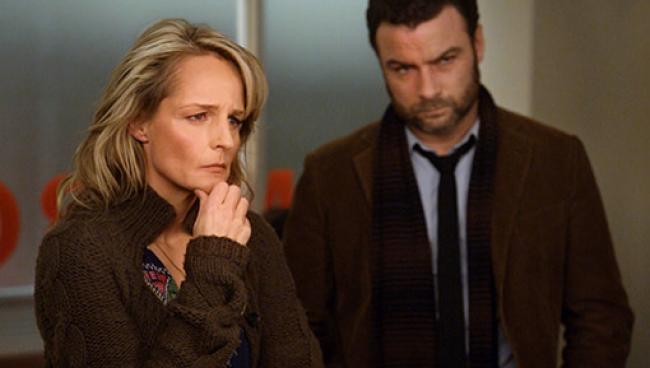 Helen Hunt and Liev Schreiber in Every day
As a married father of two sons I, of course, related to Ned in more ways than I care to admit. He has the stress and responsibility of most married fathers. He has a boss that pushes him and a co-worker that tempts him. His wife is distracted by the demands of taking care of her ailing father, as well as maintaining the house and being a mother to their two sons. The one thing that does not take up her time is sex with Ned. Why is that the first thing wives stop doing when they are busy? It's a stress relief. You need it more at those times than any other.
Warning: lots of spoilers discussed.

Ned's relationship with his gay son, Jonah, is heart felt but I felt it was incomplete. They barely ever speak. Granted, both are uncomfortable broaching the subject of Jonah's sexuality, in any detail, with each other but by the end I was hoping for them to have a more open heart to heart. Early on Ned objects to Jonah going to the prom because there will be adult homosexuals attending. What moron thought that was a good idea? Ned's concerns proved to be correct as a college student hits on Jonah, invites him out, offers him drugs and tries to have sex with him. However, Jonah makes his point about being responsible as he turns down the drugs and the advancement of sex from the twenty something predator.
On the car ride home, Ned senses something happened but does not push the subject. Instead, he simply tells Jonah that he will eventually find someone special. That was by all means a nice thing to tell his son and Jonah acts as if he appreciated it but a bit more forth coming from either one would have been more satisfying. Note that Ned was not able to resist temptation while a nervous Jonah was.

It was like the exchange in bed between Ned and Jeanie. She hints that she suspects Ned has been unfaithful but does not want to talk about it then. Okay, this is a movie about real people having real issues and for the most part it works. However, real people talk and often let their emotions get the best of them. These people are all too in control of themselves. Jonah never throws a fit when his father objects to the dance. Ned never gets upset about his wife neglecting him. This family is having problems most of us can relate to but they all act too subdued to be authentic. Families sometimes yell and over react, or maybe that's just my family, but I think not.
Every Day is a very pleasant movie watching experience and I like all of these characters, even the grumpy grandfather. They are all going through some very normal growing pains but I never felt they were resolved in a sincere way. It almost seems as if the ending is how Ned hoped everything would turn out but not as it necessarily would in real life. His son proves to be the responsible son he hoped he raised. His boss not only lets him keep his job but practically begs him to stay. His ornery father-in-law dies. He and Jeannie finally have sex and, most importantly, Ned gets away with his affair without any repercussions.

Photos © Copyright Image Entertainment (2010)