Movie Review
Europa Europa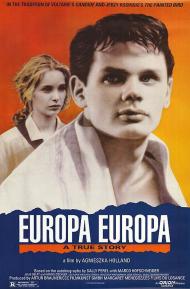 US Release Date: 06-28-1991
Directed by: Agnieszka Holland
Starring
▸
▾
Marco Hofschneider

,

as

Solomon Perel
Julie Delpy

,

as

Leni
Rene Hofschneider

,

as

Isaak
Piotr Kozlowski

,

as

David
Andre Wilms

,

as

Soldier Robert Kellerman
Ashley Wanninger

,

as

Gerd
Halina Labonarska

,

as

Leni's Mother
Hanns Zischler

,

as

Hauptmann
Klaus Abramowsky

,

as

Solomon's Dad
Michele Gleizer

,

as

Solomon's Mother
Marta Sandrowicz

,

as

Bertha
Solomon Perel

as

Himself


Reviewed on:
January 31st, 2007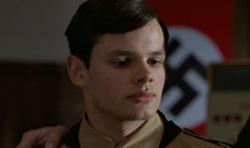 Marco Hofschneider in Europa Europa.
Based on Solomon Perel's autobiography, Europa Europa tells a harrowing tale of survival. Through particular circumstances, a young Jewish boy, Perel, in Nazi Germany, found himself living amongst the very people who were trying to exterminate his entire faith. Even more interesting is that he befriended many of them.
After Perel's sister is killed by a group of Nazis, Perel and his older brother Isaak (played by Marco's real life brother Rene) are sent, by their parents, to travel East in hope of them escaping further persecution. The brothers get separated and Perel finds himself in a Communist school in Russia. He eventually gets captured by some German soldiers. The soldiers are impressed that Perel can speak Russian and German. They keep him around not knowing that he is a Jew.
His secret is discovered by a homosexual Nazi soldier, who tries to feel up Perel when he is in a bath. They become friends and each keep each other's secret. A German officer decides he wants to adopt Perel and sends him to a school in Germany. There, he sings songs about killing Jews and takes a class on how to identify a Jew from an Aryan. He also makes some friends and gets a girlfriend.
Perel fits right in except for his penis. He refuses to have sex with his girlfriend because he dare not let her see that it is circumcised. To get out of a physical he fakes a toothache and ends up getting a perfectly good tooth removed to avoid the doctor. The most cringe inducing scene is when he gets an infection in his penis after he forced skin over the head of his penis and tied it with thread to make it appear un-circumcised.
This is Hofschneider's film debut and he carries it off well. He is in nearly every scene. The most interesting moment is near the end when Perel and some other Hitler Youths are working in a factory and listening to news on how the war is going badly for Germany. Perel, with the other boys, begin singing their national anthem and cry. At first, you would think that he would be happy, but then the psychology is that he has been living as a Nazi for so long that he is mentally and emotionally closer to them, at that point, than he is to his long gone Jewish heritage.
The news has recently been about Shawn Hornbeck, the boy who was abducted by a sick fuck bastard and never escaped for 4 years, even though the opportunities were plentiful. Solomon Perel would no doubt understand completely why Shawn assimilated himself into his forced new life. As Europa Europa demonstrates, survival instincts take over when fear is your foremost emotion.
Reviewed on:
June 24th, 2015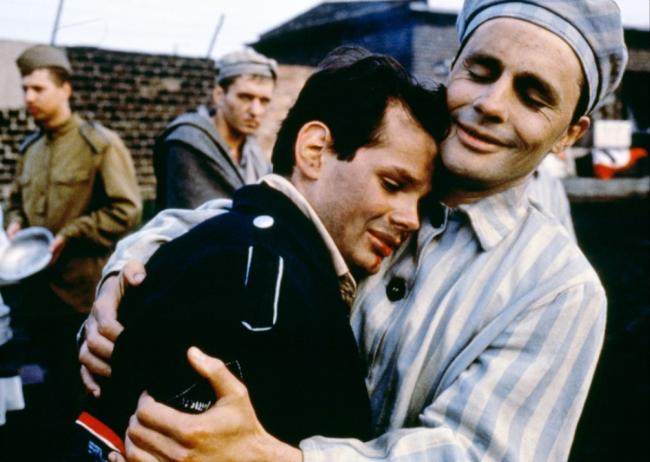 Marco Hofschneider and Rene Hofschneider in Europa Europa.
Europa Europa offers a unique perspective on WWII. This is the story of a Jewish boy who successfully hid his true identity for years while living under the Third Reich. That fact alone isn't uncommon but Solomon Perel successfully passed himself off as an Aryan German, even attending the elite Hitler Youth Academy in Berlin. His life was so unusual it would seem almost unbelievable. His years spent living as an Aryan German whilst hiding the fact that he was Jewish were harrowing indeed, but they were also filled with remarkable coincidences and amazing adventures.
Solek (his family nickname) saw action on both the German and Soviet front lines while still of high school age. In one scene as he is trying to surrender to a small group of Soviet soldiers he winds up leading his entire German platoon straight to them. After a quick victory his fellow Germans declare Jupp (their nickname for him) a hero. Mind you this was after he helped in the capture of Josef Stalin's son by acting as translator. Later on just as his true identity is about to be discovered by the Nazi authorities, a bomb destroys the building and kills the suspicious Nazi, mere seconds after Solomon exits the building.
Despite whatever dramatic license was taken there's no denying the power of this movie. The psychological toll taken on this young man is unimaginable for most people. He spent his adolescence in a constant state of fear. Every day he was bombarded with messages and acts of hatred, violence and debasement of his people. In several heart-wrenching scenes he rides the trolley through the Jewish ghetto in Berlin in hopes of catching a glimpse of his family at their last known address – one time thinking he may have caught sight of his mother.
Several other scenes stood out for me as well. One is when Solomon and his brother are crossing a river as refugees fleeing to Poland. They pass a boat filled with Polish refugees fleeing the Soviets in the other direction. Solomon explains in voice-over that while the Jews ran from the Nazis towards the Soviets, the Poles would rather take their chances with the Nazis and so they fled from the Soviets.
The other scene is a darkly humorous one. It happens on a train as Solomon is traveling to Berlin to attend the Hitler Youth Academy there. Solomon is seduced by a middle-aged female Nazi named Rosemarie. She gets excited when she learns that Jupp was born on April 20, the same day as Adolf Hitler. She tells Jupp he looks like Hitler and while they are having sex she cries out, "Mein Führer!"
I agree with Eric that Marco Hofschneider makes a remarkable movie debut as Solomon Perel. In addition to all the intense drama that he handles with practiced ease, how many actors have several full frontal nude scenes in their very first movie role? Director Agnieszka Holland keeps the focus on Solomon, and Marco carries the entire story on his shoulders, conveying all of the necessary emotions quite naturally. Solomon Perel (he plays himself in the final scene) led an incredible life and Europa Europa is a movie you won't soon forget.
Photos © Copyright Central Cinema Company Film (CCC) (1991)
Related Review