Movie Review
Escanaba in da Moonlight
He's almost the oldest Soady never to bag a buck.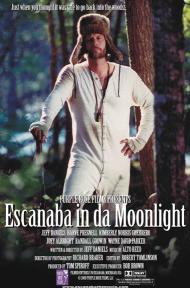 US Release Date: 01-26-2001
Directed by: Jeff Daniels
Starring
▸
▾
Jeff Daniels

,

as

Rueben Soady
Harve Presnell

,

as

Albert Soady
Joey Albright

,

as

Remnar Soady/Porcelain Bus Dancer
Wayne David Parker

,

as

Jimmer Negamanee
Randall Godwin

,

as

Ranger Tom T. Treado
Kimberly Norris

,

as

Wolf Moon Dance Soady
James Porterfield

,

as

Alphonse Soady
Guy Sanville

as

Alvin Soady

Reviewed on:
August 19th, 2004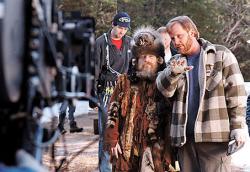 Jeff Daniels writes, directs and stars in Escanaba in da Moonlight.
Anyone who has ever lived in Michigan knows that the opening day of deer-hunting season is practically a sanctioned State Holiday. Hunters take this day off from work and some of their sons are absent from school. Even if you are not a hunter in Michigan, you probably know someone who is. Escanaba in da Moonlight takes a comic look at just how serious some folks take opening day.
Daniels, who also wrote and directed, stars as 43 year old Reuben Soady. If he does not bag a buck this year he will become the oldest Soady to never make the kill. Every year he meets his brother and father at deer camp on opening day. They are soon joined by a friend who keeps mumbling that his "Chevy took a shit," and that he was just abducted by aliens. Things get even weirder when a man from the DNR shows up at their cabin door singing "Swing low sweet chariot..." He too has apparently had a run in with the aliens.
The movie has some great lines and comic moments. Reuben's father describes the mood at deer camp, "Dat year, camp was as tense as a moose's butt during fly season." Reuben's brother describes opening day of deer hunting season as being, "...like Christmas, with guns." Reuben's father explains that Reuben has not killed a deer because he is not a good shot. His actual phrasing is, "You couldn't hit the house if you were standing in it." The family hunting motto is, "Good things come to those who shoot straight."
The funniest moment in the film comes when Reuben is apparently possessed. To bring him back to reality his brother and father shove his face in the butt of their sleeping friend who has gas. Eventually the friend wakes up and sees Reuben nose deep between his butt cheeks. "That explains the dream." he says.
The movie starts out as a satire on how something that seems so meaningless to non-hunters can be such a serious matter to those who are. Daniels pokes fun at hunters and the whole seriousness of their efforts. However the movie becomes utterly absurd with the suggestion of aliens and the appearance of the ghost of Reuben's grandfather. What could have been a funny satire ends up spiralling out of control into a complete mess.
Photos © Copyright Purple Rose Productions (2001)