Movie Review
Ernest & Celestine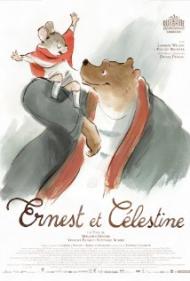 US Release Date: 12-06-2013
Directed by: Stephane Aubier, Vincent Patar and Benjamin Renner
Starring
▸
▾
Lambert Wilson

,

as

Ernest
Pauline Brunner

,

as

Celestine
Anne-Marie Loop

,

as

La Grise
Patrice Melennec

,

as

Georges
Brigitte Virtudes

,

as

Lucienne
Leonard Louf

,

as

Leon
Dominique Maurin

,

as

Chef de Clinique
Yann Lemadic

,

as

Avocat d'Ernest
Feodor Atkine

,

as

Juge Grizzly
Vincent Grass

,

as

Chef de la police des Ours
Patrice Dozier

,

as

Chef de la police des Rats
Jacques Ciron

as

Monsieur Ranconnet

Reviewed on:
January 21st, 2014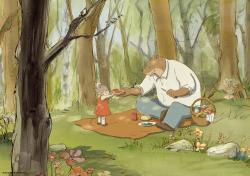 Pauline Brunner voices Celestine and Lambert Wilson voices Ernest in Ernest & Celestine.
Ernest & Celestine is a French-Belgian production based on a series of children's books from the 1980s by author and illustrator Gabrielle Vincent. It's a charming little film with international appeal that has been nominated for numerous awards on both sides of the Atlantic including an Academy Award for Best Animated film.
Pixar has dominated American animation for so long that every animated film that comes out of a Hollywood studio seems to be trying to emulate it in style. Foreign animated films, on the other hand, tend to vary greatly in style as evidenced each year at the Oscars where at least a couple of the Best Animated films tend to be from outside of the USA as well as several of the Animated Short nominees. Ernest & Celestine, for example, seems quaint and old fashioned by comparison to the glossy, computer generated Hollywood cartoons, and it's all the more charming because of it. It looks quite literally like a children's book come to life.
Like all good children's stories, the plot works on several levels. On the surface it's a simple tale of a mouse and a bear who become friends. Celestine is a young mouse who lives in an orphanage below ground where the mice have a complex, ordered society. Celestine is being trained to become a dentist, but what she really wants is to be an artist. Above ground, it is the bears who are the dominant species. They live in a capitalistic society in towns, drive cars, own shops, etc., etc.. Ernest is a bear who, like Celestine, is a free spirit. He lives in a shack outside of town and is a bit of a tramp, playing music in the street for money. After a series of accidents, the two of them end up as good friends on the run from the law of both their societies who disapprove of any interaction between the two societies. There's a moral about prejudice and making snap judgments that's easy to see, while if you care to look deeper there are other, even political, messages buried in this story.
As I said, the animation itself is quite charming. It looks like a water color children's book in motion. Even the edges of the scenes fade out much in the way that the pictures on a printed page fade out. There's no attempt at realism, just every effort to make the film look as charming as possible, something at which it succeeds quite beautifully. In fact, it's virtually impossible to talk about this delightful film for any length of time without using the word "charming" at least once.
At just 81 minutes, this little story just flies by. Sometimes trying to see every film nominated for an Academy Award can be a chore. In the case of Ernest & Celestine, it's a delight.
Reviewed on:
February 9th, 2014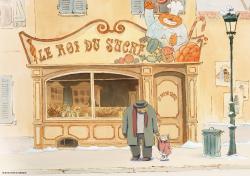 Ernest & Celestine
Charming is certainly the one word that best sums up this delightful animated fable. It combines humor and whimsy in just the right doses while telling a simple tale of two misfits who find each other and form an unlikely friendship in a cruel, judgmental world. The watercolor animation adds a dreamlike quality that perfectly suits the story.
Without being at all preachy it teaches lessons about tolerance and following your heart while pursuing your dreams. It even takes a few swipes at capitalism and hypocrisy in the form of the bear family whose father runs a candy shop across the street from his wife's dental practice. Of course they don't allow their own child to indulge in any of the sugary confections that his father sells to all the other neighborhood bear-children. Children who eventually wind up in his mother's conveniently located office with tooth decay.
The slapstick humor is funny without stooping to fart jokes, puke gags, or any other bathroom humor so prevalent in many of today's big budget Hollywood cartoons. Instead the laughs come intrinsically from the characters and the situations in which they find themselves in these wonderfully imaginative coexisting bear and mice societies. The climax of the story is particularly well done and thoroughly satisfying.
Ernest & Celestine is a rare work of animation that appeals to kids (without being dumbed-down) and adults (without resorting to misplaced sexual innuendo). A dubbed English language version featuring the voices of Forest Whitaker, Lauren Bacall and several other Hollywood luminaries is set to be released in the U.S. later this month (Feb. 2014) but, for any American child old enough to read, this original version seems pretty hard to improve on.
Photos © Copyright Gkids (2013)