Movie Review
Entourage
Dream Large. Live Larger.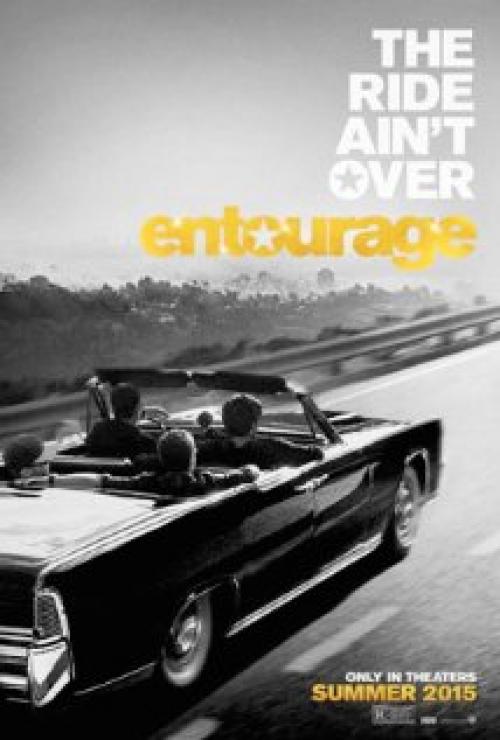 US Release Date: 06-03-2015
Directed by: Doug Ellin
Starring
▸
▾
Kevin Connolly

,

as

Eric
Adrian Grenier

,

as

Vince
Kevin Dillon

,

as

Johnny Drama
Jerry Ferrara

,

as

Turtle
Jeremy Piven

,

as

Ari Gold
Emmanuelle Chriqui

,

as

Sloan
Perrey Reeves

,

as

Mrs. Ari
Rex Lee

,

as

Lloyd
Debi Mazar

,

as

Shauna
Haley Joel Osment

,

as

Travis McCredle
Ronda Rousey

,

as

Ronda Rousey
Emily Ratajkowski

,

as

Emily Ratajkowski
Billy Bob Thornton

,

as

Larsen McCredl
Piers Morgan

,

as

Piers Morgan
Mark Cuban

,

as

Mark Cuban
Rob Gronkowski

,

as

Rob Gronkowski
David Arquette

,

as

David Arquette
Russell Wilson

,

as

Russell Wilson
Gary Busey

,

as

Gary Busey
Bob Saget

,

as

Bob Saget
Jon Favreau

,

as

Jon Favreau
Greg Louganis

,

as

Lloyd's Fiancee
Andrew Dice Clay

,

as

Andrew Dice Clay
Billy Dec

,

as

Billy Dec
Mike Tyson

,

as

Mike Tyson
Pharrell Williams

,

as

Pharrell Williams
Liam Neeson

,

as

Liam Neeson
Ed O'Neill

,

as

Ed O'Neill
Kelsey Grammer

,

as

Kelsey Grammer
Chad Lowe

,

as

Himself
Nora Dunn

,

as

Dr. Deanne Emily Marcus
Mark Wahlberg

,

as

Mark Wahlberg
David Spade

,

as

David Spade
Warren Buffett

,

as

Warren Buffett
Jessica Alba

,

as

Jessica Alba
Common

,

as

Common
Armie Hammer

,

as

Arnie Hammer
David Faustino

,

as

Himself
Tom Brady

,

as

Tom Brady
Martin Landau

,

as

Bob Ryan
Matt Lauer

,

as

Matt Lauer
George Takei

as

George Takei


Reviewed on:
June 10th, 2015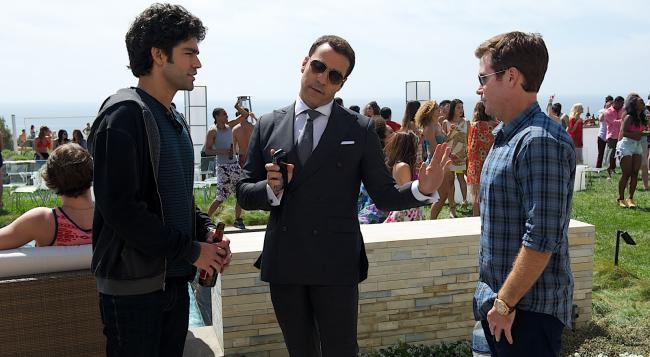 Adrian Grenier, Jeremy Piven and Kevin Connolly in Entourage
A movie based on a television show must provide two things that the television show does not. We must get some background as to how and why the characters are at this point in life. Entourage has just enough of a recap of the show to set up the characters' current situations. Vince, the movie star, is now divorced from a woman he was only married to for a few days. Eric, his manager, is now an expecting father with his on again/off again girl. Vince's older brother Johnny Drama is exactly the same, only older. Turtle, the chauffeur, is the most different from the first season as he has lost weight and is now a millionaire, who lives in his own mansion.
However, they all still hang out together like insecure teenagers still trying to figure life out. Vince is still untouchable. No matter what he does, life is just one big party and he never has any problems to speak of. He is rich as hell and beds any good looking woman he wants. He is extremely shallow and never has any real problems. When explaining about his divorce he says they woke up, decided they no longer wanted to be married, had goodbye sex and parted amicably. Yeah, Vince is the least sympathetic character of the bunch.
His brother Johnny came to Hollywood first but has spent years as a struggling actor playing small roles. Like the other two guys, he gets laid by all the extra girls Vince attracts. He lives with/off Vince or, in this movie, Turtle. Eric has always been the most put upon of Vince's entourage. As his manager, Eric must deal with the studio and all of Vince's stupid decisions, often cleaning up after him. On the show, Eric dictated to Vince what movies he made as Vince trusts Eric and is too distracted by sex, drugs and just enjoying life to actually read the scripts himself. Turtle was the least productive on the show, doing errands and driving the gang around Hollywood. The movie explains that he partnered with Mark Cuban and made millions on a Tequila venture. Now he has all the money he could ever want and a place of his own on the coast but he still choses to act like one of Vince's bitches. He has a side plot that provides a chuckle or two but goes nowhere.These guys are so fortunate that I was never too concerned with anything that happened to them.
The best character on the show and the best one in this movie is Ari Gold, played by Jeremy Piven. He was Vince's excitable and high tempered agent who hated the entourage as they walked around the studio as if they were very important, when all anyone there truly cared about was Vince. To antagonize Ari, Vince always had Eric deal with him. A high powered movie agent was constantly frustrated when talking million dollar deals with a man who's only managing experience came from Sabarro's Pizza.
Ari is now head of a studio and the movie gets going when Vince wants to not only star in a film but direct it. Of course Vince gets whatever he wants, taking the movie over budget. Ari must fly to Texas to talk the backer, Billy Bob Thornton playing a stereotypical Texan, to give him more money. This leads to the Texan's son going to Hollywood to oversee the film's completion and gumming it all up.
The second thing a movie must do, that a weekly show does not, is provide a story arc. Like on the show, the guys all get laid by hot girls and do drugs while none ever have any real troubles, and what problems that show up are all of their own doing. Okay, so the Texan's son slows things down but we know all will work out after Ari has one, or three, emotional outbursts. At the end of this film all of characters are exactly the same as they were on the show. Vince is still living a golden life and Turtle is still wealthy and carefree. Eric may now have a baby but he has always been the responsible one. The one slight exception is that Johnny may have found some professional respect. This movie is basically just a season of episodes condensed into a 90 minute movie.
Although I have not seen this many cameo appearances since It's a Mad, Mad, Mad, Mad, World (1963), only fans of the show will like this film. My favorite bit is when Ari is making love to his wife and asks her, while humping, "Do you like it?". "Do you love it?" "Say it!" She finally answers, "I love Vince's new movie." Ari is still too stressed to finish but it is exactly what he wants to hear. As in the television show, Ari is the best thing about it. Vince, Eric, Johnny and Turtle need to go away, while Ari deserves his own film or at least his own television show.
Reviewed on:
November 1st, 2015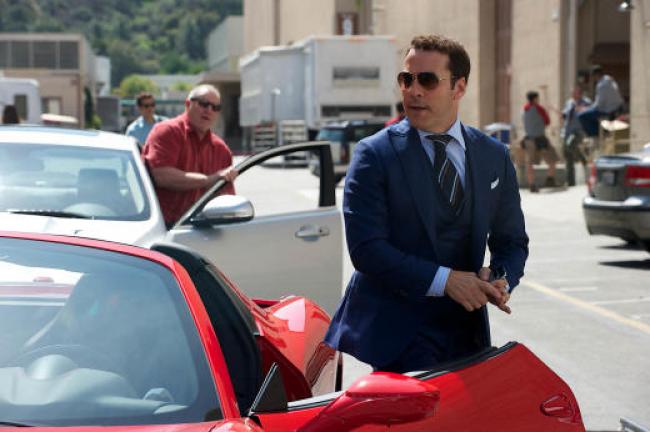 Jeremy Piven as Ari Gold in Entourage.
Having never seen an episode of the television series, I was curious what my reaction to the film would be. Would I want to go back and watch the series, or would the movie be enough? Turns out the latter case was the correct one. Watching yet another group of man-boys in a Hollywood movie isn't my idea of a good time, especially when they're this particular over privileged group of lunkheads. Like Eric, I found Ari Gold to be the only interesting character in the entire film.
As Eric said, there are enough subplots intertwined here to make up at least several episodes of a series. Each of these subplots revolves around the main plot, which is getting Vince's movie made. And since that was the only plot I cared about at all, these other storylines simply served as distractions, some more successfully than others. Basically though, they each play out like a male soap opera.
Vince isn't just the least sympathetic character, he's the least interesting as well. Although out of this group, that's not saying much. Turtle's storyline with Ronda Rousey is one of the more entertaining bits, but as Eric said, it never really goes anywhere apart from demonstrating that Ronda Rousey should do more films. Eric is supposed to be the nice guy, but he still gets the male fantasy moment of having sex with two women well out of his league, both in the same day, while an equally attractive woman is pregnant with his child. And the least said about Johnny Drama's masturbation caught on film storyline, the better.
Ari should definitely have been the star as he steals the movie. His personal life and his struggles to get the movie made provide the real story arc. Although he's still the same person he was when the film started, at least his circumstances have changed. As Eric said, the rest of these guys end the film pretty close to how they started it and frankly, even with Johnny's ending, I don't see him getting much respect.
The cameos do provide a little bit of entertainment or at least distraction, but eventually they start to grow distracting. There's so many of them that they take you out of the film and few of them provide more than simple recognition, making you say, "Hey, that's so-and-so."
Maybe this movie was just made for fans of the show, something I will never be. Hopefully this is the last we ever see of this group. The only way I'd want to see another sequel is if they go the way my brother has suggested and jettison the actual entourage and just make the story about Ari. According to the Hollywood Reporter, Piven was paid $5 million for his work on this film compared to the $2 million each of co-stars earned. Based on what each of them contribute to the story, I'd say that sounds fair.
Photos © Copyright Warner Bros. (2015)