Movie Review
Emma
Cupid is armed and dangerous!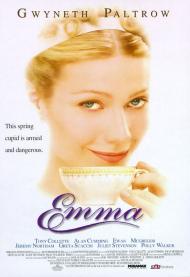 US Release Date: 08-02-1996
Directed by: Douglas McGrath
Starring
▸
▾
Gwyneth Paltrow

,

as

Emma Woodhouse
James Cosmo

,

as

Mr. Weston
Greta Scacchi

,

as

Mrs. Weston
Alan Cumming

,

as

Mr. Elton
Jeremy Northam

,

as

Mr. Knightley
Toni Collette

,

as

Harriet Smith
Ewan McGregor

,

as

Frank Churchill
Polly Walker

,

as

Jane Fairfax
Juliet Stevenson

,

as

Mrs. Elton
Sophie Thompson

,

as

Miss Bates
Phyllida Law

as

Mrs. Bates


Reviewed on:
June 12th, 2009
Paltrow at the piano. McGregor under the wig.
Often, I get it into my head to watch as many movies by a particular actor as I can. At one time it was Matt Damon and then Buster Keaton. Lately I have made it a mission to watch everything Ewan McGregor. The one thing I have noticed in watching so many of his films is his utter variety in roles. He has played in action movies, dramas, comedies and musicals. With Emma I find him in a costume drama.
Paltrow stars as matchmaker Emma in this British period piece. The movie opens with a marriage that she successfully helped orchestrate. She then immediately starts work on another couple, Harriet and Mr. Elton. First she talks Harriet out of a proposal from another man and then maneuvers Harriet and Mr. Elton towards each other. Things start to go awry when Mr. Elton confesses an attraction to Emma, and Harriet's first intended moves on to someone else. All the while Emma's best (male) friend, Mr. Knightley, offers her advice to quit meddling.
After nearly an hour of screen time, McGregor appears as Frank, and complicates things even more. Emma thinks he may be suitable for Harriet, but then believes him to be in love with her. Frank, however, already has plans of his own. With the pathetic wig McGregor is saddled with wearing, I cannot imagine anyone being attracted to him.
The best part of Jane Austen stories, is that the characters fall in love because of genuine attraction to each other. These proper folk never have sex let alone rarely kiss. In their circle it is all about manners. People are constantly complimenting each other, only to respond, "Your too kind." At one point Emma makes a minor breech in etiquette at a picnic and Mr. Knightley corrects her later when they are properly alone.
I have always thought of Paltrow as an adequate actress. She can get the job done, but is never too exciting, and sometimes is actually quite dull. Here however she is very lively and charming. Her delicate little smile is like a flower blooming to brighten a bland garden.
The entire movie is dialogue driven. I imagine this is one of the largest scripts Paltrow has ever had. She is in nearly every scene. At two hours running time and so many characters coming and going, I sometimes had a hard time figuring out who everyone was talking about at different times. I also had a hard time figuring out why they put McGregor in that wig? No wonder he has not done any more period films.
Reviewed on:
July 24th, 2009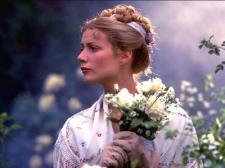 Gwyneth Paltrow charms as the title character in the Jane Austen classic, Emma.
I for one have always really liked Gwyneth Paltrow. She's far more than adequate certainly. She is definitely great here. Although Emma is conceited and always certain of her own correctness, you never dislike her and that is in large part due to Paltrow's charm.
What was funny to me about this movie is that I'd never read the book or seen another adaptation of it, except for 1995's modern update; Clueless. So where a lot of people watched Clueless and saw how it compared to Emma, I was watching Emma and figuring out which character was which from Clueless.
Like you Eric, I enjoyed the dialogue. I love the way they talk and the language they use. So often in Jane Austen's work there are two levels at work. What they're saying and what you hear out loud. Very rarely are they the same thing. The writers do a good job adapting her words, even in the scenes they added for the film. I enjoyed the archery scene between Emma and Knightley where they are scoring bulls-eyes in more ways than one.
Although obviously this is Paltrow's movie; appearing in pretty much every scene, the supporting cast is also quite good and features some familiar faces. Toni Collette, Alan Cumming, Greta Scacchi, and Jermey Northam all appear, along with Ewan McGregor as you mentioned Eric. McGregor's part is very small. Alan Cumming and Juliet Stevenson play husband and wife and provide a bit of comic relief.
So many of Austen's books have been successfully adapted into films that it's quite amazing. It's really a testament to her ability to create great and iconic characters that audiences can relate to them some 200 years after they were created. This might not be my favorite adaptation of her work (that honor would fall to 1995's Sense and Sensibility directed by Ang Lee and written by and starring Emma Thompson), but it is quite enjoyable and entertaining nevertheless. All except for McGregor's wig, that is. Seriously, what were they thinking?
Reviewed on:
January 24th, 2012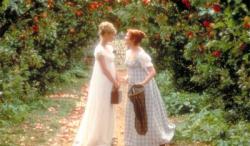 Gwyneth Paltrow and Toni Collette in Jane Austen's Emma.
As my brothers well know, I have always had an aversion to Gwyneth Paltrow. I find her annoying and bland, which is a difficult combination to pull off. Although I hate to admit it, I actually enjoyed her as Emma Woodhouse. In the socially rigid world of Jane Austen, she fits right in and she looks the prettiest I have ever seen her. She perfectly captures Emma's unwavering belief in her own sense of right and wrong.
This is a rather charming comedy of manners, where, as by brothers mentioned, you must listen close to catch the gist of everything being said, as well as whichever character is being gossiped about. Despite all of Emma's attempts at matchmaking it is quite clear from the beginning of the story which characters will wind up together. Although the romantic manner in which Emma first encounters Frank Churchill is meant as a ruse to mislead the audience (or reader). It is a classic Jane Austen chance meeting.
I agree that the supporting cast does a nice job. Alan Cumming is amusing as Mr. Elton, the central figure in Emma's matchmaking schemes, as is the scene stealing Toni Collette as the plain but sweet Harriet Smith. Real life mother/daughter Phyllida Law and Sophie Thompson (mother and sister of Emma Thompson) play Mrs. Bates and her daughter Miss Bates. The latter is a silly, bespectacled old-maid and a figure of pity. She says things like, "It left us speechless, quite speechless I tell you, and we have not stopped talking of it since."
The dialogue is quite clever. At one point Emma, speaking of Mr. Elton's new bride, says to Mr. Knightly, "I must throw a party for her. Otherwise everyone will feel at once how much I dislike her." Eric mentioned their exaggerated manners. Here's an example. Emma (to Mr. Elton): "Thank you for being so thoughtful." Mr. Elton: "No - thank you for thinking I am thoughtful."
This is definitely a dialogue driven movie where the characters rarely stop talking. Although I enjoyed it, the scenes begin to blend together after awhile. And the plot is really quite slight. Oh and I concur about McGregor's wig, it's truly a fright.

Photos © Copyright Miramax Films (1996)