Movie Review
Ella Enchanted
This Spring, all spell breaks loose.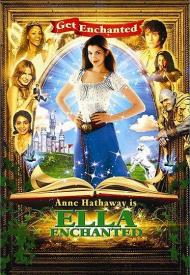 US Release Date: 04-09-2004
Directed by: Tommy OHaver
Starring
▸
▾
Anne Hathaway

,

as

Ella
Hugh Dancy

,

as

Prince Char
Cary Elwes

,

as

Edgar
Joanna Lumley

,

as

Dame Olga
Lucy Punch

,

as

Hattie
Minnie Driver

,

as

Mandy
Eric Idle

,

as

Narrator
Steve Coogan

,

as

Heston
Vivica A. Fox

,

as

Lucinda
Parminder Nagra

,

as

Areida
Heidi Klum

as

Brumhilda


Reviewed on:
October 9th, 2004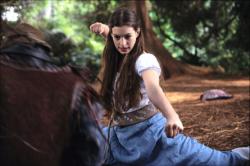 Anne Hathaway in Ella Enchanted.
Ella Enchanted is one of those movies that is better than it is given credit for. Perhaps the problem is that it appears to be a chick flick. My sons objected to watching it because they labeled it, "a girl movie." I convinced them it would not be bad and once it started, they watched the entire thing with great fascination.
The movie is a spoof of many fairy tales. It starts with Ella as a baby receiving a "gift" from a fairy. The fairy dislikes Ella's crying so she gives Ella the "gift" of obedience. Thus, she has to literally do whatever someone tells her to. Ella's mother dies and her father soon remarries a woman with two wicked daughters. The new stepsisters are hot for a Prince, but he only has eyes for Ella.
The movie moves along at a brisk pace with plenty of jokes about Ella's obedience thrown in. At one point, one of Ella's stepsisters wants Ella to be quiet so she says; "Hold your tongue Ella." Ella of course reaches up and literally holds her tongue.
Where the movie really surprises is that it is practically a musical. When Ella enters an elf village, the residents all come racing out of their homes singing, "Let us entertain you. Let us make you smile," Later, Hathaway does a spirited version of Queen's "Somebody to love."
The cast is loaded with recognizable Brits in small parts. Joanna Lumley from Absolutely Fabulous plays the wicked stepmother. Parminder Nagra of Bend it like Beckham plays Ella's best friend. Monty Python alumni Eric Idle, is the narrator. I am surprised I reviewed this movie before Scott.
The movie ends with a musical number, "Don't Go Breaking My Heart", and a moral. The moral, of course, is about how we control how we act, not someone else. I can think of worse lessons for my sons to learn.
Reviewed on:
February 17th, 2006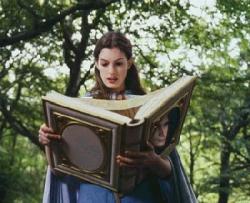 Anne Hathaway in Ella Enchanted.
This is a cute and charming, but ultimately forgettable, little movie. It has enough clever moments thrown in to keep it entertaining but it also has some problems.
I'll start with the problems. The guy playing Prince Char is blandly handsome but has no screen charisma to speak of. There are also a couple of bathroom humor jokes, including a baby peeing on a fairy and a giant farting on an elf, that are in questionable taste.
What works is the lighthearted tone initially set by Eric Idle and the swift pace at which the story travels. And Ann Hathaway proves she's a talented young woman. Until now Brokeback Mountain was my only exposure to her work. She may become a major star.
Like Eric, what with all the British stars on hand, I'm surprised I'm reviewing this movie before Scott. One he didn't mention is Lucy Punch, who plays Hattie. She was the young girl with the funny sneeze that gets upstaged by Annette Bening in Being Julia.
With a better script this could have been really special. Instead it's simply a pleasant distraction.
Reviewed on:
March 15th, 2009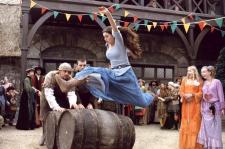 Sure, this is a chick flick, but there is plenty to enjoy no matter what your gender.
I can take a hint. I'll review it already.
To me this movie seemed like a live version of Shrek. It certainly shares the same Fractured Fairytale sensibility. Like the Shrek films there are lots of modern day elements referenced in a fairy tale setting along with a few pop songs. Also like Shrek this is one quite funny and fun.
Patrick, not only did Lucy Punch have a funny sneeze in Being Julia, she was also fingered up the duck pond in Hot Fuzz. There are quite a few British cast members here, but while most of them are recognizable, quite a few of them are wasted. Joanna Lumley's part could have been played by anyone and both Eric Idle and Minnie Driver are underused. Sometimes it seems as though the famous faces are there simply because they wanted famous faces crammed into every scene.
Okay, I'll be the one to say it. Did no one else besides me think of the sexual consequences of her "gift"? I mean how is Ella not pregnant 10 times over from doing everything the boys told her to do? I know, I know, this is a fairy tale, I'm not supposed to think of things like that.
This is a light little fun movie that is a girl's movie, but there's plenty of laughs to be enjoyed by everyone, no matter what your gender.
Photos © Copyright Miramax Films (2004)