Movie Review
Elizabeth
Declared illegitimate aged 3. Tried for treason aged 21. Crowned Queen aged 25.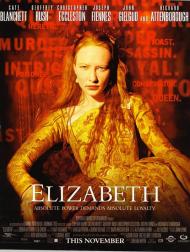 US Release Date: 11-22-1998
Directed by: Shekhar Kapur
Starring
▸
▾
Cate Blanchett

,

as

Elizabeth I
Geoffrey Rush

,

as

Sir Francis Walsingham
Christopher Eccleston

,

as

Duke of Norfolk
Joseph Fiennes

,

as

Robert Dudley, Earl of Leicester
Richard Attenborough

,

as

Sir William Cecil
Emily Mortimer

,

as

Kat Ashley
John Gielgud

,

as

The Pope
Daniel Craig

,

as

John Ballard
Fanny Ardant

,

as

Mary of Guise
Eric Cantona

,

as

Monsieur de Foix
Vincent Cassel

,

as

Duc d'Anjou
Kathy Burke

as

Queen Mary Tudor


Reviewed on:
April 15th, 2009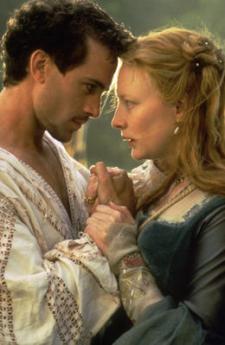 Dudley and Elizabeth.
The part of Queen Elizabeth may very well be Cate Blanchett's signature role. Although she has gone on to play many different characters in many successful films, it is as the British Queen that she may forever be attached to. Elizabeth has been played by Bette Davis and Judy Dench, but Blanchett has made the role hers.
"My sister was born of that whore, Anne Boleyn! She was born a bastard! She will never rule England!" Screamed Queen Mary of her half sister Elizabeth. So fearful of her, she had her arrested and a death warrant written up. Mary truly hated her. "When I look at you I see nothing of the king, only that whore, your mother. My father never did anything so well as to cut off her head." Fate however, stepped in and Mary died before signing the warrant, and Elizabeth became queen.
Unprepared to rule, Elizabeth learned on the job. At first it was suggested that she get married. "Aye, but marry who, Your Grace? Would you give me some suggestion? For some say France and others Spain, and some cannot abide foreigners at all. So I am not sure how best to please you unless I married one of each." Elizabeth is however, already in love with the Earl of Lancaster, Robert Dudley. "Robert, you know you are everything to me." She tells him early on.
Elizabeth learned to make the tough decisions, and hardened herself to the choices she had to make. In the process her relationship with Robert fell apart as he betrayed her. "I am not your Elizabeth. I am no man's Elizabeth. And if you think to rule here, you are mistaken." She tells him and then adds, "I will have one mistress here... and no master."
If you cannot already guess, Elizabeth is filled with great dialogue. Blanchett gets to deliver some very memorable lines. "I am my father's daughter, and I am not afraid of anything." "Does not a queen sit under the same stars as any other woman?" "I have no desire to make windows into men's souls. I simply ask, can any man, in truth, serve two masters, and be faithful to both?" Are just some of the juicy bits she gets to deliver. It is no surprise that she was nominated for an Academy Award for best actress.
Elizabeth is not for everyone. It is a costume drama that runs just over two hours. There is a little violence and sex, but the story is really based around the dialogue. This film is for the mature movie crowd.
Reviewed on:
May 19th, 2010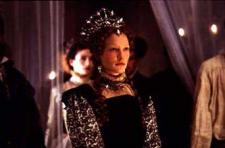 Cate Blanchett as Queen Elizabeth in Elizabeth.
To me this movie plays out like a renaissance Godfather. Elizabeth is Michael Corleone taking over the family business and she must kill all her enemies in one fell swoop to consolidate her power. Geoffrey Rush plays the part of consigliere, advising the young queen in how best to take the reigns of England from the hands of her lords.
Also like The Godfather, this is the movie that made its lead a star. Blanchett probably will always be known for this part and that's partly because she has this very natural regal bearing. She has the perfect look and voice for it. She's beautiful but in the manner of fine porcelain and her voice is rich and commanding. In reality, royalty is much more human, but Blanchett is the romanticized version.
Although his part isn't as dramatic, Geoffrey Rush is great as the deadly Walsingham. You wouldn't normally think of him as an intimidating or sinister actor, but he's perfect in this role. He looms over a good portion of the movie, dressed all in black and lurking in the shadows. He wouldn't have been out of place in the court of Henry II.
The script is great and the cast uttering the lines are terrific; a virtual who's who of English characters actors, but the look of the movie is also great. The costumes and the sets are detailed and authentic. Even the lighting is well done. I enjoyed the way the interiors of the castles remain dark and gloomy, lit only by torches and candlelight, unlike some movies that display castles as brilliantly lit as if by magic.
I do agree Eric that this movie is a bit more sophisticated than your average Hollywood flick, but it's not a Jane Austen, drawing room, costume drama. There are murders, conspiracies, plots and treason. It's also the birth of a movie star.
Reviewed on:
March 6th, 2012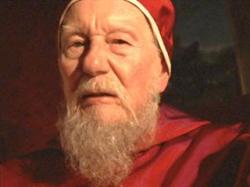 John Gielgud as Pope Julius II in Elizabeth.
With the possible exception of Cleopatra, England's Queen Elizabeth I is probably the most commonly portrayed female historical figure in movie/television history. The great Sarah Bernhardt famously brought her to the screen way back in 1912. In addition to the actresses Eric already mentioned, Vanessa Redgrave and Helen Mirren have both played the famous British monarch.
The role is so juicy that some actresses played it more than once. Flora Robson, Bette Davis (my personal favorite), and Glenda Jackson all wore that red fright wig and white pancake makeup on more than one occasion. Quentin Crisp even played her in drag in Orlando. In a way the part is like the female equivalent to Napoleon Bonaparte. We have such an indelible image of them in our minds that as long as the actor or actress wears the proper accoutrements, has the accent down, and carries themselves in a regal manner, they can pull it off.
Cate Blanchett certainly holds her own with these other women (including Crisp) but I hardly think she makes the role hers. Although she deserves credit for not relying on the aforementioned iconic look of Queen Elizabeth I that we see in historical paintings and portraits and that pretty much every other actress has taken full advantage of. It isn't until the final reveal that we see her in all her glory. It's a bit like when Anakin Skywalker makes his first appearance as Darth Vader in The Revenge of the Sith.
From a visual standpoint this movie is flawless. I agree with Scott about the sets and costumes. They are impressively authentic looking and the cinematography is likewise gorgeous. In addition to Best Actress, Elizabeth was Oscar nominated in all three of those categories and it won for Best Makeup.
The entire cast is good. It's filled with famous faces, including a young Daniel Craig near the beginning of his career and a 94-year-old John Gielgud in his final feature film appearance.
Eric and Scott both loved the quotable dialogue. I wasn't quite as impressed with it as they were and the pacing of the story could have been better. Although I think the final scene is brilliant when the Queen finally appears in her full regalia and utters those famously ironic words, "I have become a virgin." Yet and still, if I want to watch a great historical costume drama with juicy dialogue, I'll choose The Lion in Winter over this movie any day.
Photos © Copyright Polygram Filmed Entertainment (1998)