Movie Review
Eight Men Out
The inside story of how the national pastime became a national scandal.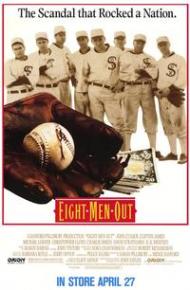 US Release Date: 09-02-1988
Directed by: John Sayles
Starring
▸
▾
John Cusack

,

as

Buck Weaver
Clifton James

,

as

Charles Comiskey
Michael Lerner

,

as

Arnold Rothstein
Christopher Lloyd

,

as

Sleepy Bill Burns
John Mahoney

,

as

Kid Gleason
Charlie Sheen

,

as

Hap Felsch
David Strathairn

,

as

Eddie Cicotte
D.B. Sweeney

,

as

Shoeless Joe Jackson
Michael Rooker

,

as

Chick Gandil
Don Harvey

,

as

Swede Risberg
Bill Irwin

,

as

Eddie Collins
John Anderson

,

as

Judge Kenesaw Mountain Landis
Studs Terkel

,

as

Hugh Fullerton
James Desmond

,

as

Smitty
John Sayles

,

as

Ring Lardner
Barbara Garrick

,

as

Helen Weaver
Jace Alexander

,

as

Dickey Kerr
Gordon Clapp

,

as

Ray Schalk
Richard Edson

,

as

Billy Maharg
Clifton James

,

as

Charles Comiskey
Perry Lang

,

as

Fred McMullin
Michael Mantell

,

as

Abe Attell
James Read

,

as

Lefty Williams
Kevin Tighe

as

Sport Sullivan

Reviewed on:
March 20th, 2011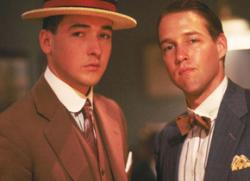 John Cusack and D.B. Sweeney in Eight Men Out.
In "The Great Gatsby", F. Scott Fitzgerald wrote, "I remembered, of course, that the World's Series had been fixed in 1919, but if I thought of it at all I would have thought of it as a thing that merely happened, the end of some inevitable chain. It never occurred to me that one man could start to play with the faith of fifty million people – with the single-mindedness of a burglar blowing a safe." Eight Men Out tells the story of exactly how that happened. It's not the most entertaining of movies, but anyone interested in baseball, especially the history of baseball, will find it fascinating.
In 1919, the Chicago White Sox were the best team in baseball. They were also owned by Charles Comiskey, a major tightwad who drastically underpaid his players. Their bonus for winning the pennant that year was a crate of flat champagne. When aging pitcher Eddie Cicotte was promised a $10,000 bonus if he won 30 games, he was benched when he reached 29 wins. Even given all that, it still doesn't excuse the player's actions, but it does at least make it understandable.
It was Chick Gandil, the Sox first baseman, who was the player's connection to the gamblers, who in turn were bankrolled by mob figure, Arnold Rothstein. Gandil roped in 5 other players, including the two top pitchers on the team. Another player overhears of the deal and demands to be cut in, even though he likely won't play. The eighth player, Buck Weaver, refuses to participate, but he also keeps what he knows a secret.
The games of the world series are filmed entertainingly. These players are no actors and their antics on the field are far too blatant and obvious not to be noticed. Their poor play and rumors of large bets being placed on the Reds combine to cause suspicion among members of the press. Buck and the other players, who don't know for sure about the fix, are also aroused and angry about the lackadaisical play by their teammates.
Shoeless Joe Jackson was probably the team's most famous player, both because he was the team's best hitter and because of the movie Field of Dreams. His participation in the scandal has been disputed in real life, but here in the movie he's shown to be more ignorant and naive than anything else. You're never really sure how much he knows about what's going on around him.
It is Buck who is shown as the most sympathetic of the players. He's stuck between a rock and a hard place. He doesn't participate in throwing the game, but he doesn't want to rat out his players either. All he wants to do is play baseball. His is the most human angle of the entire movie and the most personal. The rest of the movie plays out more like a newspaper story. We learn all the details of what happened, but we're never really drawn in or emotionally invested. There's very little sentiment involved in the story.
Some baseball movies are universally themed, often using the sport as a metaphor for life. Eight Men Out is much more literal. It still demonstrates a love of the game, especially through Buck, but it's historical rather than metaphorical. It's difficult to see how non fans of the game would find much to enjoy, but for baseball fans, this is at least of historical interest.

Reviewed on:
September 3rd, 2013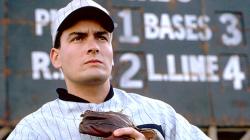 Charlie Sheen in Eight Men Out
In 1919, baseball was the national pastime without question. Many of the players were household names such as the obnoxious headline making Detroit Tiger Ty Cobb. In Boston, an overweight pitcher with a 2.22 ERA the prior year transitioned to the outfield and set a single-season home run record with 29 dingers. A fixed World Series was a loss of innocence to those who treated the game as something sacred. Scott's quote from The Great Gatsby describes just that feeling. The film best exemplifies that emotion when the boy practically cries to Shoeless Joe Jackson, "Say it ain't so Joe." That line is from an actual article written at the time.
As Scott wrote, Eight Men Out is more historical than metaphorical. I agree that this film is not going for any sort of allegory, but it should have. In 1920, the country was in a state of a major moral shift. Movies, cars, alcohol, cocaine and condoms were changing the fabric of a nation's virtue. The story of these ball players taking a dive for money could be made very easily to represent the moral shift in the country at the time.
I am one of those people that first heard of Shoeless Joe Jackson from Field of Dreams. It sparked my interest in seeing this film. Unfortunately, this movie is more facts that fascinating. Eight Men Out should have told the story from a single player's perspective. That way we could have been brought into the proceedings in a more personal manner, allowing the audience to become emotionally attached to someone in the film.
Not only does this film represent the times, it also shows us the future. All Star Cincinnati Reds player Pete Rose was banned from baseball due to gambling. We have had the steroid controversy, calling into question stats that fans cherish. Baseball is still sacred to many of us, but we are now less shocked by the scandals than we were in 1919.
Reviewed on:
November 20th, 2013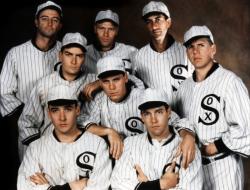 The notorious eight in Eight Men Out.
Back in the late 80s and early 90s John Sayles was my favorite independent filmmaker. I was introduced to his films by an older coworker who showed me Return of the Secaucus Seven, The Brother from Another Planet, Matewan, and this movie. Several years later we saw City of Hope when it came out in 1991. His movies are always intelligent and interesting. He writes fairly complex scripts with numerous characters, multilayered plots and he has a good ear for dialogue. I didn't really appreciate this movie when I first saw it as a young man, but seeing it again today was a whole new ball game (excuse the obvious pun).
Ironically, I'm nowhere near the baseball fan my brothers are but I enjoyed this movie far more than they did. In fact it is now my favorite baseball movie of all time. It took Sayles 11 years to get it made and it was clearly a labor of love. He was originally planning on giving himself a small role as a White Sox player but by the time shooting began he deemed himself too old. Instead he cast himself as sportswriter Ring Lardner, with Studs Terkel as Hal Fullerton. These two writers act as a sort of Greek chorus, cynically bouncing wisecracks back and forth. "Nothing but fastballs." "Nice sloow ones."
For someone like myself with little knowledge of baseball history (I never knew, for example, that before the 1950s outfielders dropped their gloves on the ground and left them there while their team was at bat) this movie gives you the facts about that infamous World Series of 1919 in an easy to follow manner. On that point I agree with my brothers. However, I strongly disagree that this movie is dry or lacking in entertainment value. The characters are all vividly drawn, the acting is solid (especially David Strathairn as the morally challenged Eddie Cicotte) and the period setting is accurately and colorfully recreated right down to the way the players speak.
The baseball scenes are well done. Watch Charlie Sheen slide into third or John Cusack charge an outfield fly ball. They both look at home on the field. Speaking of Cusack, as Buck Weaver he represents the game's innocence. As Scott wrote, he is the most sympathetic of the eight crooked ballplayers. He spent the rest of his life bitterly trying to clear his name and get reinstated. All to no avail. Given the fact that he never actually attempted to throw any of the games, he certainly paid the highest price of any of the men.
Unlike my brothers, I was emotionally invested in these characters, flaws and all. And I likewise disagree about the allegorical nature of the movie. I think it is saying (without actually saying it) that there have always been men interested in a fix, cheating at gambling to make an easy buck. It was only the rubes of the world whose innocence was lost that long ago autumn. In the 1920s human vices did begin to creep out from the shadows but whether or not this World Series was a cause or merely a symptom of this change is up for debate.
One of my favorite lines from the movie is spoken by Kevin Tighe as Sport Sullivan. "You know what you feed a dray horse in the morning if you want a day's work out of him? Just enough so he knows he's hungry." This is basically the policy White Sox owner Charles Comiskey used on his players, which, right or wrong, lead to the biggest scandal in the history of modern sports. Eight Men Out, based on Eliot Asinof's 1963 novel of the same name, tells their story in a fair and absorbing manner.
Photos © Copyright Orion (1988)
Related Review