Movie Review
An Education
From Nick Hornby author of About a Boy and High Fidelity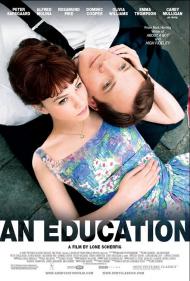 US Release Date: 10-09-2009
Directed by: Lone Scherfig
Starring
▸
▾
Carey Mulligan

,

as

Jenny
Peter Sarsgaard

,

as

David
Alfred Molina

,

as

Jack
Cara Seymour

,

as

Marjorie
Olivia Williams

,

as

Miss Stubbs
Matthew Beard

,

as

Graham
Dominic Cooper

,

as

Danny
Emma Thompson

,

as

Headmistress
Sally Hawkins

,

as

Sarah
Rosamund Pike

as

Helen

Reviewed on:
January 12th, 2010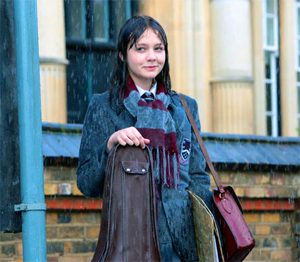 This will be the movie that launches Carey Mulligan into stardom.
An Education is a time capsule and a coming of age story for one English teenage girl in the 1960s. Although it doesn't quite work on all levels, it is held together very capably by the charming Carey Mulligan in the lead role.
The year is 1961 and 16 year old Jenny is leading a very conventional life in a pre-swinging sixties London Suburb. Her parents are protective and provincial and she spends her days preparing to get into Oxford. While waiting in the rain one day she is picked up by David (Sarsgaard), a charming man of around 30 who offers her a ride home in his car. Quite quickly David is taking her to concerts, to dinner, to the countryside and eventually (on her 17th birthday) to bed. That David and his charming friends aren't all that they seem is obvious, at least to the audience. It's when Jenny begins to realize it as well that her real education begins.
It's easy to see why Jenny is so easily seduced. The life David shows her is quite glamorous compared to her own. It also seems quite glamorous by today's standards with the men all in suits and the ladies done up in fancy dresses and everyone swilling champagne. What's not so easily understood is how her parents are so quickly seduced. Yes, they're not the most experienced of people, but it doesn't take a genius to see what David wants and yet they never ask why someone of his age takes such an interest in their young daughter. If they have different motives from the start; such as wanting her to be with David so she can marry into money, it's never made entirely clear. They come across as old fashioned, conservative, but basically well meaning parents and for them to never question David is a plot flaw.
The mood of the film is fairly light. Jenny has the affair and despite the darker side of her new life she never stops having a good time. Even when everything comes out at the end the tone remains light. Very few consequences are shown for any of the actions she has taken. I'm not suggesting the film should have become dark and depressing, but it's, as Jenny says at the end of the film, "...as if I'd never been." This is no cautionary tale.
A big part of what makes this movie work is Carey Mulligan. Twenty-four in real life, she plays a teenager quite convincingly. The only thing I'd seen her in prior to this was the episode "Blink" of Doctor Who. I have no doubt I haven't seen the last of her though. She charms not only David, but the audience as well.
The rest of the cast is equally good. Sarsgaard does a decent enough English accent and plays the part of charming seducer quite well. His character is someone with obviously unresolved issues and a few of the scenes between he and Jenny might make you feel uncomfortable. Rosamund Pike is a scene stealer as the ditzy blonde bit of arm candy who is dating David's friend. She gets to deliver the movie's funniest lines.
An Education is an entertaining film and a showcase for Mulligan's talents. It's not a perfect movie, but it is an enjoyable one.

Reviewed on:
June 15th, 2010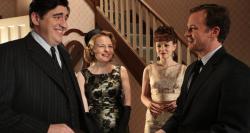 You can trust a 30 year old to date your 16 year old, as long as they know C. S. Lewis.
An Education is brilliant in that Jenny learns from everyone around her. Her parents, especially her father, push her schooling. They give her a Latin dictionary as a birthday gift. The teachers get wind of her affair and attempt to steer her away from it. David takes her virginity, to which Jenny remarks afterwards to David, "It's funny though, isn't it? All that poetry and all those songs, about something that lasts no time at all."
Helen teaches her that ignorance can be bliss. She seems intellectually stupid compared to Jenny, "Someone told me that in about 50 years, no one will speak Latin, probably. Not even Latin people." Yet Helen, knows how to work her situation. She gets Danny to buy her nice clothes and gifts, and she does not question the means in which he gets the money to do so.
Like Scott I was bothered by the lack of parental inquiry, and also the schools lack of response. Why did they not contact Jenny's parents and let them know of the relationship? Jenny bragged to her friends about the affair. It was hardly a secret. I liked that the teachers were proven to be correct, but her parents seemed far too desperate for a connection to an exciting life. David seduced them as well as Jenny, but it hardly seems realistic.
An Education is a girl's coming of age story, and I would have bought into it wholeheartedly if only the adults would have reacted more as adults and not snotty peers. Her parents are easily taken in by some name dropping, "Knowing a famous author is better than becoming one. It shows you're connected." Her father gushes. The teachers are made to seem almost jealous of Jenny's affair. Teachers and more importantly parents, exist to protect the young from getting into situations that Jenny finds herself in.
Reviewed on:
April 2nd, 2014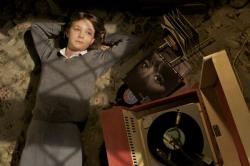 Carey Mulligan as Jenny gets An Education.
Yes, parents and teachers are supposed to protect children but they are only human and subject to poor judgment just like anyone else. This movie was based on a memoir by British journalist Lynn Barber. She wrote about a two year affair she had with a corrupt older man while attending Lady Eleanor Holles School in London. This man used a false name and he successfully deceived both Barber and her parents. Unlike my brothers, I found the storyline quite convincing. Jenny's parents' gullibility and/or culpability in the affair isn't exactly a flattering portrait of parental responsibility but it is nonetheless believable.
Although it features many scenes in school and of Jenny studying to get into Oxford, the education referred to in the movie's title is one in the school of life. Jenny earns a degree at quite a young age. In high school she was already living a cosmopolitan, adult life far beyond anything any of her suburban peers were experiencing. Her female teachers view her with a mix of pity, contempt and envy. Emma Thompson drips with bitterness in her few brief scenes.
And though, as Scott pointed out, there aren't any lasting consequences to Jenny's girlish indiscretion, this fact adds to the verisimilitude of the story. There is no invented pregnancy or suicide attempt for the sake of melodrama. Jenny falls in love, gets kicked in the teeth by reality, then picks herself up and carries on.
The villain in the story is David. He's a womanizing opportunist, and petty thief, who takes advantage of a young girl's aspirations and naivete. Like so many young women, Jenny is book smart but completely lacking in an understanding of the male mind. As Eric mentioned, the far less traditionally educated Helen, has the equivalent of a PHD in the study of men. By the end of the movie Jenny is well rounded in both types of educations.
Carey Mulligan gives a rapturous performance as Jenny. She is a strong minded person yearning to break out of the confines of her suburban, middle-class life, who trusts her instincts a bit too much. She follows her heart and is complicit with David in fooling her parents. She blithely ignores every warning sign that David isn't who he seems to be because she is having so much fun on the ride. The scene where she meets David's wife is emotionally brutal. The look on Mulligan's face says it all. It is as if she were just punched in the stomach. It is a lesson learned the hard way, that men often lie to get sex.
This movie vividly captures a time period and a way of life. It features fine acting and tells its story in a straightforward manner. An Education may not be a true cautionary tale but it most definitely has a lesson to teach.
Photos © Copyright Sony Pictures Classics (2009)