Movie Review
Educating Rita
Sometimes students end up being the best teachers.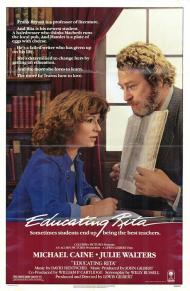 US Release Date: 09-21-1983
Directed by: Lewis Gilbert
Starring
▸
▾
Michael Caine

,

as

Dr. Frank Bryant
Julie Walters

,

as

Rita Susan White
Michael Williams

,

as

Brian
Maureen Lipman

,

as

Trish
Jeananne Crowley

,

as

Julia
Malcolm Douglas

,

as

Denny
Godfrey Quigley

,

as

Rita's Father
Dearbhla Molloy

,

as

Elaine
Patrick Daly

,

as

Bursar
Philip Hurd-Wood

as

Tiger

Reviewed on:
June 28th, 2011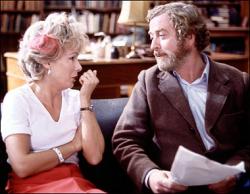 Julie Walters and Michael Caine in Educating Rita.
Rita, as played brilliantly by Julie Walters, is a hairdresser in Liverpool who is looking for more from life than just staying at home with her husband and raising a baby. She enrolls in an Open University course as a way of broadening her mind and finding an escape from what she sees as her humdrum day-to-day life. Her tutor, Frank, is an alcoholic Professor who once had aspirations of being a poet, but now merely floats through his job in an alcoholic stupor. Rita brings a breath of fresh of air to his life and their relationship soon becomes something of a Pygmalion affair. Although I should add, despite it being occasionally described as a romantic comedy, this isn't a love story, although you do get the fleeting impression that Frank wouldn't mind if it moved in that direction.
Both Walters and Caine received Oscar nominations for their performances and both won the BAFTA and Golden Globe. All of the accolades are well deserved as, despite a few supporting characters, this is a two person film. Indeed, the play upon which it is based literally only featured those two characters, but it has been broadened a bit here to allow more than just the one set. Still, it is the scenes in Frank's office between the two of them that are the highlights of the film. Their banter is both funny and occasionally touching. The script also received a Best Adapted Screenplay nomination.
Although this a very British film, with its class distinctions, it is also fairly universal. All of us at one time or another has longed for more from life. Or, as Rita's mother says in the film, "There must be better songs to sing than this."
The script also says something about education and what it means to be educated. Rita wants to learn, but in her eagerness to learn, she accepts everything that she is taught. When she reads something that is considered to be great literature, she accepts it and what the experts have to say about it, without really forming her own opinions about it. Frank sees this and he hesitates to teach her because he doesn't want her to lose the things that make her unique.
It is the humor in the film that keeps any underlying message or themes from becoming too heavy handed. The sentimentality is handled in a very British way and therefore kept to a minimum, where in an American film, it might have become sappy or cloying. That's not meant as a criticism of American films, but merely an acknowledgement of the differences between the way Americans and the British handle blatant displays of emotion.
The old saying that money can buy happiness is of course false. What it buys you is freedom. The same can be said of education. It doesn't automatically make you happier or more fulfilled, but it can free you from what you've known by broadening your horizons and giving you the knowledge that you have a choice with what to do with your life; whether it is pursuing further education, a career, or being a housewife and mother. So long as you have the choice to make that decision, than any one of those options can be fulfilling. That's the real education Rita receives and it's a lesson for all of us.

Reviewed on:
November 9th, 2011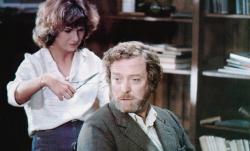 Julie Walters taking ten years off Michael Caine in Educating Rita
Julie Walters as Rita is one of the most likeable, entertaining characters to grace the big screen. She played Rita in the original stage production and made her film debut here. Michael Caine, playing Frank, describes her as, "Funny, charming, delightful." I also noted that Mrs Weasley once had a nice figure.
Scott wrote of the meaning and growth of the characters. We witness these two opposites come to understand and relate to each other in ways we never saw coming. They grow because of each other. The real treat though, is in the dialogue. During an early tutorial session, Rita asks Frank if he is married. He responds, "For God's sake woman, is my wife at all relevant?" Taking the question literally, Rita comes back with, "You should know, you married her."
I laughed loudest when Rita frantically runs across the campus and raps on Frank's classroom door. Thinking it must be an emergency, Frank opens the door to an out of breath Rita, who says, "Last night Frank I went to the theater." "My God! I thought it was something serious?" asks Frank "It was," answers Rita, "It's Shakespeare."
The real growth of their relationship becomes apparent in the second act when Frank starts to see that Rita is getting along and learning without him. In the first act Rita clearly needs Frank. In the second act, Frank needs Rita. He found a purpose in educating Rita and gets a bit lost when she does not need him as much. The second act is far more dramatic as Frank and Rita readjust to each other on a new level. Frank seeing Rita grow is like a parent coming to see that their adult child is in fact an adult.
Educating Rita is a rare film in that education is the goal of the main character. Rita is common but she has her sights on improving herself. She could have easily settled into a life as wife and mother, and she may one day. She just wants other options first. This film shows that education can create opportunity and self improvement. What a unique message for an entertaining movie.
Reviewed on:
December 22nd, 2011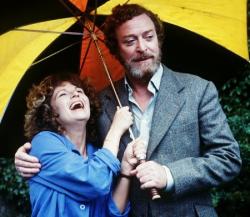 Julie Walters and Michael Caine in Educating Rita.
I agree with most of what my brothers wrote. This is a wonderfully entertaining film with two sublime central performances. The one thing I didn't get though is how Frank changed. He is really the same person at the end that he was at the beginning. He is off to teach in Australia for two years. It hints that he may finally get his drinking problem under control (and thanks to Susan he now has a new hair cut) but he is essentially the same person he was at the start of the movie. Susan is the one who has grown profoundly. Therefore, I found the ending to be both joyful and tinged with sadness.
The name "Rita" symbolizes their relationship. In her ignorance and eagerness to learn she adopts the name after the author Rita Mae Brown. Frank is the only person who calls her by that moniker. By the end of the movie Rita doesn't exist anymore. She has (in a sense) graduated from Frank's tutoring and moved on with her life. She doesn't need him any more. Frank doesn't know Susan, so it only makes sense they go their separate ways.
Julie Walters is brilliant. She embodies the British working class better than any other actress I can think of. She so poignantly displays the yearning for self improvement in her character. Watching her find herself is the real joy of the movie. For the fun of it try counting the many different hair styles she wears. Anyone can relate to her struggles, self-doubts and ultimate perseverance. It is truly a great performance.
Scott I agree with you that had this been an American production it would have most likely turned sappy and cloying. Especially when you consider that the producers originally wanted Paul Newman as the professor and Dolly Parton (!) as a backwoods Rita.
The drama and humor are well-balanced. This movie has Rita making cracks about one of her hair salon customers looking like a muppet and it also features an attempted suicide. Julie Walters wears the masks of tragedy and comedy equally well. Michael Caine gives yet another sterling performance in a career filled with them but Educating Rita belongs body and soul to Miss Walters. Brava!!!

Photos © Copyright Columbia Pictures (1983)