Movie Review
Edge of the City
Tense drama of frightened men!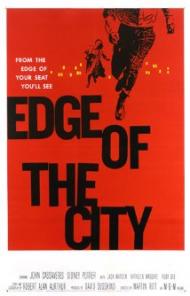 US Release Date: 01-27-1957
Directed by: Martin Ritt
Starring
▸
▾
John Cassavetes

,

as

Axel Nordmann
Sidney Poitier

,

as

Tommy Tyler
Jack Warden

,

as

Charles Malik
Kathleen Maguire

,

as

Ellen Wilson
Ruby Dee

,

as

Lucy Tyler
Val Avery

,

as

Brother
Robert F. Simon

,

as

Mr. George Nordmann
Ruth White

,

as

Mrs. Nordmann
William A. Lee

,

as

Davis
John Kellogg

,

as

Detective
David Clarke

,

as

Wallace
Estelle Hemsley

as

Lucy's Mother
Reviewed on:
January 25th, 2015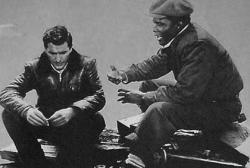 John Cassavetes and Sidney Poitier in Edge of the City.
Edge of the City gave Sidney Poitier the chance to play the same role in a feature film that he had previously played on television. In 1955 he starred in the final episode of the legendary live anthology series The Philco Television Playhouse, entitled A Man Is Ten Feet Tall. Although the title was changed and the script rewritten by MGM for the big screen, they kept the basic storyline intact. Poitier was the sole actor from the television version to repeat their role for the movie.
John Cassavetes plays a drifter who gets a job on the Manhattan waterfront docks and is befriended by Sidney Poitier's character – one of the few black stevedores in a position of authority. Jack Warden plays a racist coworker who makes trouble over their budding friendship. It has a tight little script by Robert Alan Aurthur that's well acted and packs an emotional wallop. On the disappointing side is the final scene, a blatant ripoff of On the Waterfront, with Cassavetes attempting to make like a welterweight Brando.
The relationship between Axel (Cassavetes) and Tommy (Poitier) was unusual in 1950's America. This was more than merely a depiction of a close friendship between a black man and a white man -something that was rare enough in and of itself in those days- in this particular case the white man was clearly subservient to the black man. From his first day on the docks, Axel is taken under Tommy's wing. Poitier, as Tommy, overflows with a warmness and joviality that seems completely natural. He treats Axel like a kid brother and Axel openly admires and emulates Tommy.
Tommy inserts himself into Axel's life and Axel welcomes the attention. He soon comes to rely on his friend for everything from a meal and a night out, to advice and/or emotional support. Tommy helps Axel find an apartment near to where he and his family live in Harlem, and he even sets Axel up on a date with a friend of his wife's. At first Axel seems quite reticent and unsure around her (Kathleen Maguire). The movie comes close to suggesting that Axel might be (whispering) gay. The Production Code retained enough teeth in 1957 to keep it at nothing more than mild innuendo that can be as easily overlooked as spotted, depending on one's disposition.
Cassavetes gives a sensitive portrait of a troubled young man whose social conscience begins to blossom through his friendship with a black man. He conveys Axel's mental anguish convincingly. He's quite good in the scene where he confesses his culpability to Tommy's wife - although Ruby Dee steals it away from him with the intensity of her pain and rage during an explosive emotional outburst. Prominent early black actress Estelle Hemsley -born in 1887 she became a star of both stage and screen- has a small but memorable part as Ruby Dee's mother.
Edge of the City was shot on location in Manhattan to great effect. The gorgeous black and white cinematography vividly captures certain parts of the city, including a West Side railroad yard and St. Nicholas Terrace in Harlem, as they looked when Eisenhower was in the White House. Martin Ritt would go on to direct many famous films including The Long, Hot Summer (1958), Hud (1963), The Spy Who Came in from the Cold (1965), Sounder (1972), Norma Rae (1979) and Nuts (1987). This gritty little urban drama was his very first feature film as director. It garnered two BAFTA nominations: Best Film from any Source, USA and Best Actor, for Poitier (neither won).
These many decades later, Edge of the City is still worth a look. It remains a gripping drama that, with the passing of time, has become something more. It's now a valuable time capsule of mid-twentieth century American race relations and a priceless record of how the borough of Manhattan looked way back when.
Photos © Copyright Metro-Goldwyn-Mayer (MGM) (1957)
Related Review