Movie Review
Eddie the Eagle
Win or lose, always aim high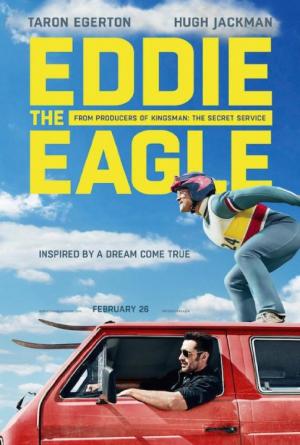 US Release Date: 02-26-2016
Directed by: Dexter Fletcher
Starring
▸
▾
Taron Egerton

,

as

Eddie Edwards
Hugh Jackman

,

as

Bronson Peary
Tim McInnerny

,

as

Dustin Target
Jo Hartley

,

as

Janette
Keith Allen

,

as

Terry
Jim Broadbent

,

as

BBC Commentator
Tom Costello Jr.

,

as

Eddie (10 years old)
Jack Costello

,

as

Eddie (15 years old)
Christopher Walken

,

as

Warren Sharp
Daniel Ings

,

as

Zach
Graham Fletcher-Cook

,

as

Appleby
Ania Sowinski

,

as

Carrie
Edvin Endre

,

as

Matti Nykänen
Mads Sjøgård Pettersen

,

as

Erik Moberg
Marc Benjamin

,

as

Lars Holbin
Iris Berben

,

as

Petra
Rune Temte

as

Bjørn the Norwegian Coach

Reviewed on:
February 29th, 2016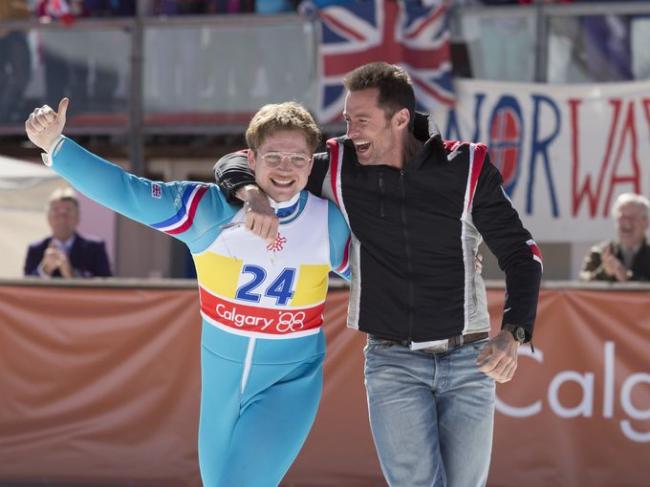 Taron Egerton and Hugh Jackman in Eddie the Eagle.
Eddie the Eagle is an enjoyable, but cliched, feel good movie based loosely on the real life of Eddie "The Eagle" Edwards. It hits all the notes you'd expect from a Hollywood sports movie, but thanks in large part to its two stars, Taron Egerton and Hugh Jackman, it manages to charm its way past its unoriginalty.
Egerton plays the title character, an uncoordinated dreamer from England who longs to be in the Olympics. After failing to make the British Downhill Ski Team, he decides to switch to Ski Jumping since there will be less competition. He doesn't let a little thing like the fact that he has no funding or experience get in his way. He packs his bags and heads to Europe to train for the upcoming 1988 Olympics. After a few jumps, mostly unsuccessful, he befriends Bronson Peary (Jackman), a washed up former ski jumper, who reluctantly agrees to train Eddie, mainly to keep Eddie from accidentally killing himself. Together these two underdogs fight the odds to make it to the Olympics, where Eddie proves you don't have to come in first to be a winner.
The upbeat optimism embodied by Eddie and played so well by Egerton is the film's greatest strength. You can't help but like and empathize with Eddie. He's an innocent with a single minded determination that surmounts any odds. Jackman plays the world weary, ex-sportsman well and he shares a nice buddy chemistry with Egerton. Sure, their journey together is filled with cliches, but they still make it fun. You know the story, the poor underdog battles the odds, while the rich and snooty stand in his way, but that won't stop our hero from thumbing his nose at them on the way to the big finish. We've seen it all played out in different sports films, but there's a reason why the formula has been used so many times. When done right, as it is here, it just works.
As with all "true stories" out of Hollywood, this one plays fast and loose with its source. The real Eddie has said that it's only about 10-15% factually accurate, but he also added that he felt it captured the spirit of his story and that he enjoyed it very much. One of the biggest changes is the inclusion of Hugh Jackman's character, who is entirely made-up for the film. The other big change is having Eddie suddenly decide at the last minute to make a 90m jump at the Olympics, where in real life he had always planned to compete in it and had made previous jumps at that distance. The real Eddie also participated in several major events prior to the Olympics, representing Great Britain at the 1987 World Championships in Germany, where he was embraced by the crowds, despite finishing last.
In the end though, the cliches and historical inaccuracies don't really matter. What does matter is that this is a movie that will leave a smile on your face. Sometimes that's enough.


Reviewed on:
March 1st, 2016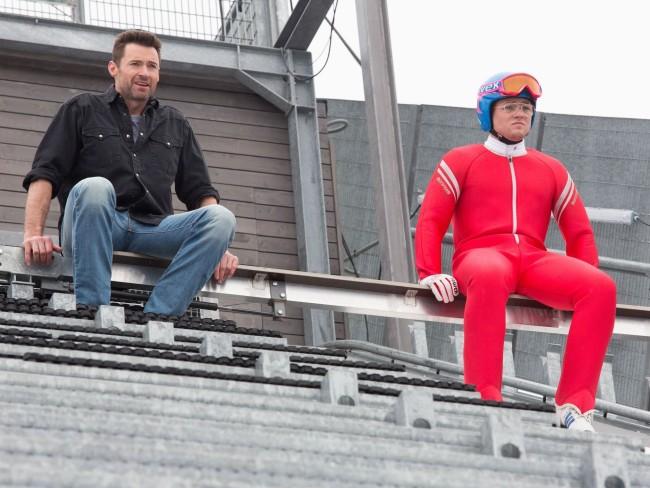 Hugh Jackman and Taron Egerton in Eddie the Eagle
It's definitely enough. Like morning coffee, sometimes predictability is just what you want, and count on. If you are familiar with his story, or just saw the movie trailer, you know step by step what is going to happen to this plucky British lad. However, his enthusiasm is so infectious that you find yourself caught up in his journey and your spirits lifted.
Taron Egerton disappears behind large glasses and an awkward smile as the unfortunately unattractive Eddie Edwards. As Scott noted, it is Egerton's charming performance as the likable Edwards that makes the film work so well. In fact, it was partially because of Eddie's nontraditional athletic looks that helped make him so memorable. Add in his willingness to show his positive emotions and you have a person to root for. The movie makes a point to have the "attractive" Olympians pick on Eddie. He never gave them the slightest amount of sports competition but he received so much more attention from press and spectators. Everyone likes an underdog and Eddie could not better fit that description.

Which brings up a point of contention. Athletes train for years to get to the Olympics, while Eddie decides at the last minute to change sports so as to get a chance to participate at the Olympics, not to actually compete mind you. He, and all of us, know he has no shot at a medal. However, he ended up getting his 15 minutes of fame and a movie made about him, while no one can remember even a single name on the rest of the British team. Can you name the Gold Medal jumper from those, or any, Olympics? Eddie was more a personality than an athlete. No wonder the Olympic committee raised the standards to stop such things as this from happening again.
Eddie is a dreamer and has been since he was a child wearing a leg brace. He does not see such set backs as a lack of financial means, or athletic ability, get in the way of his Olympic dream. It would be too easy for the cynics in us all to tell him he is wasting his time but who wants to be the one to step on someone's life goal? He never took his eye off the prize and his efforts ended up raising everyone's hopes along the way. Eddie the Eagle's story reminds us all of one of life's most difficult truths. Life throws a different amount of roadblocks in front of different people but it is not those hurdles that define us but how we get past them. Some will listen to the naysayers and stay where they are. Others will ask for, and expect, help at every step. Then there are the Eddie Edwards who will climb, or at least attempt to climb, over everything that gets in their way.

Sure, we already saw this message in Rudy (1993) but it is such an uplifting one that there is room for Eddie the Eagle and any more that may come along.
Reviewed on:
March 1st, 2016
Taron Egerton in Eddie the Eagle.
Like my brothers (and millions of others), I'm a sucker for a feel-good underdog sports movie. It's an old reliable formula that still works when done correctly. Throw in a winning cast and likable characters to root for and you've got a surefire crowd-pleaser. If however, you enter this movie in a cynical mood and don't fully commit to Eddie's story then you'll probably be bored watching this parade of sport's movie cliches being trotted out.

I became completely immersed in Eddie's quest to compete in the Olympics. This may be a Hollywood version of the events but his accomplishments are nonetheless remarkable. His is truly an inspiring story.

After Cool Runnings (1993), about the Jamaican bobsled team, this is the second movie set during the 1988 Winter Olympics in Calgary, Canada. Although neither Eddie the Eagle nor the Jamaican bobsled team won a medal they are the most famous participants in that year's Olympic games. Like Cool Runnings, Eddie the Eagle is funny and filled with heart.

The relationship between Eddie and his parents is particularly affecting. Taron Egerton proves himself to be quite a versatile actor. At any rate he completely buries himself in the role of Eddie Edwards to the point where you can easily forget who is playing him. And that is one sign of a successful performance. Hugh Jackman is equally good as the drunken, cynical, past-his-prime athlete with a heart of gold.

We may know what every shade in this color-by-numbers picture is going to look like ahead of time, but at least every crayon in the box is vibrantly applied and stays within the lines.
Photos © Copyright Twentieth Century Fox Film Corporation (2016)
Related Reviews