Movie Review
Ed
Minor league. Major friendship.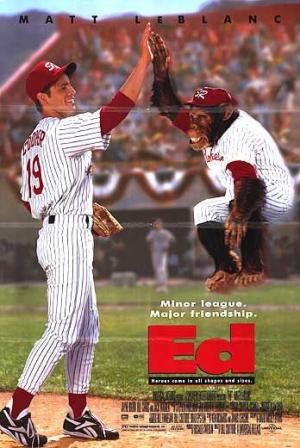 US Release Date: 03-15-1996
Directed by: Bill Couturié
Starring
▸
▾
Matt LeBlanc

,

as

Jack 'Deuce' Cooper
Gene Ross

,

as

Red
Paul Hewitt

,

as

Bucky
Jim O'Heir

,

as

Art
Rick Johnson

,

as

Kurt 'Crush' Bunyon
Valente Rodriguez

,

as

Jesus Rodriquez
Jack Warden

,

as

Chubb
Bill Cobbs

,

as

Tipton
Jayne Brook

,

as

Lydia
Patrick Kerr

,

as

Kirby
James Caviezel

,

as

Dizzy Anderson
Curt Kaplan

,

as

Randall 'Zonk' Cszonka
Charlie Schlatter

,

as

Buddy
Carl Anthony Payne II

,

as

Stats Jefferson
Zack Ward

,

as

Dusty Richards
Michael McGlone

,

as

Oliver Barnett
Tommy Lasorda

as

Himself

Reviewed on:
August 11th, 2016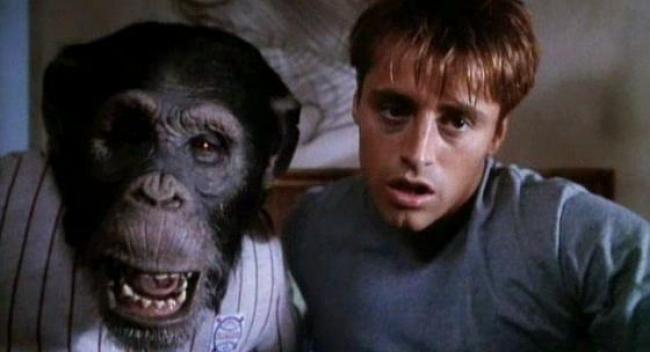 I had the same look on my face as I watched Matt LeBlanc in Ed
The original screenplay for Ed was written by David M. Evans, who had just directed his screenplay for The Sandlot, which has gone onto become a classic. However, the directing reigns for Ed were given to documentary film maker Bill Couturié who had never before or since directed a scripted film. As bad as Couturié's camera angles are, I doubt anyone helming this disaster could have helped a story about a monkey who plays baseball and helps another player fall in love.

Matt LeBlanc plays Jack Cooper, a country boy who has never played baseball in his life, not even little league but still happens to be able to accurately throw a baseball faster than one hundred miles per hour. So clearly we have already entered the twilight zone. He tries out for a minor league team, makes it and is then sent to pick up a new player from the bus stop, who turns out to be a chimpanzee. Actually it is a small man in a costume. Has everyone in Hollywood forgotten Cheetah from the Johnny Weissmuller Tarzan films. With a little trick camera work, he could have done all of this.
Cooper names him Ed and he begins inconveniencing Cooper's life. On the field he is a great player, of course, starting at third base. Ed also connects with the single mom who lives in their apartment building. Between the monkey and her daughter, they set the two adults up for a date, leaving her daughter home alone with Ed. I have no idea who is intended to be sitting who.

Some one takes Ed, legally, but Cooper steals him back because apparently chimpanzees are actually humans who shouldn't be sold if someone loves them. Any way, there is a championship game to be played and a last minute return. blah blah and blah. Nothing exciting, in the least, happens. Okay, if you have the mentality of a six year old, you may have some fun watching this but it is literally mind numbing to watch as an adult. There is nothing funny here nor romantic. Okay, I did like the one dirty joke when LaBlanc says, "I'm gonna spank that monkey."

The cleverest this film gets are when Ed watches a quick scene on television of Friends, featuring Marcel the monkey or when Ed cross dresses as Madonna from her cone bra era. The very best thing for me was in recognizing some of the actors playing baseball players, such as Jim Caviezel, Michael McGlone and Scut Farkus from A Christmas Story, all grown up.
As for Matt LeBlanc, the best I can write is that he looks young and thin. His performance is practically not even measurable. The guy in the monkey suit out acts him. In half the scenes he looks as if he wants to kill his agent and/or run away and who can blame him as Ed is one embarrassingly juvenile mess from start to finish.

Photos © Copyright Universal Pictures (1996)
Related Review