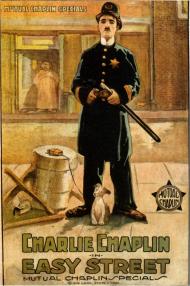 US Release Date: 01-22-1917
Directed by: Charles Chaplin
Starring
▸
▾
Charles Chaplin

,

as

The Derelict
Edna Purviance

,

as

The Mission Worker
Eric Campbell

as

The Bully


Reviewed on:
May 12th, 2010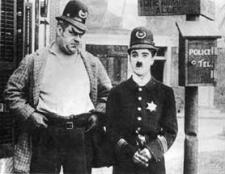 Eric Campbell and Charles Chaplin in Easy Street.
Easy Street is a great Chaplin short. Briskly paced, and with a lesson on redemption, it is the perfect vehicle to show off the Tramp. Made before the Hayes code, this movie even contains a scene that truly shocked me.
The Tramp wanders into a church after hearing a hymn. After services he is saved by the preacher and the piano player, Edna. He even puts back the collection box he had taken. Now reformed, he joins the police force and is assigned to Easy Street, where a particularly large bully rules the neighborhood.
Chaplin and the Bully get into a fight, with Chaplin coming out on top. The Bully is arrested, but soon escapes. Chaplin runs into Edna, but while he has to deal with the bully returning, she gets thrown into a basement, and locked up with a heroin addict.
It actually shows this guy with a needle shooting up. After getting high, he decides to rape Edna. Chaplin of course comes out on top, and rescues Edna, but not before sitting on the heroin needle himself.
Drug use in old films is very rare. The Girl from Missouri (1934) mentions cocaine. The Hayes code put a stop to that, and drugs became a taboo subject in movies. Drugs did not go mainstream again until Frank Sinatra played an addict in The Man With the Golden Arm (1955).
Chaplin often worked with the same co-stars in his films. Eric Campbell's size made him a perfect foil for the diminutive Tramp. In July, 1917, his wife died of a heart attack. His daughter survived being hit by a car a couple of days later. A second marriage ended in divorce. He died that December, crashing his car after drinking at a party.
Reviewed on:
November 27th, 2010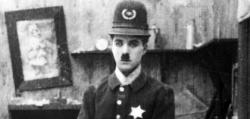 The Little Tramp makes like a Keystone Kop.
Easy Street is Chaplin at the peak of his creative output. He would soon abandon the two-reeler for feature length movies. The man possessed such physical grace. He could stumble and then spin around gracefully before waddling off with that trademark gait of is.
Chaplin making like a Keystone Kop is priceless. The way he administers the gas from the street lamp to the bully, like a dentist, is priceless. Of course this earns him the temporary respect of all the thugs on Easy Street.
Another funny moment comes when Chaplin feeds the many kids as if he is feeding birds. With the First World War raging in Europe Chaplin gave audiences a reason to laugh in spite of their worries.
That must have been some kind of special heroin since it made the junkie horny and gave Chaplin super strength. All the heroin I've ever heard of just makes people nod off. At any rate it would be many decades before comics would regularly play illicit drug use for laughs.
I couldn't agree more Eric, Easy Street is a classic showcase for Chaplin's Little Tramp.

Reviewed on:
April 24th, 2011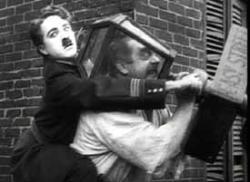 Charlie Chaplin finds a creative way to deal with a bully in Easy Street.
This is an entertaining short. Chaplin is at his best when playing the underdog and fighting the odds, usually to win the hand of a girl. And here he faces stiff odds against a super-human villain able to withstand the most awful punishment without being phased.
The unique thing about this short is that for once the Tramp becomes a police officer. Often in Chaplin's and other shorts of the times, it seems that the police were the antagonists, but here Chaplin becomes one of them. Granted, the rest of the police are shown to be pretty ineffectual and in not that flattering of a light, but still, the hero is a policeman.
There's one odd thing in the film that stood out to me. For most of the short, I assumed it was set on the Lower East Side of New York, but during a chase scene there is a quick moment when suddenly they are in a wide open space and you can see L.A. City painted on a building in the background. The sudden change in scenery is jarring and I wonder why that very short cut was included?
I agree with you Eric that seeing the blatant drug use in a film of the time is a bit surprising. Even before the Hayes Code you didn't often see someone using drugs and certainly not in a comedy.
Although I'm not the fan of silent films that either of you are, even I have to say that this is an entertaining and still quite amusing short.
Photos © Copyright Mutual Film (1917)