Movie Review
An Eastern Westerner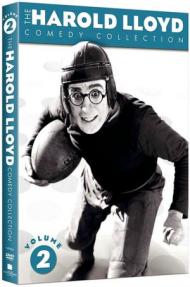 US Release Date: 05-02-1920
Directed by: Hal Roach
Starring
▸
▾
Harold Lloyd

,

as

The Boy
Mildred Davis

,

as

The Girl
Noah Young

as

Tiger Lip Tompkins

Reviewed on:
October 23rd, 2010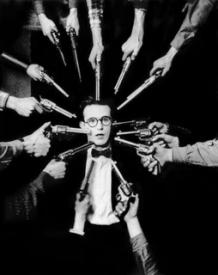 A still from An Eastern Westerner.
An Eastern Westerner is quintessential Harold Lloyd. He always played the average guy who meets and falls for a girl and winds up, against all odds, being a hero. His character is completely American and so easy to relate to. He is a decent fellow without being overly virtuous. He is somewhat cowardly but possesses a certain reckless bravado. He is ambitious without being ruthless. He is bursting with ingenuity but still makes bad decisions and sometimes gets cocky.
Harold plays the son of a rich New Yorker who likes partying a little too much. The movie opens with him at a nightclub. He gets in trouble with the management because he likes to "shimmy" dance even though it is prohibited. As with all Lloyd movies the sight gags come fast and furious. This scene ends with Lloyd turning on a fire hydrant that shoots water directly into the nightclub.
His father takes action and sends Harold out west to stay with his Uncle. Harold meets a girl who he tries to impress with his rope tricks and horse skills, both of which are nonexistent. He plays a game of poker and in attempting to cheat gets cheated. He of course winds up on the wrong side of the local bad guys and the movie culminates in a frantic chase scene where Lloyd, using his trademark sight gags, tries to elude about 30 bad cowboys on horseback.
It's funny how this movie takes place right before prohibition started in 1920 and yet the western town is depicted like the Old West. There are no cars, telephones, or any other modern conveniences. Everyone dresses and acts like it's the 1880's. The girl (Mildred Davis) Harold meets is a Mary Pickford clone.
An Eastern Westerner is a two-reel short, directed by Hal Roach and starring Harold Lloyd right when his career was taking off. He would make his first attempt at a feature length movie the following year, A Sailor-Made Man, in 1921. At four-reels that movie ran about 45 minutes. His first true feature would come in 1922 called Grandma's Boy.
An Eastern Westerner is nowhere near his best work but it is still solidly entertaining and like all his movies, which he took great care to preserve, it is in pristine condition. Lloyd would go on to become the biggest comedy box-office star of the roaring 20's.

Reviewed on:
December 26th, 2012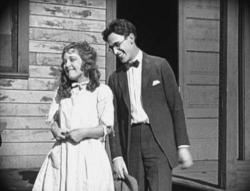 Mildred Davis and Harold Lloyd in An Eastern Westerner.
Like Patrick, I was amused by how Lloyd seems to not so much travel out west as back in time. He goes from 1920 New York City, with motor cars and skyscrapers, to a small western town that appears to be still living in the 1880s. I also thought it odd that Lloyd is sent West to meet his uncle, but his uncle is never shown or mentioned once he gets there.
Quite frequently in these two-reelers the stories seemed split in two and that's very much the case here. You could start with Lloyd's arrival in the west and it would be a complete story by itself. The scenes at the dance and his father's anger in the first half, are the motivation for him to go west, but they have no real bearing on the rest of the story.
As many fans of Harold Lloyd already know, he lost most of the thumb and index finger on his right hand when a prop bomb exploded. He wore a prosthetic, flesh-colored glove for the rest of his career. This was one of the first shorts that he filmed following the accident and you can see that he and director, Hal Roach, go to great lengths to not show Lloyd's right hand. This is most obvious during the poker game scene where Lloyd keeps his right hand under the table. He grew more adept and more confident about hiding his handicap in later films and would continue to do the most amazing stunts in spite of it.
This short does provide plenty of chuckles, even if outright belly laughs aren't quite so plentiful. Lloyd's energy and never say die attitude are infectious. Like so many shorts of the day, the climax takes the shape of a chase, only instead of the usual police pursuers, this time it's a bunch of Western Klu Klux Klan members on horseback. For fans of the genre, there's plenty to enjoy, even if Harold did make better films than this.

Reviewed on:
December 27th, 2012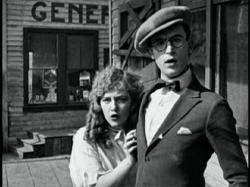 Mildred Davis and Harold Lloyd in An Eastern Westerner
In his silent films, Harold Lloyd was not noted for creating the type of sentimental pathos that Charlie Chaplin did. He did not have the technical imagination of Buster Keaton when it came to film innovation. What Lloyd did have was utter likability. No matter what he did or what situation he got himself into, we still want to see him succeed. His glasses gave him the look of someone more physically helpless than he actually was.
In An Eastern Westerner, Harold is a party animal who breaks the rules at a night club, dancing inappropriately. He damages the place with the water from the hydrant. He comes home late to his parent's home. Out west he tries to cheat at poker and lies to the girl about his cowboy skills. As Patrick wrote, he is not overly virtuous but we forgive his lies without thought and still root for him even when his problems are of his own doing.
I disagree with Patrick when he wrote that Harold is somewhat cowardly. The opposite is true and is a large part of the character's charm. He willingly faces gun toting bad guys to help the girl with curls. Lloyd was an average guy filled with the joy of life. He liked to entertain himself but was always a sucker for a pretty face and eager to help a girl out no matter what the odds. Harold was a honorable scamp.
The town Lloyd travels to does seem from another time. The description for it is, "The little town of Piute Pass. It's considered bad form to shoot the same man twice on the same day." It is ruled by a rich bad guy. A plot device that would resurface in countless future westerns.
Something I found interesting about An Eastern Westerner is that sex is a part of the plot. Most silent films dodged the subject like it was a disease but for some reason, a western film could get away with it. The Arbuckle/Keaton film, Out West (1918) featured a cow poke who nabs a woman and takes her back to his bedroom. Here the bad guy locks up the girl's father until she agrees to let him have her. I guess in those days cowboys had a horny reputation.
Photos © Copyright Pathe Exchange (1920)
Related Review