Movie Review
Easter Parade
Full of melody! Full of young love!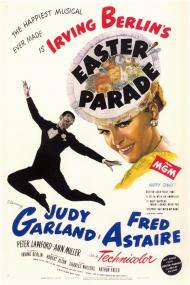 US Release Date: 06-30-1948
Directed by: Charles Walters
Starring
▸
▾
Judy Garland

,

as

Hannah Brown
Fred Astaire

,

as

Don Hewes
Peter Lawford

,

as

Jonathan Harrow III
Ann Miller

,

as

Nadine Hale
Jules Munshin

,

as

François
Clinton Sundberg

,

as

Mike the Bartender
Richard Beavers

as

Singer


Reviewed on:
April 21st, 2003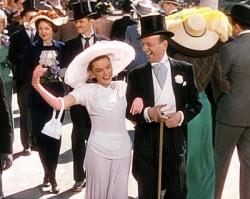 Judy Garland and Fred Astaire in Easter Parade.
Easter Parade is second only to Singin' in the Rain as the greatest old-time musical. An all-star cast combine song, dance, romance and humor to make this an utterly entertaining film.
Fred Astaire and Ann Miller play a famous dancing team that split up. Astaire seeks out a new partner in Judy Garland. At first he attempts to make her into the elegant dance partner that Miller was. However, he soon discovers that she has her own style.
The film has some great humor. In an early scene Astaire wants to know if Garland attracts men. He lets her walk ahead of him down a New York street to see if men stare at her. Nearly every man she passes indeed looks at her. The camera then moves in front of Garland and you see that everyone is staring at her because she is making weird facial expressions. In another scene Garland and Peter Lawford are having a salad described by a passionate waiter (Jules Munson from On The Town). He goes into incredible detail only to have them order something else.
To be honest, one of the reasons I love this movie so much is that I know every song. My brother Patrick had the soundtrack and played it often when we were kids. From Astaire's "Drum Crazy" to Garland's "I love the Piano" to Lawford's "A Fellow With An Umbrella" I know all the words. In fact it is the songs that make this movie so great. "It only Happens When I dance With You" is one of the greatest old movie love songs. The best song in the movie though is "A Couple Of Swells." Astaire and Garland dressed as vagabonds sing about being rich and rubbing shoulders with the social elite. It's an amazingly catchy song you may find yourself singing after you hear it.
The last and final reason this movie is so classic is that it is a perennial holiday movie. The opening shot is of Fred Astaire in formal dress. He is dancing down the street singing "Happy Easter" to everyone he meets. The movie ends as Garland shows up at Astaire's apartment. She gives him a top hat with a pink bow. She then starts to belt out "In your Easter bonnet..." If you haven't sung along to any of the songs at this point you will to the finale. It is the most well known Easter song next to "here Comes Peter Cottontail."
Astaire and Garland are the greatest musical stars of their time. This musical, comedy, love story about just being yourself, is a testament to just that. It is the one and only movie they would appear together in. Next Easter if it rains, and it always does, find two hours to relax in front of this holiday treasure.
Reviewed on:
August 8th, 2003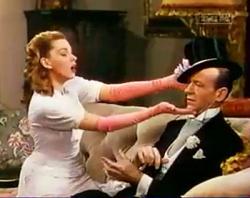 Judy Garland and Fred Astaire in Easter Parade.
As Eric mentioned I owned the soundtrack to Easter Parade as a child and I played it often. The Irving Berlin score is dripping with gems. From the plaintive 'Better Luck Next Time' to the nostalgic 'I Want to Go Back to Michigan' to the silly 'Snooky Ookums' and the show stopping 'When the Midnight Choo Choo Leaves for Alabam', Easter Parade has a song for every occasion. And with the incomparable combination of Judy Garland and Fred Astaire it's no wonder this one is a classic.
The great chemistry between the stars almost never happened. Fred Astaire stepped in at the last minute for Gene Kelly who had broken his foot during rehearsals. Not to take anything away from the great Gene Kelly but Fred Astaire was tailor made for the role and it is impossible to picture this movie without him. No one had more class and elegance than Astaire. He was quite simply the most graceful man to ever don a pair of dancing shoes.
Visually this movie is a treat. It captures the essence of New York's Fifth Avenue at Easter time circa 1912. Only MGM made sparkling baubles with this kind of wattage.
Ann Miller has a great number too, called 'Shakin' the Blues Away', where she ably demonstrates why she was known as the fastest tap dancer in Hollywood.
In the end though, Easter Parade is all about Judy and Fred and the great American songs and dances they captured on screen for all time. Never mind the silly plot, just sit back and get ready to tap your toes and join in on a chorus or two.
Reviewed on:
June 12th, 2005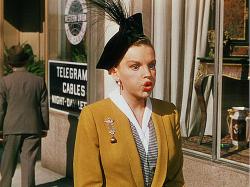 Judy Garland in Easter Parade.
Both Eric and Patrick are far too kind to this movie. Yes, some of the songs are good and both Astaire and Garland give great performances, but the silly plot that Patrick mentions is most distinguished by its absence. While many musicals are light on story, Easter Parade begins with very little and jettisons most of what's left in the final act.
I suppose it's silly to look for too much depth in this kind of movie, but even a little bit more would have been an improvement. The biggest moment of tension in the film comes when Ann Miller manages to induce Astaire into dancing with her one last time after he becomes a hit without her. Of course we all know that he's never going to give up on Judy. There's also a whole lot of filler material to help make up for what the plot lacks -- the waiter Eric mentioned and the several songs in a row in the last half hour, for example.
It's not as though this movie won't leave you smiling or singing along with the songs, but it just tasted like cotton candy to me; light and sweet but not very satisfying.
Photos © Copyright MGM (1948)